Celebrate Literacy Week
January 23 -27, 2023
This week, students will dive deeply into literacy, splashing into new worlds through reading. A copy of the Media Center flyer and activity tracker went home with students and is included here. Students who complete 5 activities each day earn a certificate from the library! See below for ways to maximize enjoyment during the week!
Interested in sharing your love of reading with our CGE community?
Tag pictures of your family completing a Reading Habit Tracker activity
on Instagram (@cgepalmcity) and Facebook (@CGERattlers).

Add the hashtag: #Diamondbacksdiveintoliteracy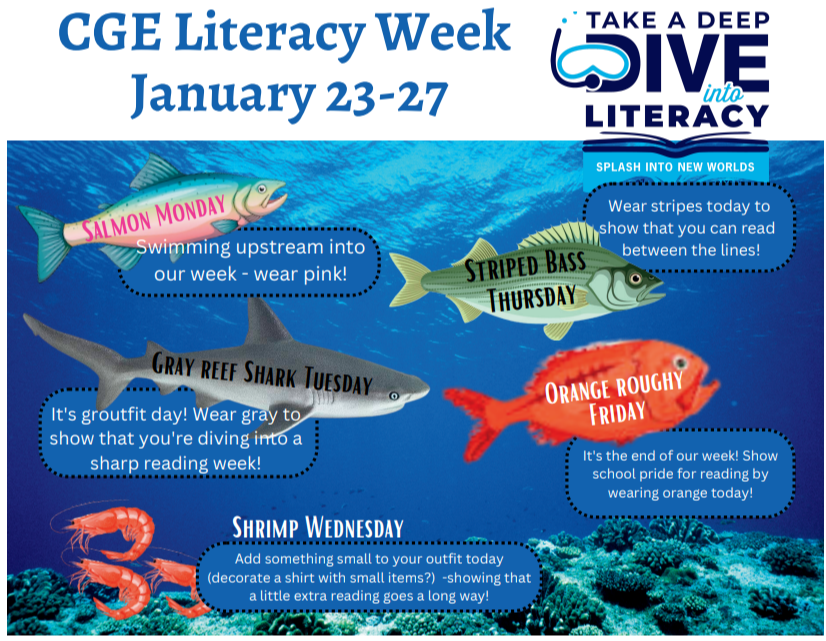 Events Showing Support for Reading:
January 23 - Salmon Monday: Swimming upstream into our Literacy Week deep dive! Wear pink to school today.
January 24th Gray Reef Shark Tuesday: It's groutfit day! Wear gray to show that you're diving into a sharp reading week like a shark.
January 25th - Shrimp Wednesday: Wear clothing that has a small print or add something small to your outfit today to show that a little extra reading goes a long way! Idea: decorate a shirt or shoes with small items.
January 26th - Striped Bass Thursday: Wear stripes today to show that you can read between the lines!
January 27th - Orange Roughy Friday: It's the end of our week. Show school pride for reading by wearing orange today!
This week, we encourage families to add extra literacy activities to their daily routines. Students who do 5 or more Reading Habit Tracker activities each day earn a certificate from the library! Bring the completed form to the Media Center in February.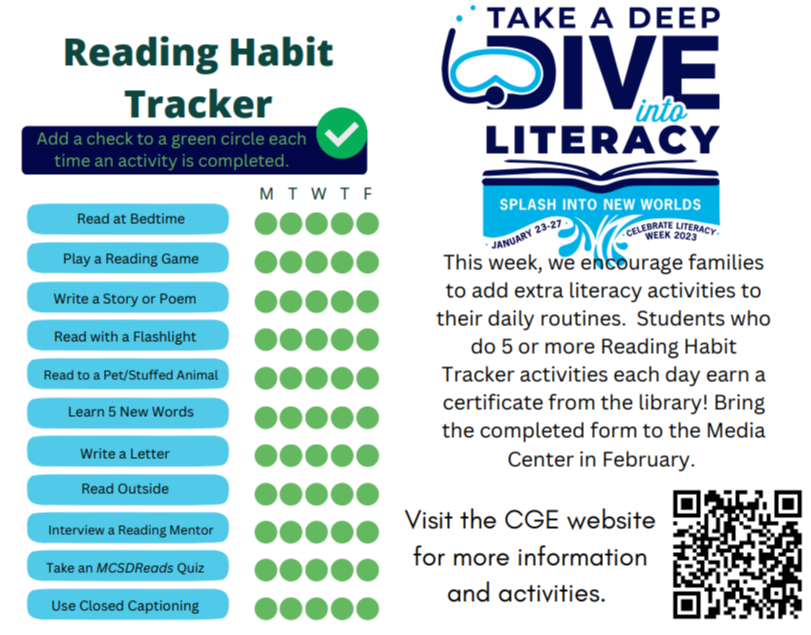 𝓑𝓸𝓷𝓾𝓼 𝓐𝓬𝓽𝓲𝓿𝓲𝓽𝔂
Using a shoebox or cereal box, create a library display about your favorite book.
Make sure your name and the title of the book are included in your creation!