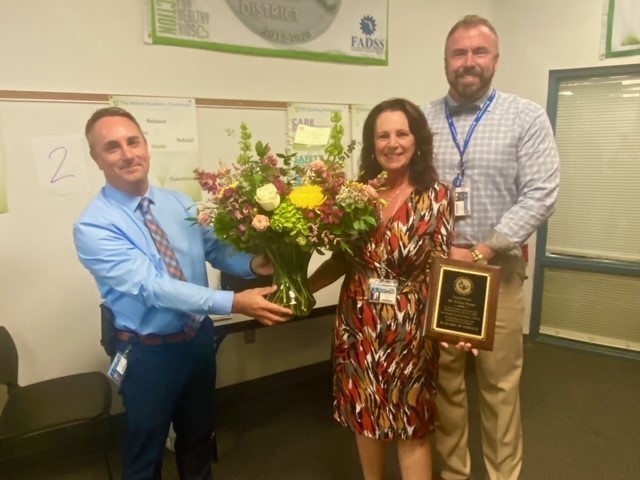 Superintendent John D. Millay and the Martin County School District's leadership team celebrated the upcoming retirements of Palm City Elementary School Principal Robyn Monte (34 years with MCSD) and Deputy Superintendent Ginger Featherstone (36 years with MCSD) on Thursday. Both leaders received a standing ovation from their colleagues, and many tears were shed as stories were told about the impact each had made in the lives of thousands of students, employees and families over the years.
Ms. Monte began her career with the District as a Palm City Elementary School teacher in 1988.
"I have had the joy of teaching a generation of children, watching them grow into adults, and then returning to PCE with their own children," Ms. Monte shared. "I have learned from and worked with the finest professional educators and leaders in the teaching profession. The students, families, employees and entire PCE community will continue to have my full support and very best wishes. It has been an amazing ride that has truly touched every aspect of my life, and an experience filled with love that I will cherish in my heart always."
Ms. Monte plans to spend more of her free time with her elderly parents and adult children.
Dr. Featherstone began her career with the District as a science teacher at Martin County High School in 1986, but teaching was not the career path she originally thought she'd take when she graduated from the University of Florida with a degree in Animal Science. A chance encounter with a longtime Martin County principal in a local medical office convinced Dr. Featherstone that she was missing her calling if she did not begin a career in education. Dr. Featherstone served as a classroom teacher, class sponsor, cheerleading coach, assistant principal, principal, mentor and friend to thousands of students and colleagues during her years at not only MCHS, but at South Fork High School and Jensen Beach High School as well.
"It has been a glorious 36 years," Dr. Featherstone said. "It makes my heart smile to think about all of the students, colleagues and families I have had the pleasure of getting to know over the years. At the end of the day, it has always been all about the children for me. This is the most amazing profession I could have ever dreamed of for myself, because we are touching the lives of the future, and that is so important. My educational journey has brought a deep sense of purpose and lasting friendships that I am forever grateful for. MCSD will always hold a special place in my heart."
Ms. Monte and Dr. Featherstone will officially retire from the District in September. Lauren Rabener, who has served many years as the assistant principal at PCE, will take the helm as principal. Mr. Michael Maine, who previously served MCSD as the Executive Director of Principals & Professional Standards, was selected by Dr. Millay in July to be Dr. Featherstone's successor as Deputy Superintendent.