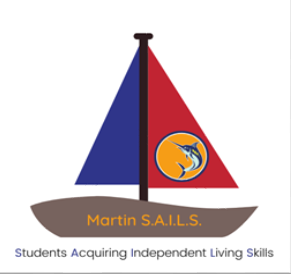 Martin S.A.I.L.S. (Students Acquiring Independent Living Skills) was designed to meet the needs of students with disabilities who are aged 18-22 years old. The Martin S.A.I.L.S. program focuses directly on transition opportunities and postsecondary goals of students who have deferred receipt of their standard diploma.
This student-driven/teacher-led program strives to promote the development of skills in the four domains of transition: Vocation and Employment, Independent Living, Personal and Social, and Recreation and Leisure.
Students participating in Martin S.A.I.L.S. will engage in a variety of community-based instruction and work-based learning opportunities, as well as, learning lab activities. Through hands-on learning centers and labs, students also gain knowledge and experience in a variety of independent living and self-determination skills. Martin S.A.I.L.S. is housed at The HOPE Center for Autism in Stuart.
Martin S.A.I.L.S. is now accepting applications for the 2023-2024 School Year. Please see Application, Brochure and flyer on the left.