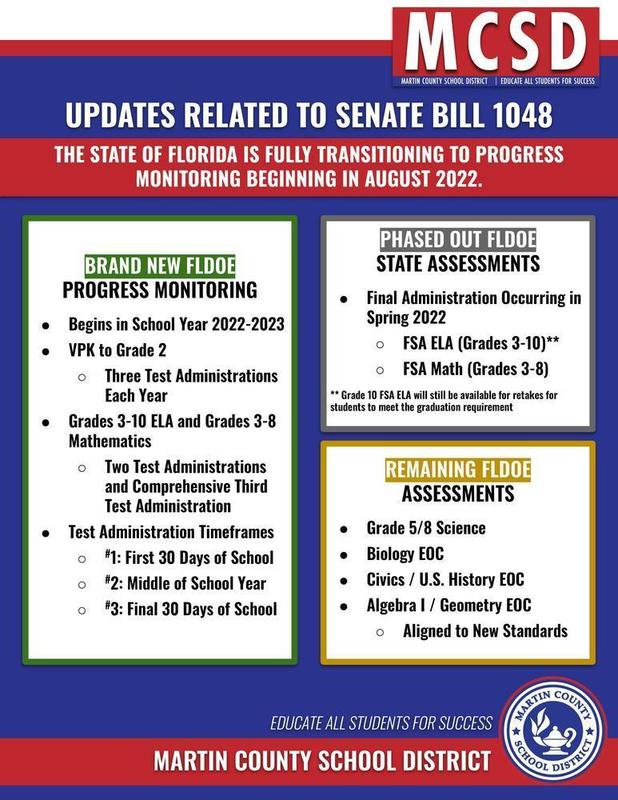 On June 29, 2023, the Florida Department of Education announced the Florida Assessment of Student Thinking (FAST) results. The 2022-2023 school year was the first year of statewide administration for these progress monitoring assessments, which provide teachers, students and families with actionable data at the beginning, middle and end of the school year to help guide and inform student achievement.
"The initial transition to a new assessment system is always a welcome opportunity to review data and develop new ways to provide tailored support and innovative educational experiences to our students," Superintendent Michael Maine said. "We have found great value in FAST and our ability to carefully monitor students' growth and make adjustments throughout the school year."
Spring 2023 FAST state highlights for the Martin County School District include*:
Tying for 9th in the state for Civics
Tying for 10th in the state for Grade 4 English Language Arts (ELA)
Earning 12th in the state for Grade 4 Mathematics
* Florida is comprised of 67 counties.
The Martin County School District earned the Treasure Coast's top ranking in the following categories*:
Grade 4 English Language Arts (ELA)
Grade 7 ELA
Grade 8 ELA
Grade 9 ELA
Grade 4 Mathematics
Grade 7 Mathematics
Algebra
Geometry
Civics
US History
Tied for Biology
Tied for Grade 8 Science
*Treasure Coast school districts include Martin, Indian River, Okeechobee and St. Lucie counties.
Families will receive additional communication from the District later this summer once detailed score reports are available in their child's FOCUS account.
School grades for the 2022-2023 school year are expected to be calculated by the Florida Department of Education in late fall/early winter 2023.