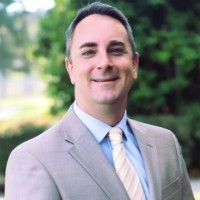 On May 17, 2022, the Martin County School Board approved Superintendent John D. Millay's recommendation to promote Mr. Michael Maine to the role of Deputy Superintendent for Leadership Services and Planning. Mr. Maine will work closely with Dr. Ginger Featherstone, the District's current Deputy Superintendent, through her retirement later this year.
Mr. Maine previously served the Martin County School District as the Executive Director of Principals & Professional Standards. Prior to his arrival in the District, he spent many years as an educator and administrator in the Hernando County School District. Mr. Maine is highly skilled in school leadership, curriculum integrations, relationship building, systems analysis, recruitment/hiring, strategic process enhancement and performance optimization.
"I am very excited to help support and serve all of our administrators," Mr. Maine shares. "Our leadership team shares a powerful commitment to improving student outcomes and strengthening our community partnerships. I am very much looking forward to supporting this work and helping to guide the District forward."
Mr. Maine earned his undergraduate degree from the University of South Florida and his graduate degree in Educational Administration from the University of Scranton. He is currently a doctoral student pursuing a degree in Educational Leadership at Capella University.
In his spare time, Mr. Maine enjoys all things related to aviation. He holds his private pilot license and is a skilled bowler, having bowled three sanctioned perfect games so far!