As preparations for the upcoming school year continue, the Martin County School District (MCSD) has announced several incentives and initiatives designed to recruit highly-qualified candidates across various career fields.
Effective immediately, the Martin County School District will cover all fees associated with fingerprinting and drug testing for candidates who need to complete such testing to secure their employment with the District. These fees will be covered for new hires through the first day of school on August 10, 2022.
Effective August 1, 2022, the Martin County School District has increased the rates of pay for all substitute teachers. Substitute teachers will be paid according to the following schedule: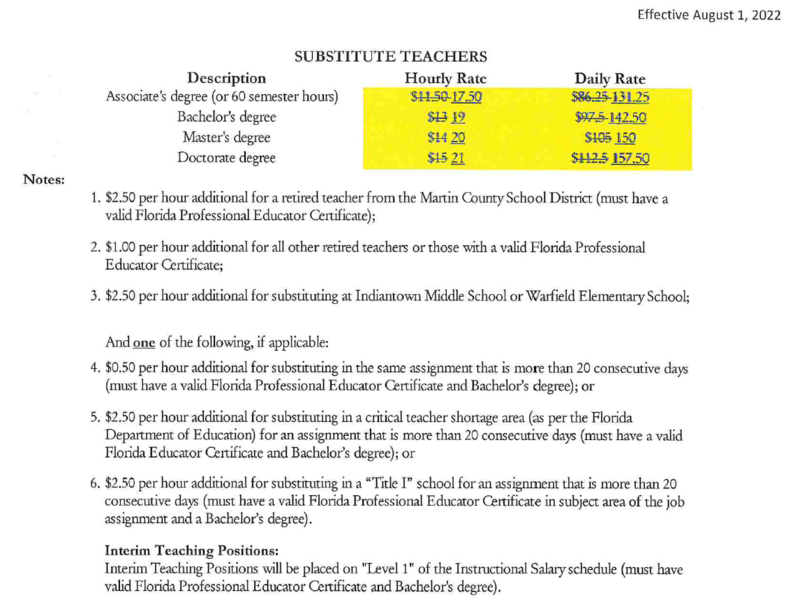 Earlier this month, Governor Ron DeSantis and the Florida Department of Education announced a new opportunity for members of the United States Armed Forces, veterans and their spouses to contribute to Florida's education system, which serves students of all backgrounds and abilities. The Martin County School District enthusiastically encourages veterans and qualified service members/spouses of service members to pursue teaching careers within the school system.

Effective July 1, 2022, Florida will issue a five-year temporary teaching certificate for military veterans who have not yet earned their bachelor's degrees and meet the following eligibility:

· Minimum of 48 months of military service with an honorable/medical discharge
· Minimum of 60 college credits with a 2.5-grade point average
· Passing score on a Florida subject area examination for bachelor's level subjects
· Employment in a Florida school district, including charter schools

To learn more about Florida's instructional opportunities for military veterans, service members and families, please click here.