📚CELEBRATING LEADERS AND TRAILBLAZERS📚 Today, we celebrate our first of many local leaders in honor of #BlackHistoryMonth. Dr. David L. Anderson was an educational pioneer in Martin County, having served as a School Board Member and in various leadership roles at IRSC - Indian River State College for more than 30 years. In 2006, he was honored as the namesake of the Martin County School District's newest middle school - Dr. David L. Anderson Middle School. Dr. Anderson passed away on December 23, 2021, at the age of 80. Learn more about Dr. Anderson's legacy by clicking here:
http://bit.ly/3WU9VHS
#ALLINMartin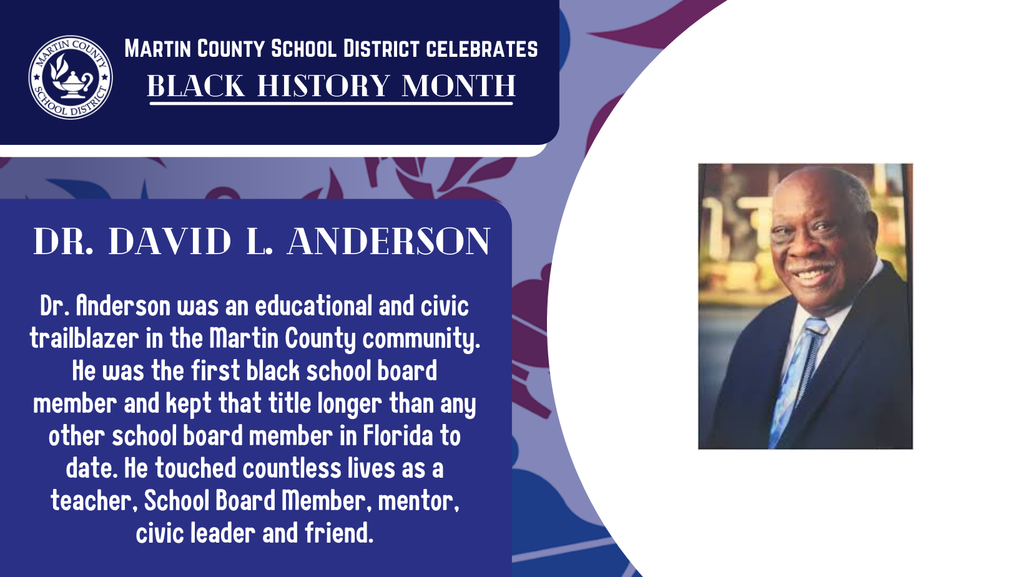 📚HONORING OUR HISTORY📚 The Martin County School District is proud to celebrate Black History Month! Throughout February, we will highlight the many contributions Black leaders and historical figures have made to our local community and worldwide. Stay tuned on Facebook, Twitter and Instagram! Click the link below to learn more about Florida First Lady Casey DeSantis' Black History Month student contests and educator awards. Entries must be received by 5 p.m. on February 7.
http://www.floridablackhistory.com/index.html
#ALLINMartin👊


🐢GRANDPARENT'S DAY🐢 Grandparents, explore the gem of the Martin County School District-- the Environmental Studies Center--this Saturday, Feb. 4, from 9am to 12pm! It will be a day full of fun, learning and exploration with your family! Meet Joey the Alligator, Coral the Sea Turtle and much more! #ALLINMartin👊 #ESCIsThePlaceToBe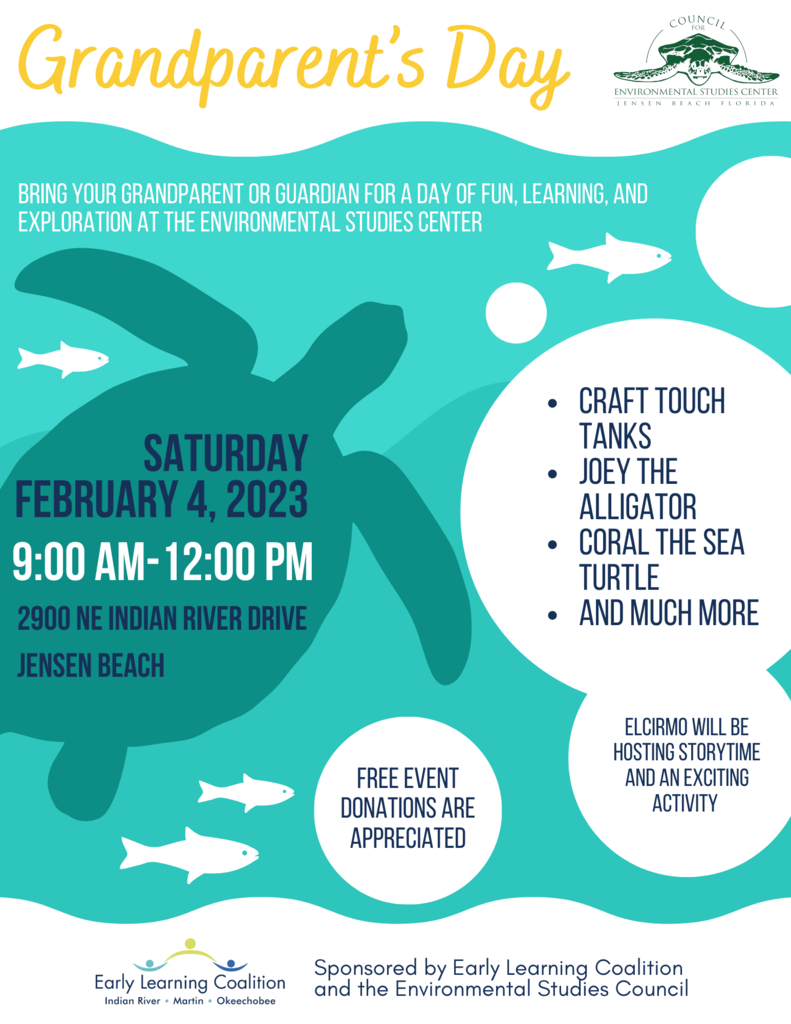 🍎ON-AIR WITH MILLAY🍎 ICYMI: Martin County School District Superintendent Dr. John D. Millay chatted with The KC Ingram Show host KC Ingram about the latest news in the District. Dr. Millay touched on various topics, including the upcoming Blast Off to Kindergarten orientation events, the newest hiring incentives and construction updates. Watch the full segment:
https://www.youtube.com/watch?v=6_Un30or-KQ
#ALLINMartin👊 #PublicSchoolProud #MCSDTheRippleEffect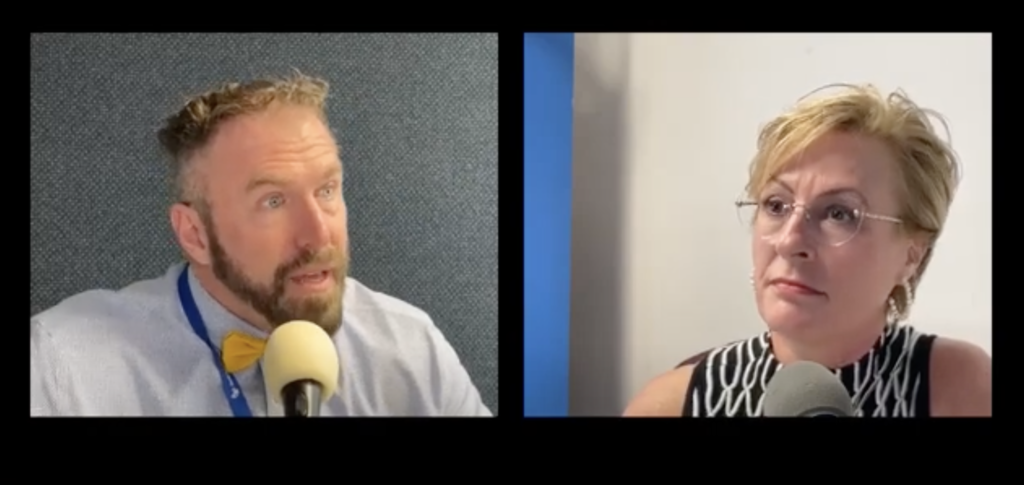 📚CELEBRATING LITERACY📚 Join the Martin County School District as we dive into fostering a love for reading during "Celebrate Literacy Week, Florida!" This year's theme, as designated by the Florida Department of Education, is "Take a Deep Dive Into Literacy, Splash Into New Worlds!" Schools have scheduled many daily activities designed to help students build their literacy skills while cultivating a love for reading. Check out the fun our students have in store for the entire week, starting tomorrow:
https://www.martinschools.org/article/968696
#ALLINMartin👊 #FLCelebratesLiteracy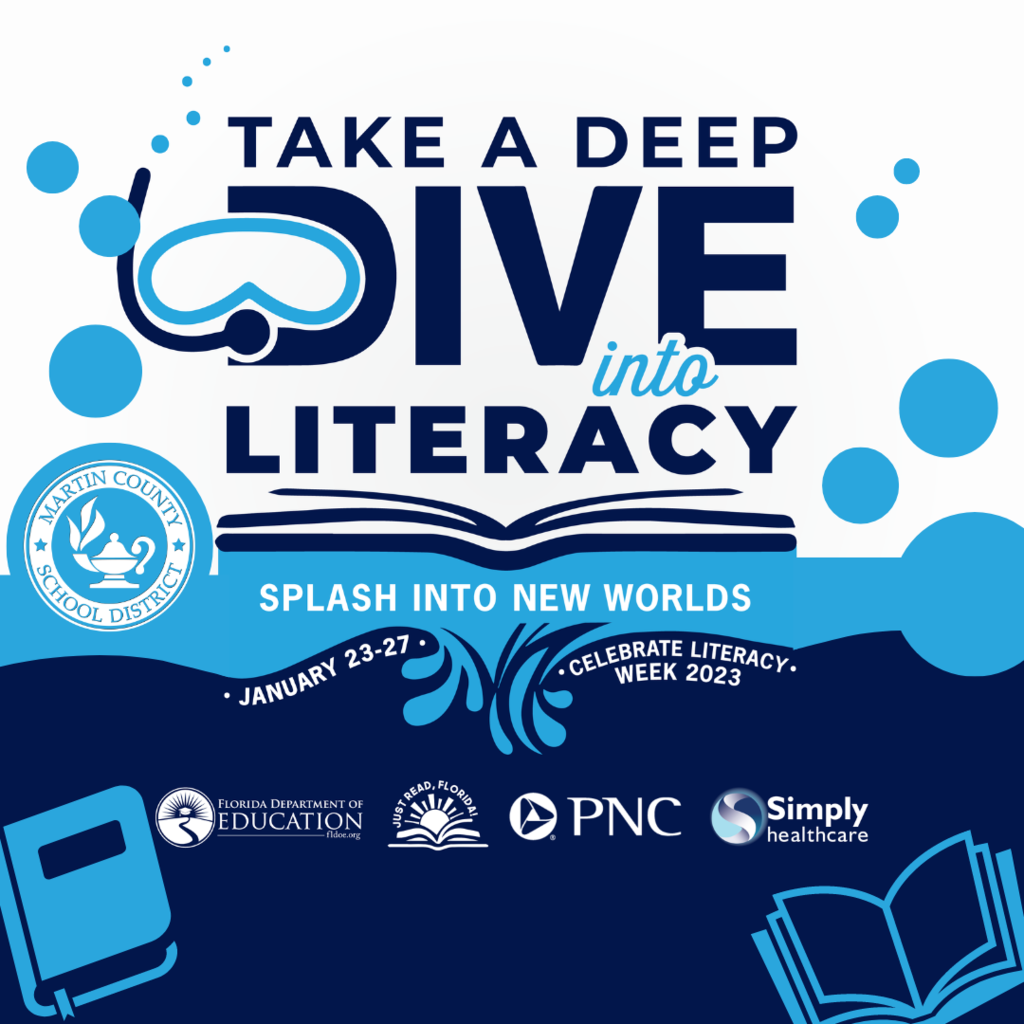 Reminder, families! All schools and District offices will be closed Monday, January 16, in observance of Martin Luther King, Jr. Day. Classes will resume on Tuesday, January 17. Participate in local #MLKDay service activities:
https://americorps.gov/join/find-volunteer-opportunity#/
#ALLINMartin👊 #PublicSchoolProud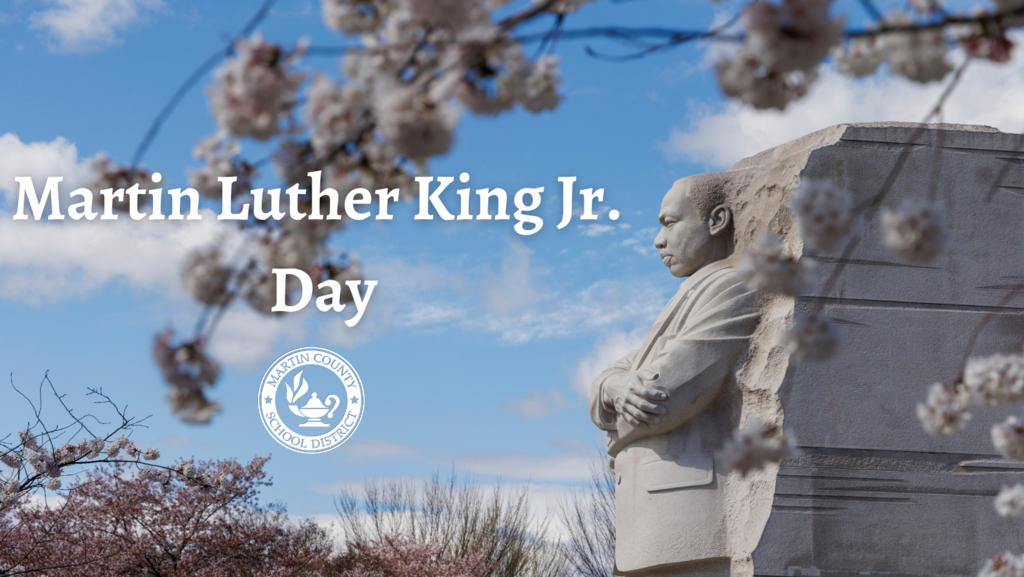 🏆🎉You do everything with great diligence and energy. Your dedication has resulted in your well-deserved award. Congratulations to our support facilitator April Sherwood for winning Decembers employee of the month. Keep up the great work! 🎉🏆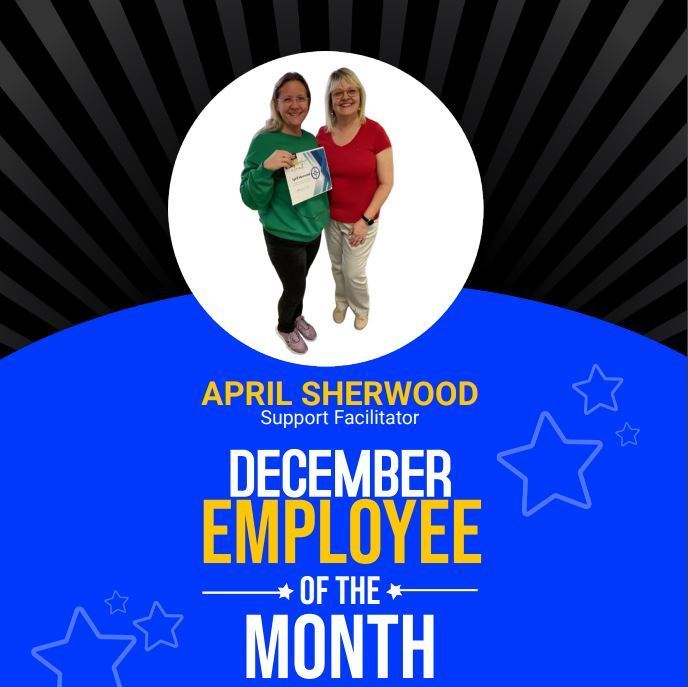 Congratulations Pryonya Smith for winning Decembers student of the month. She is recognized for being kind, being compassionate, for expressing gratitude, and she forgives others. Way to go! Keep up the great work! #CharacterCounts #Caring #ALLINMartin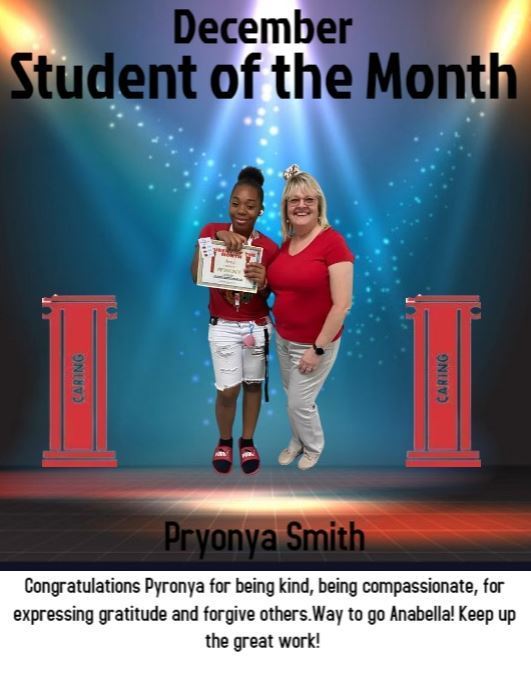 We were finally able to vote as a staff and student body on our mascot. We had 3 different pictures and allowed students and staff to come up with the mascot name. The attached is our reveal.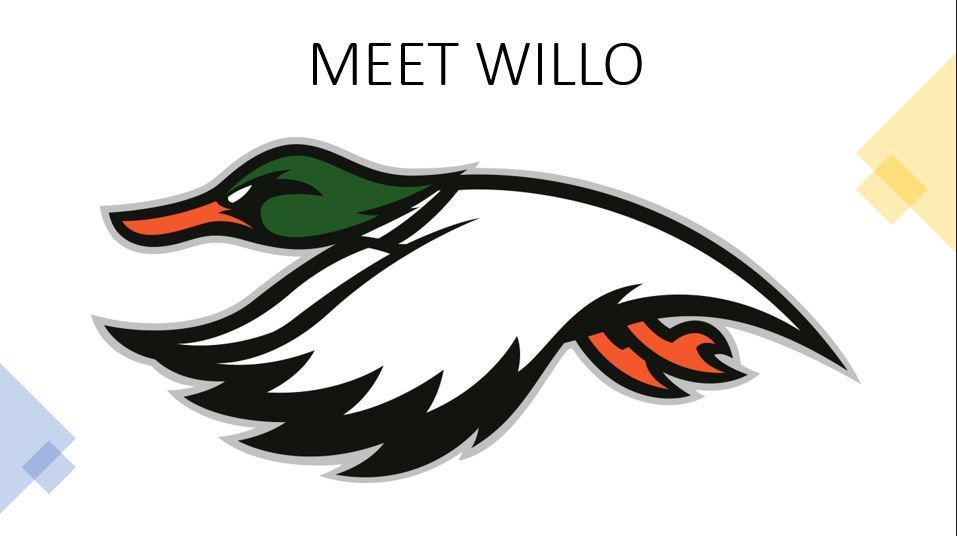 🚨LAW ENFORCEMENT ALERT FOR FAMILIES🚨 The Martin County Sheriff's Office is actively enforcing laws about the operation of unregistered golf carts in our community, particularly near school campuses. Golf carts are only permitted on roads with a maximum 35 mph speed limit, and that's only if they are titled, registered, insured and have all the appropriate safety measures to make them street legal. Please be mindful of these regulations, as deputies will issue citations for violations. #ALLINMartin👊 #PublicSchoolProud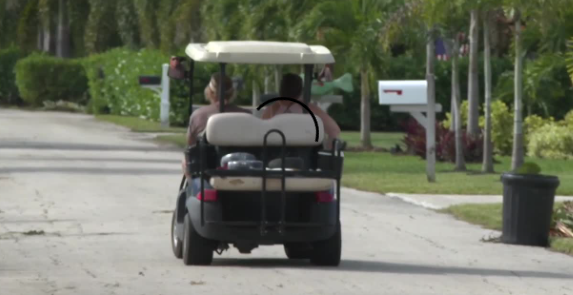 📣 YOUR CALLING IS CALLING! 📣 Are you or someone you know looking to begin 2023 with a new career? Join us for our Pop-up Job Fair on January 11 from 3-6 p.m. You'll have the opportunity to chat with our recruiters to discuss career opportunities and your goals/qualifications. On-the-spot offers of employment will be extended to qualified candidates! Learn more and RSVP:
http://bit.ly/3Vzsxwx
#ALLINMartin👊

❄YEAR IN REVIEW: WINTER BREAK COUNTDOWN❄ For the second consecutive year, Superintendent John D. Millay and the Martin County School District's (MCSD) Professional Development team hosted Back-to-School Convocation for all employees! Convocation Day is like a pep rally for employees. The event helps Team MCSD celebrate the start of each new school year, highlighting the "why" behind everything we do - the success of ALL students! WATCH:
https://youtu.be/vfgIs1FCVpg
#ALLINMartin👊 #PublicSchoolProud #MCSDTheRippleEffect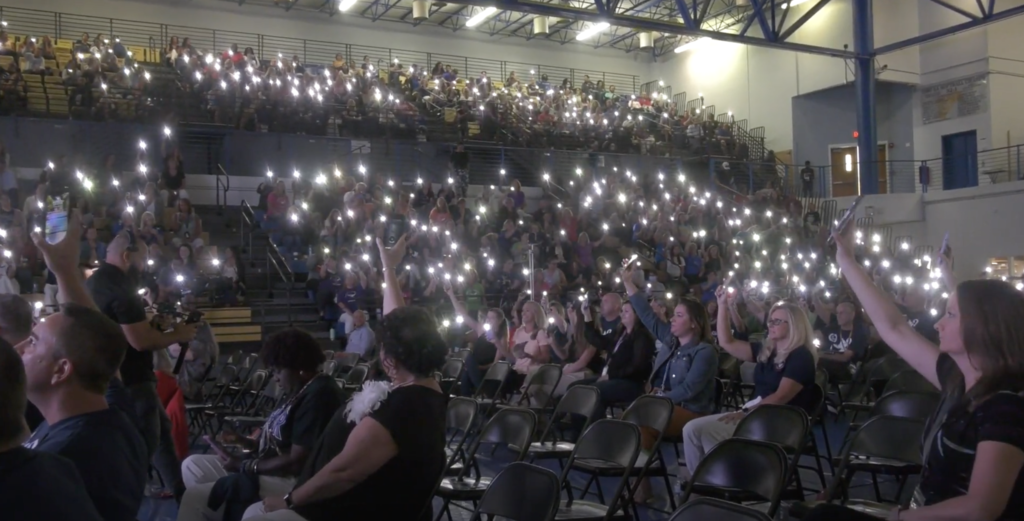 🍎EDIBLE HOLIDAY ARRANGEMENTS🍎 Check out these festive food arrangements from our jolly Food & Nutrition Services Department! To spread some holiday cheer ahead of Winter Break, the FNS team created snowman salads and strawberry Santas for students to enjoy! Tomorrow, for a special gift, any meal purchase comes with a free holiday cookie 🍪🎄 #ALLINMartin👊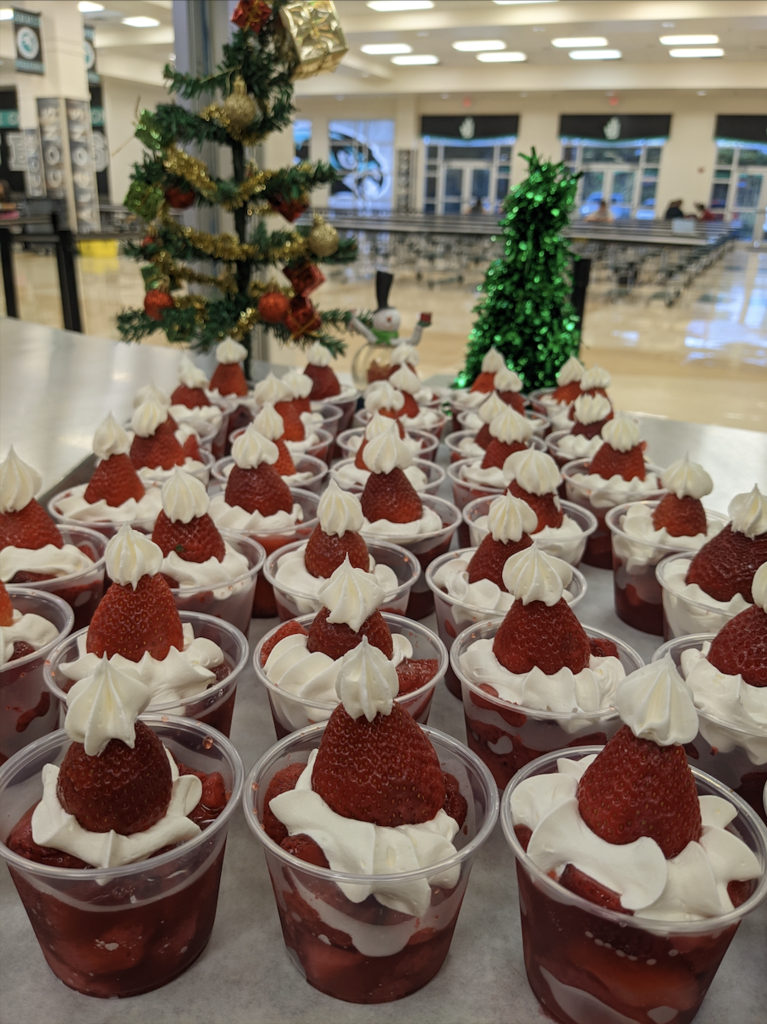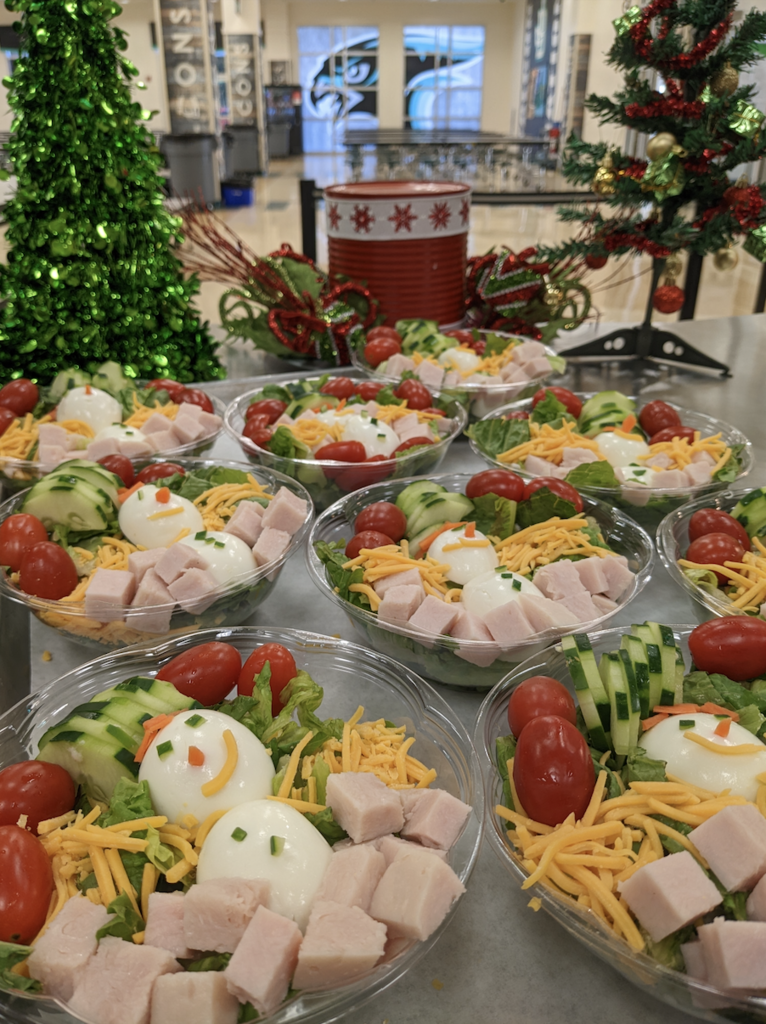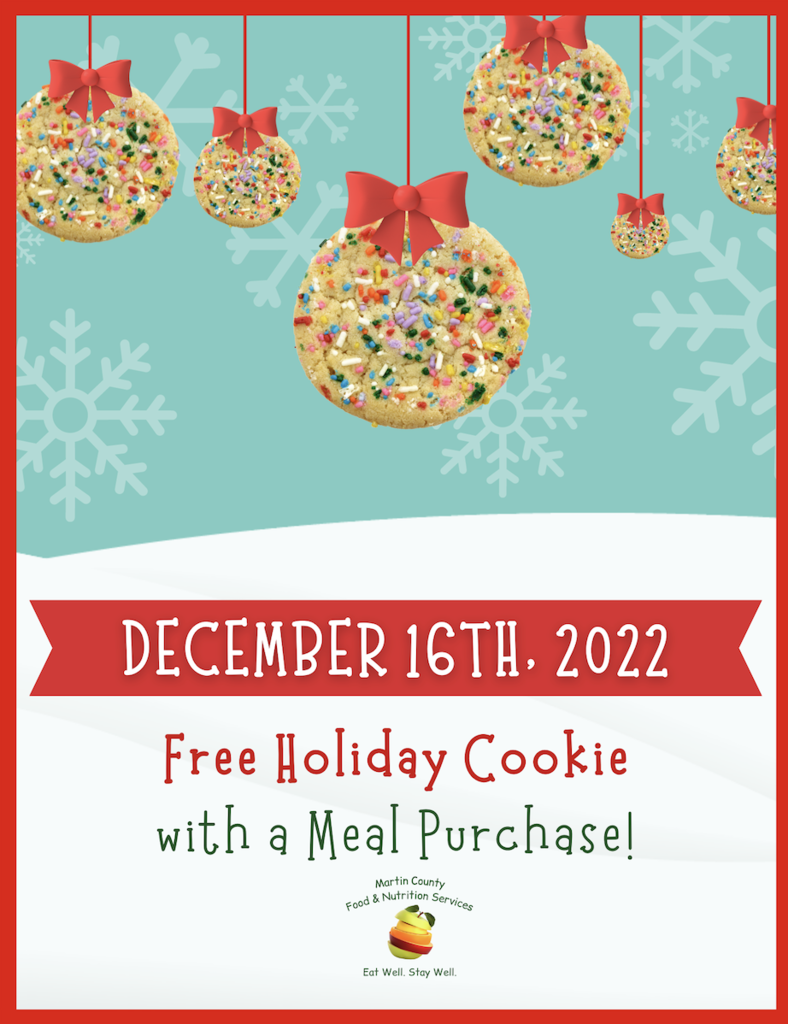 𝔼𝕟𝕧𝕚𝕣𝕠𝕟𝕞𝕖𝕟𝕥𝕒𝕝 𝕤𝕥𝕦𝕕𝕚𝕖𝕤 ℂ𝕖𝕟𝕥𝕖𝕣 𝕗𝕚𝕖𝕝𝕕 𝕥𝕣𝕚𝕡 🐠🐢🐡 . . . Our students had the opportunity to participate in a field-oriented program of environmental studies as a part of their regular school curriculum. This program focused on the mangrove community of the Indian River Lagoon. Students worked on study materials at school prior to their scheduled field trip. Students learned about the mangroves through a hands-on learning experience. As part of their field work students went waist deep into the water in the Indian River Lagoon while investigating the mangroves.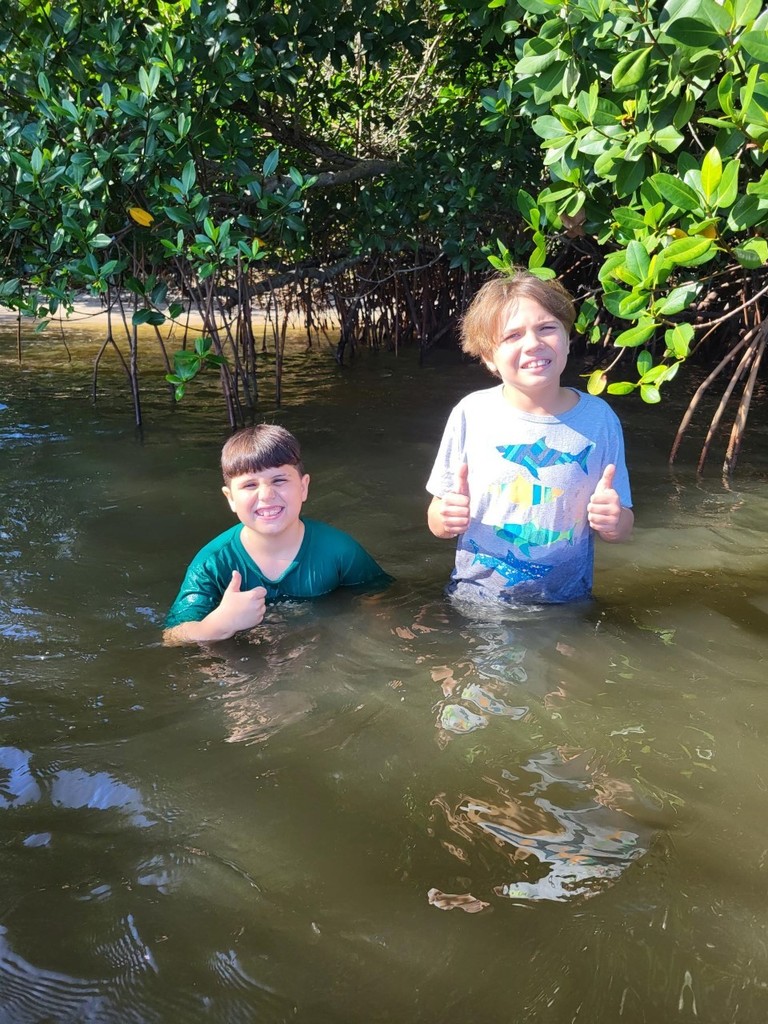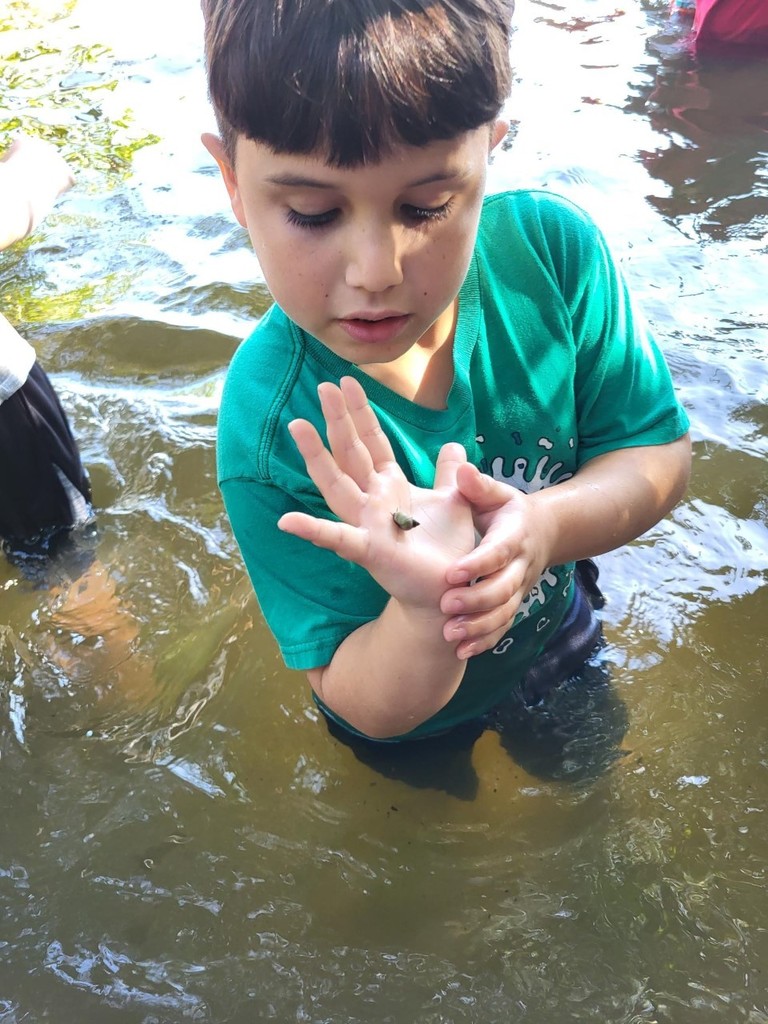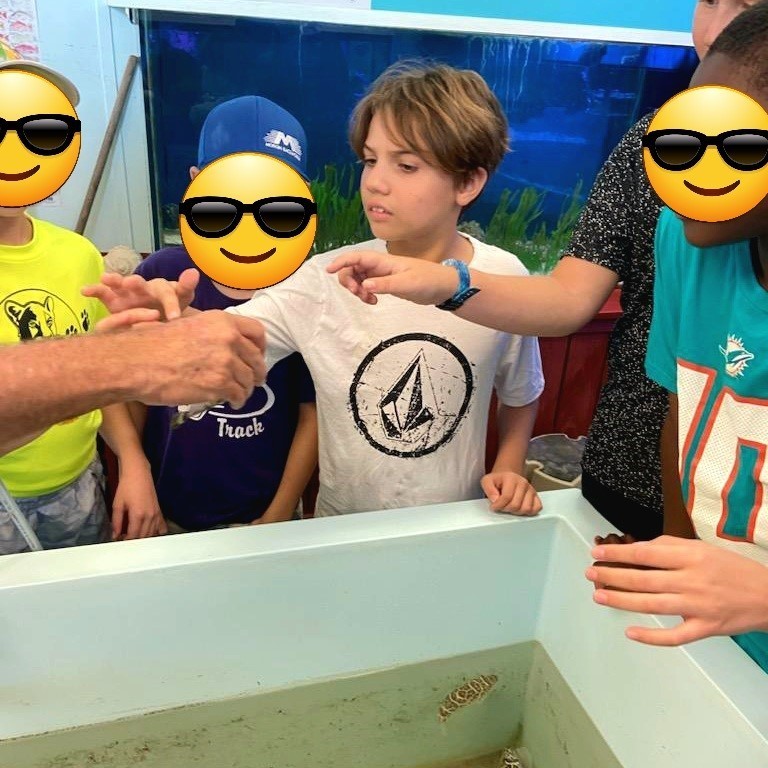 🗓ON THE CALENDAR🗓 Superintendent Millay has recommended modifications to our previously-announced emergency makeup days. There will be no school or work for students and employees on December 19 -20, 2022. Learn more:
https://www.martinschools.org/article/927297
#ALLINMartin👊 #PublicSchoolProud
Extra! Extra! Read all about it! Decembers Newsletter is now available!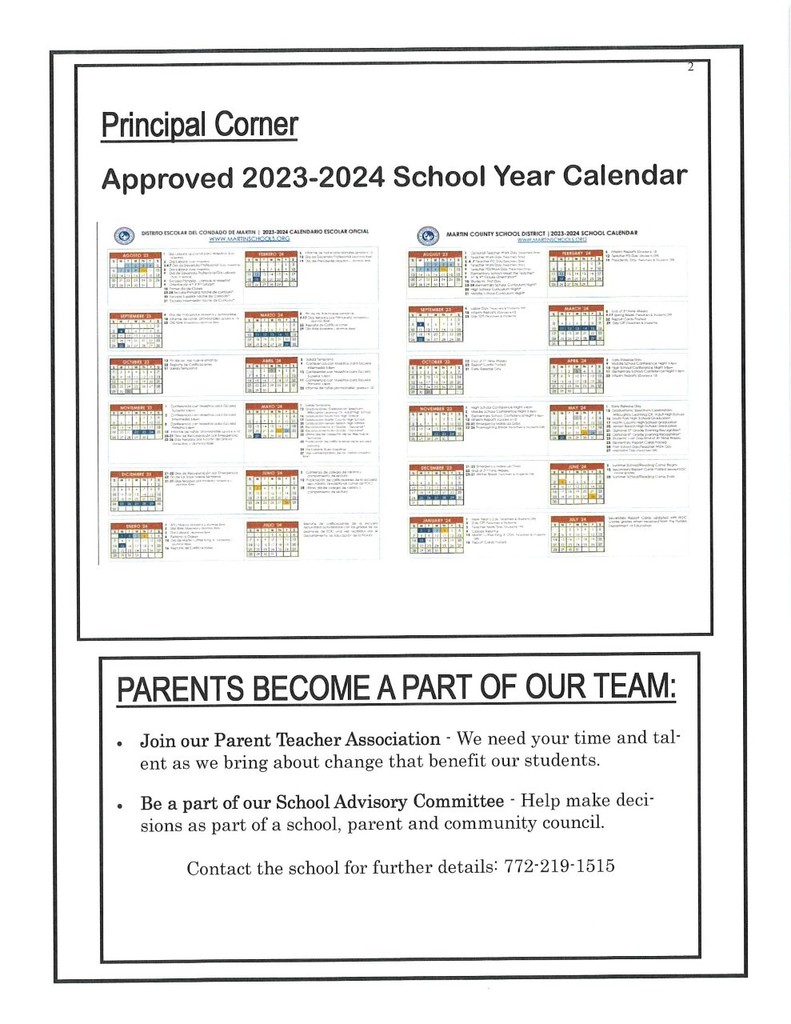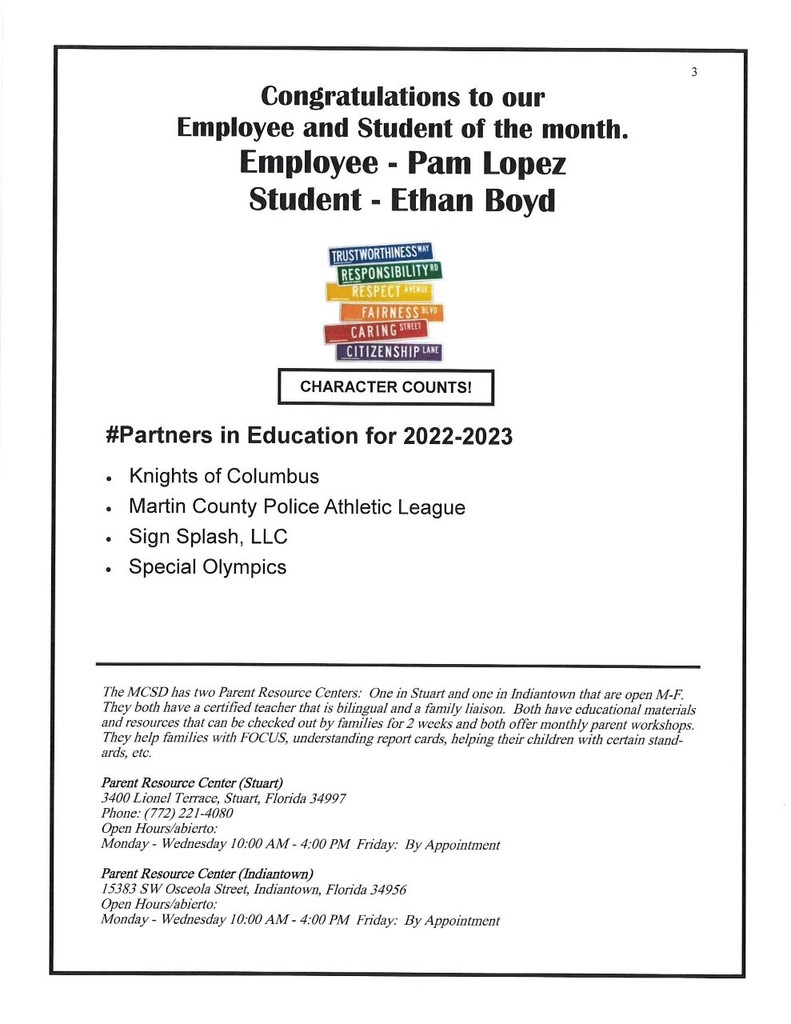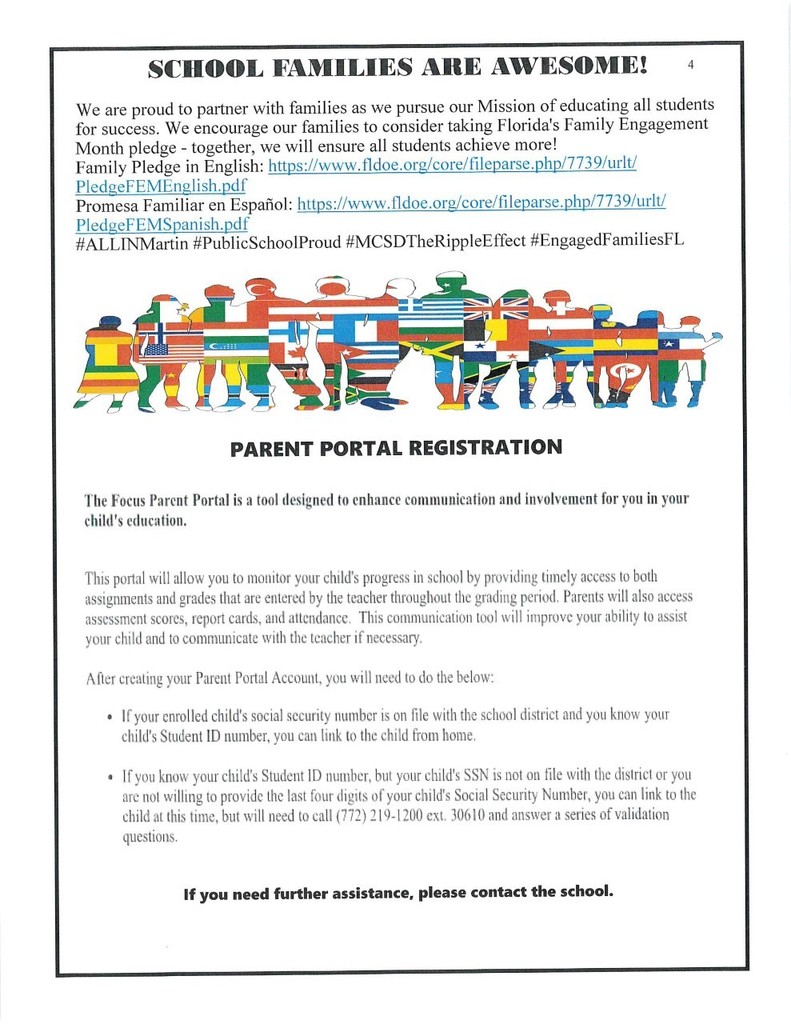 Twenty-seven outstanding employees were honored during the Martin County School District's annual School-Related Employee of the Year Ceremony on November 29th 2022. Part of the Florida Department of Education's (FLDOE) collection of employee appreciation programs, the School-Related Employee of the Year program recognizes outstanding educational support personnel for the significant contributions they make to their schools or departments. Congratulations to our ESE paraprofessional Miss. Shamantee Waithe. Thank you for always going above and beyond for Willoughby Learning Center 📓✏️🖇️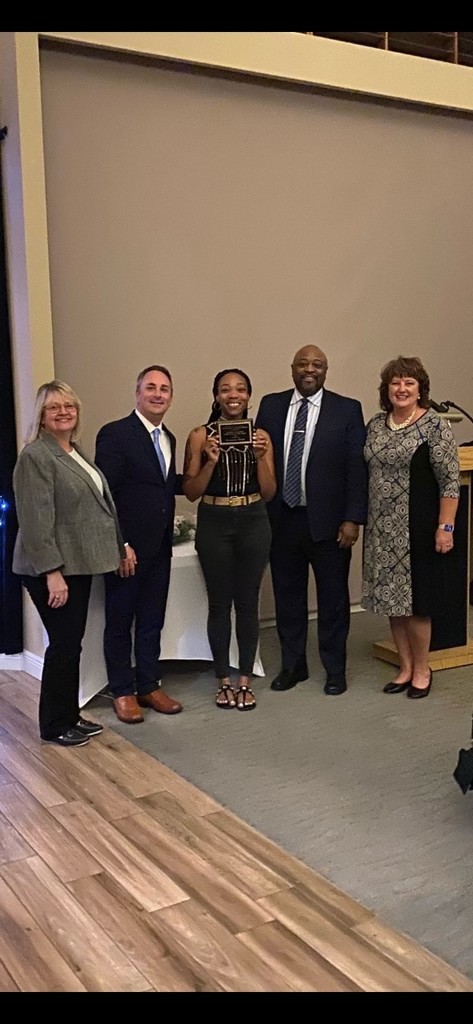 Congratulations to Ethan Boyd for doing your share to make your school and community better, staying informed, being a good neighbor, obeying laws and rules, respecting authority, protecting the environment and volunteering. Way to go Ethan! #CharacterCounts #Citizenship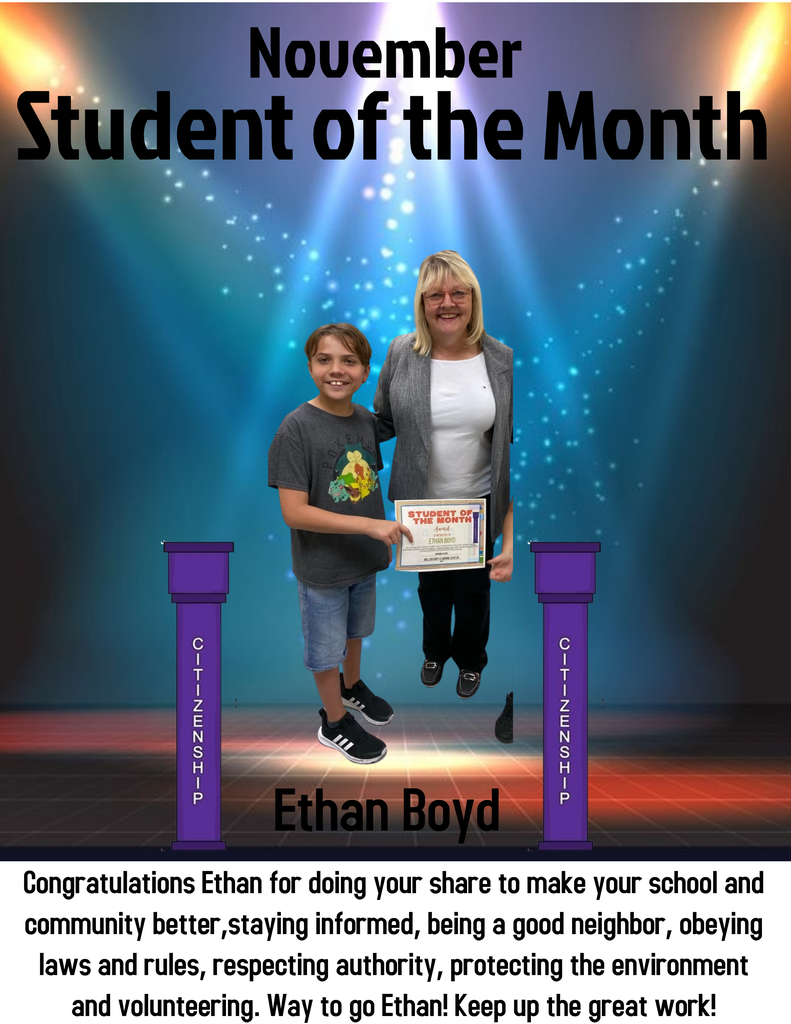 The Employee of the month is just a small term. You are the star of our team who shines and inspires us every single day. Congratulation's to our ELL Paraprofessional Pam Lopez for winning November's Employee of the Month !!Keep up the great work!

🍂GIVING THANKS🍂 We wish all of our students, families and employees a safe and relaxing #Thanksgiving holiday! Classes will resume on Monday, November 28. #ALLINMartin👊 #PublicSchoolProud