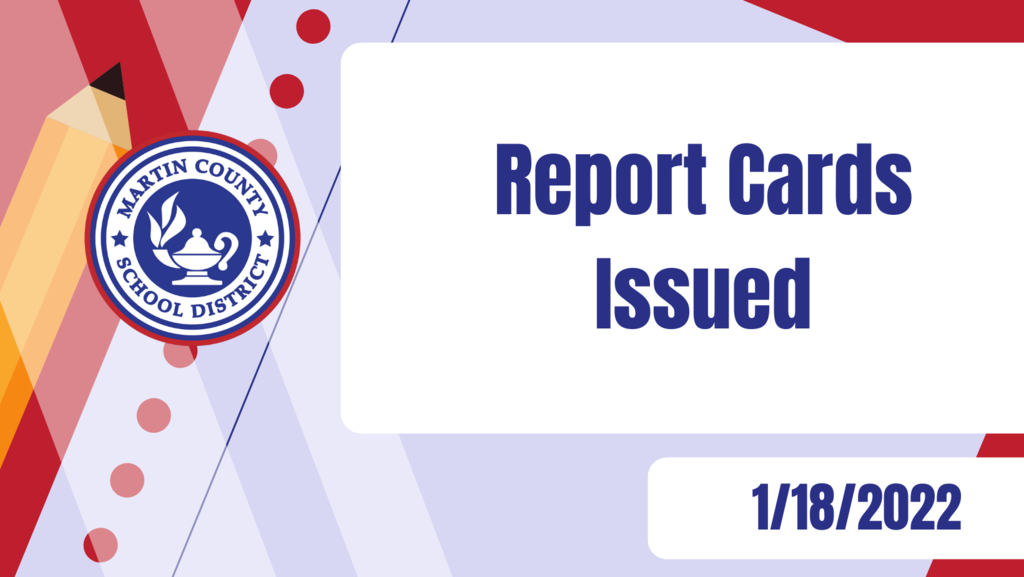 "The function of education is to teach one to think intensively and to think critically. Intelligence plus character – that is the goal of true education." -Martin Luther King, Jr. The dream lives on. #MLKJrDay #ALLINMartin👊

📲STAYING CONNECTED📲 Did you receive the latest edition of Martin Moments, our e-newsletter, in your inbox this week? Click the link below to catch up on the latest news and information from around MCSD!
https://conta.cc/3I6c8ZY
#ALLINMartin👊


Just a reminder, families - There will be no school for students on Friday, January 14 (Teacher Work Day) and Monday, January 17 (Martin Luther King, Jr. Day). Classes will resume Tuesday, January 18. #ALLINMartin👊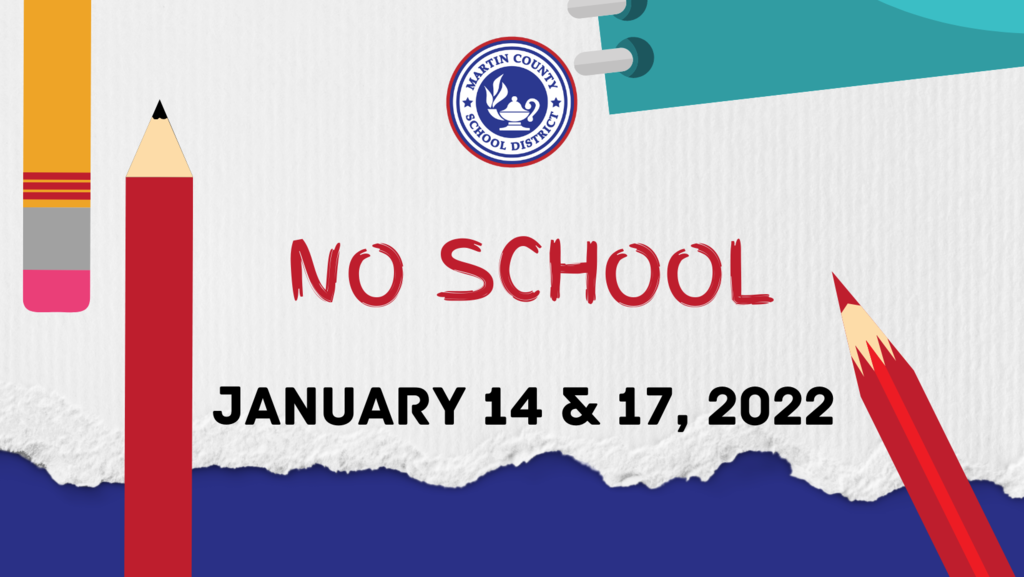 🍎 VPK OPEN ENROLLMENT: 2022-2023 SCHOOL YEAR🍎 The Martin County School District's Voluntary Pre-Kindergarten Program (VPK) will begin accepting applications for the 2022-2023 school year on February 7, 2022. The program is available at select District-operated schools with limited enrollment. The open enrollment will take place in two phases beginning on February 7, 2022, at 8:00 a.m. Please click here to learn more:
https://www.martinschools.org/article/621324
#ALLINMartin👊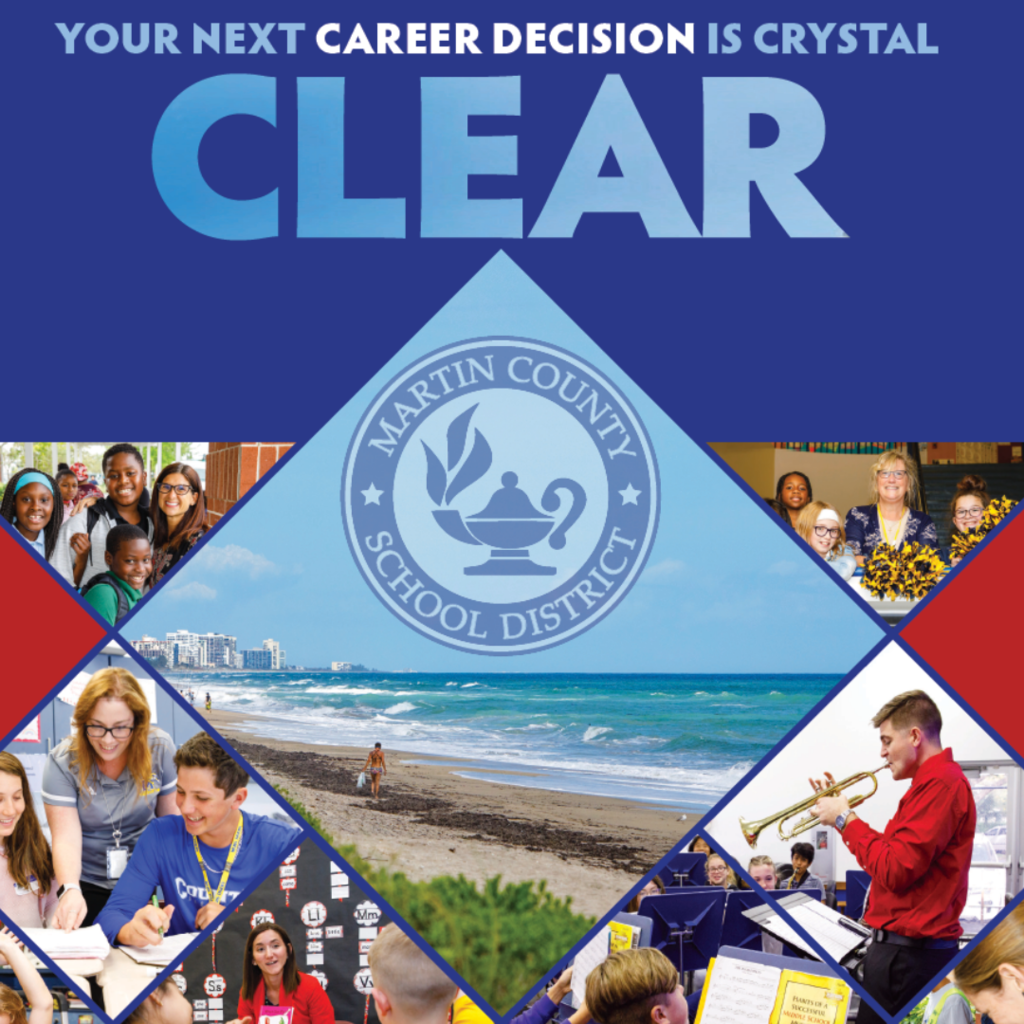 We are #ALLINMartin👊 and ready for a fantastic second semester of learning!

🎆...and 2021 is a wrap!🎆 🎇Happy New Year, Martin County!🎇 We are so excited to begin 2022 by going #ALLINMartin👊 in support of student achievement. Let's come together as a community to make this year the best yet for Martin County children!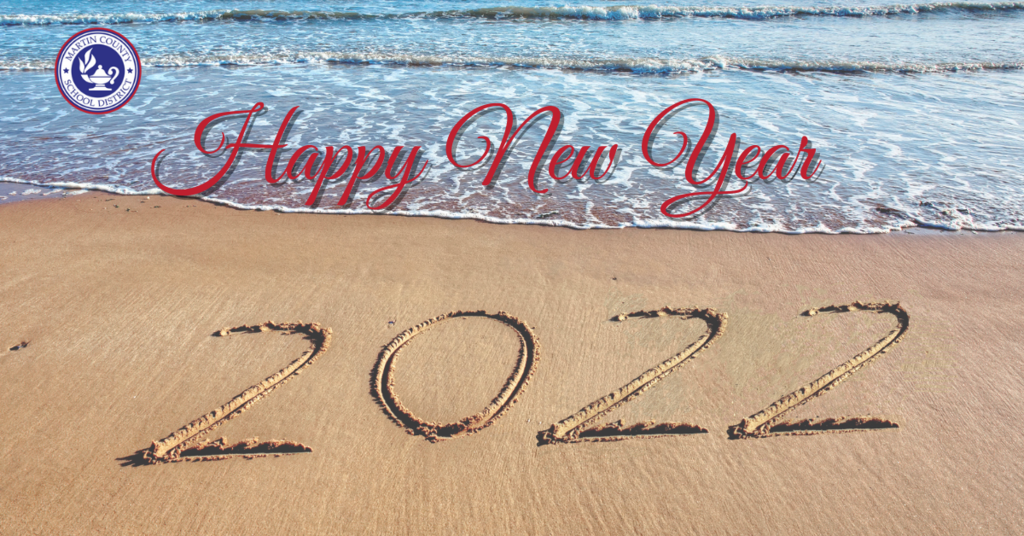 May peace, love, and unity bring a happy Kwanzaa to all who celebrate! #ALLINMartin👊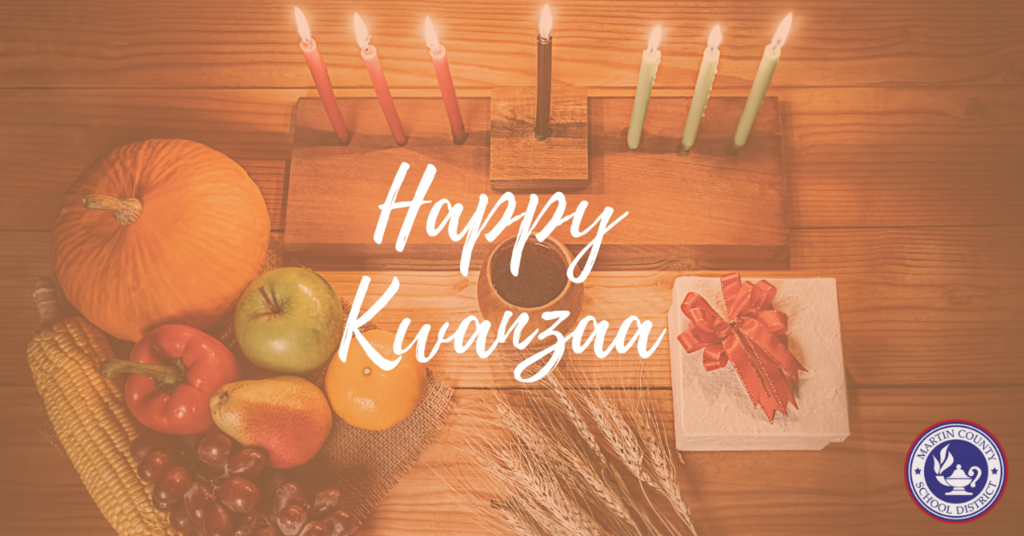 🌲Merry Christmas, Martin County! 🌲 May the spirit of the season fill your homes and hearts with warmth and love. #ALLINMartin👊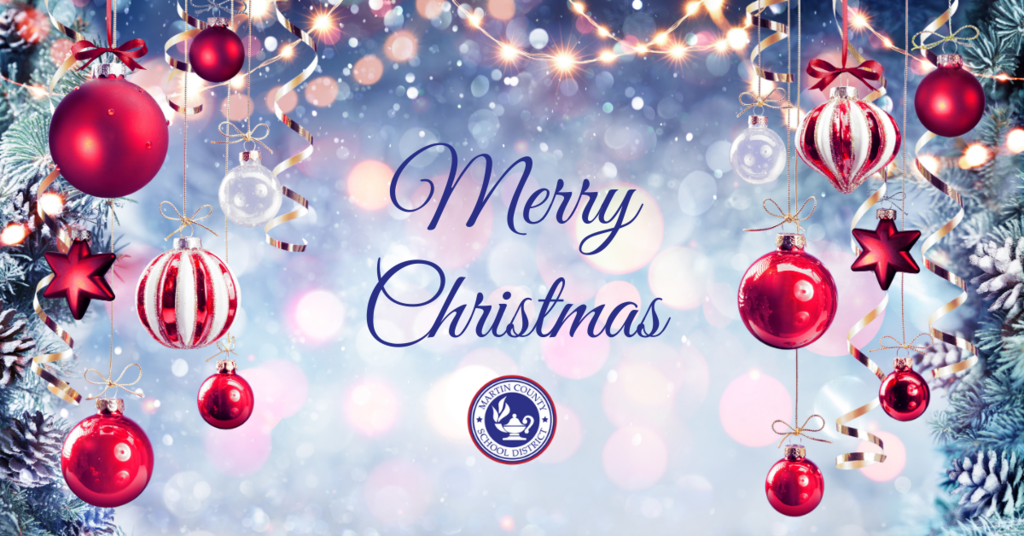 🎶🎤You better watch out, you better not cry, you better not pout I'm telling you why... 🎅Santa Claus is coming to town!🎅 Whose children are beyond excited and still awake? 🙋‍♀️🙋‍♂️

🌲SEASON'S GREETINGS FROM SUPERINTENDENT MILLAY🌲 Dr. John D. Millay wishes all students, employees and families a safe, relaxing and joyous holiday season. Watch his holiday greeting:
https://youtu.be/bqBvEnqXz6U
#ALLINMartin👊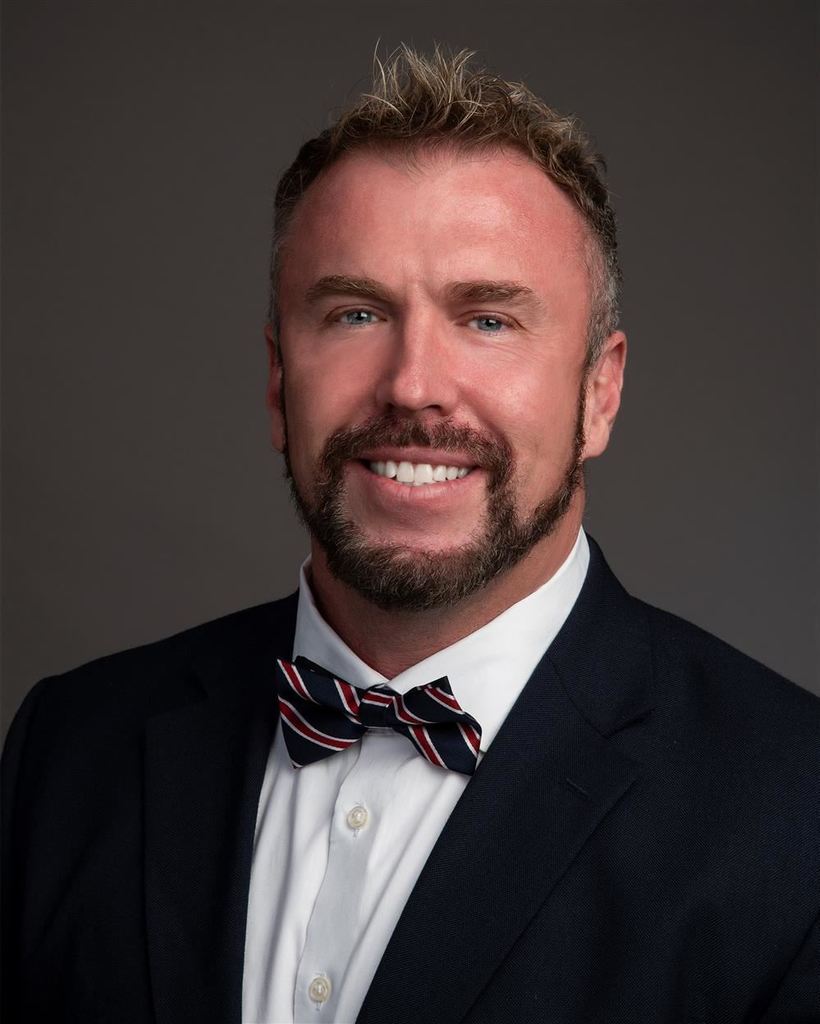 ⛄HAPPY WINTER BREAK!⛄ All District schools will be closed December 20 - December 31, 2021, for Winter Break. Classes will resume Monday, January 3, 2022. We wish all of our students, employees and families a safe and relaxing holiday season! #ALLINMartin👊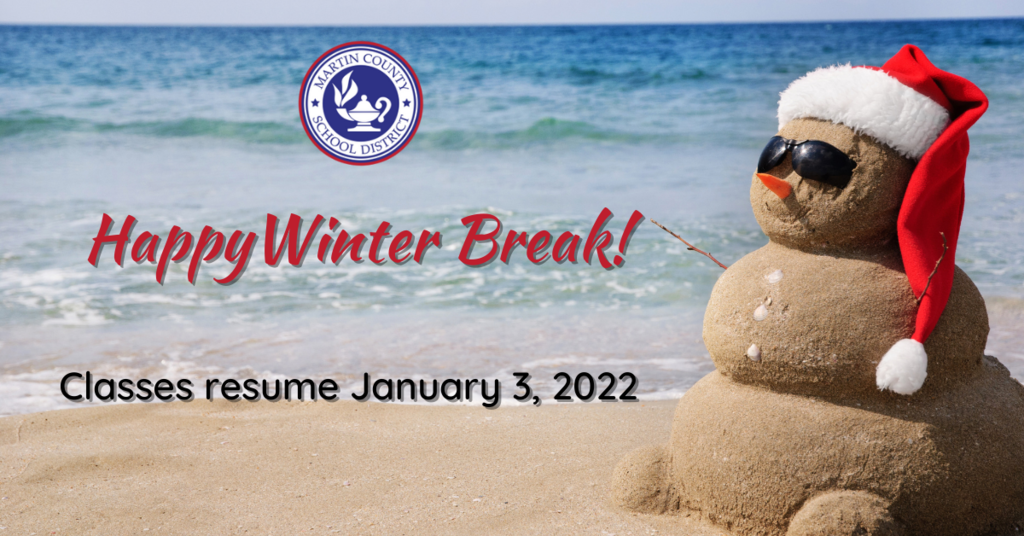 Students from HOSA and the Medical Academy at Martin County High School came to teach Mrs. Harse's 4th graders about Medical Technology. This was a great ending to their Technology for Tomorrow unit in ELA! #AllPawsIn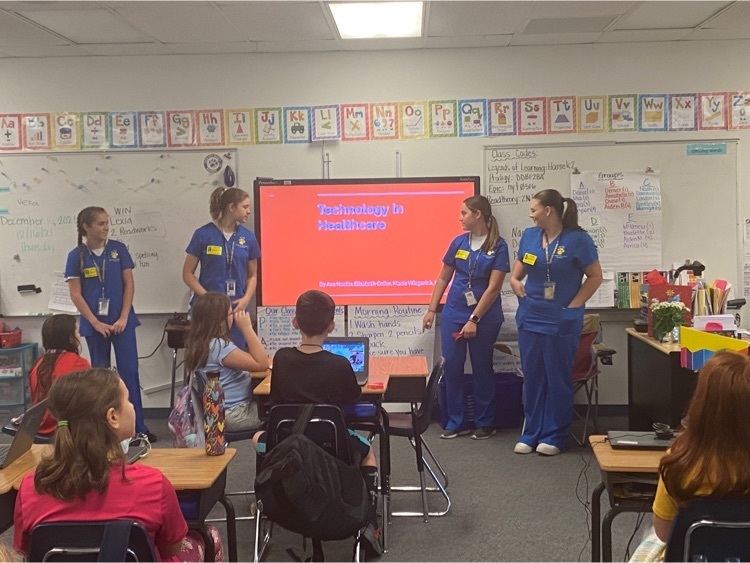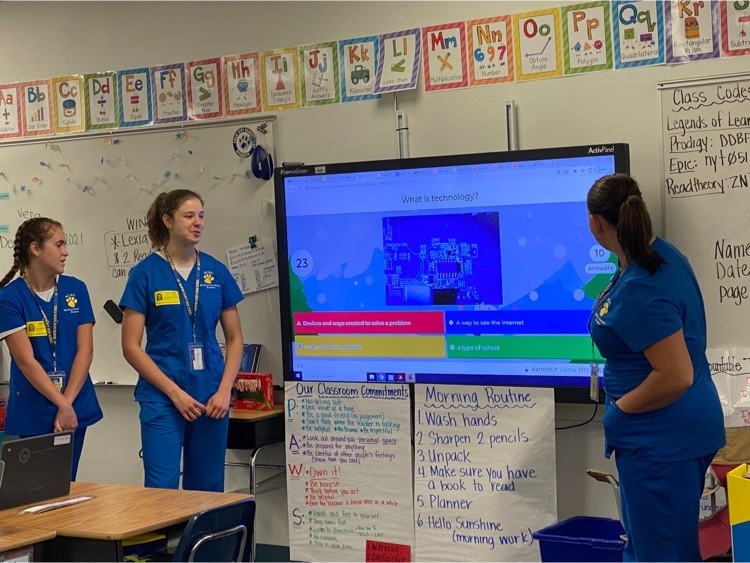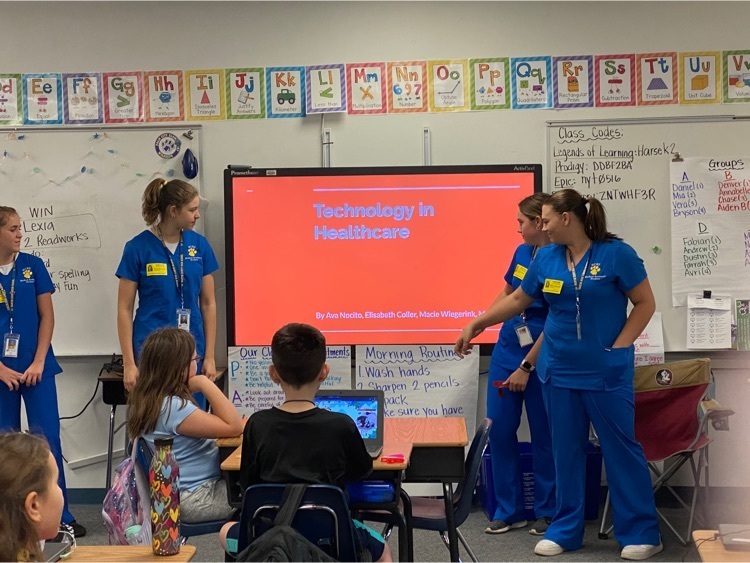 Students from HOSA and the Medical Academy at Martin County High School came to teach Mrs. Harse's 4th graders about Medical Technology. This was a great ending to their Technology for Tomorrow unit in ELA! #AllPawsIn
Students from HOSA and the Medical Academy at Martin County High School came to teach Mrs. Harse's 4th graders about Medical Technology. This was a great ending to their Technology for Tomorrow unit in ELA! #AllPawsIn

🍎EDUCATING ALL STUDENTS FOR SUCCESS🍎 Four Martin County schools have been recognized for their efforts to build and sustain a multi-tiered systems of support (MTSS) framework. MTSS refers to all instructional strategies, interventions and other resources that are implemented by school teams to help all students achieve. Effective MTSS builds culturally responsive academic and behavior supports to create effective environments that address a range of student needs. Florida's Problem Solving/Response to Intervention Project's Recognized Schools program honors schools for the work they are doing in building and sustaining their MTSS. The Martin County School District accounted for 20% of recognitions received throughout the state for the 2020-2021 school year. Congratulations to the following schools: 🍎Bessey Creek Elementary School 🍎Jensen Beach Elementary School 🍎Palm City Elementary School 🍎Warfield Elementary School

🐝S-U-C-C-E-S-S🐝 The District held the 56th annual Lillian A. Dassori Elementary Spelling Bee today.Outstanding spellers from each elementary school participated in the competition via Zoom, tackling the spelling of words such as "incendiary," "hexagonal," "impudent," "abracadabra," and "orthographize." The winning word was "equator." Congratulations to the following winners: Sayvel Bernal - First Place - Hobe Sound Elementary School Selah LeMay - Second Place – Palm City Elementary School Siri Scornavacca - Third Place – Crystal Lake Elementary School Jordan Hernei - Fourth Place – Jensen Beach Elementary School Christan Mailackel - Fifth Place - Pinewood Elementary School

As part of the Martin County School District's commitment to providing exemplary service to our students and their families, technical support for students' District-issued devices has been transitioned from the District Office to each school campus. Families in need of hardware or software support for District-issued devices should contact their child's school for assistance. Educational Technology staff assigned to each campus will perform necessary repairs or issue replacements of devices/chargers. #ALLINMartin👊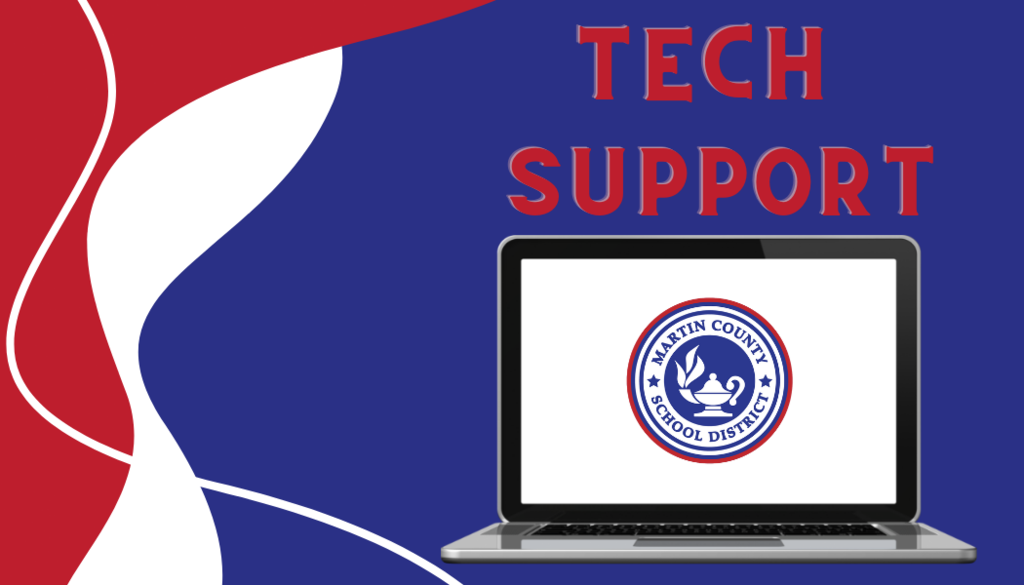 We wish all celebrating families peace, love and joy this Hanukkah season! #ALLINMartin👊