🍂GIVING THANKS🍂 We wish all of our students, families and employees a safe and relaxing #Thanksgiving holiday! Classes will resume on Monday, November 28. #ALLINMartin👊 #PublicSchoolProud

🍎HURRICANE MAKE-UP DAYS🍎 Due to Hurricanes Ian and Nicole, students enrolled in the Martin County School District have missed four (4) days of instruction this school year. In an effort to maximize instructional time and mitigate learning loss, the decision has been made to use two of the Hurricane Makeup Days that are included on the 2022-2023 instructional calendar. Learn more:
https://www.martinschools.org/article/915657
#ALLINMartin👊

🥳CELEBRATING THE DREAM TEAM 🥳 We are so grateful for our outstanding paraprofessionals, clerical and specialist staff, Educational Technology team, Food & Nutrition Services employees, Transportation staff and Operations personnel! These caring and dedicated employees contribute to #MCSDTheRippleEffect by ensuring our students receive the services and support they need to be successful. #ALLINMartin👊 #PublicSchoolProud #ESPDay22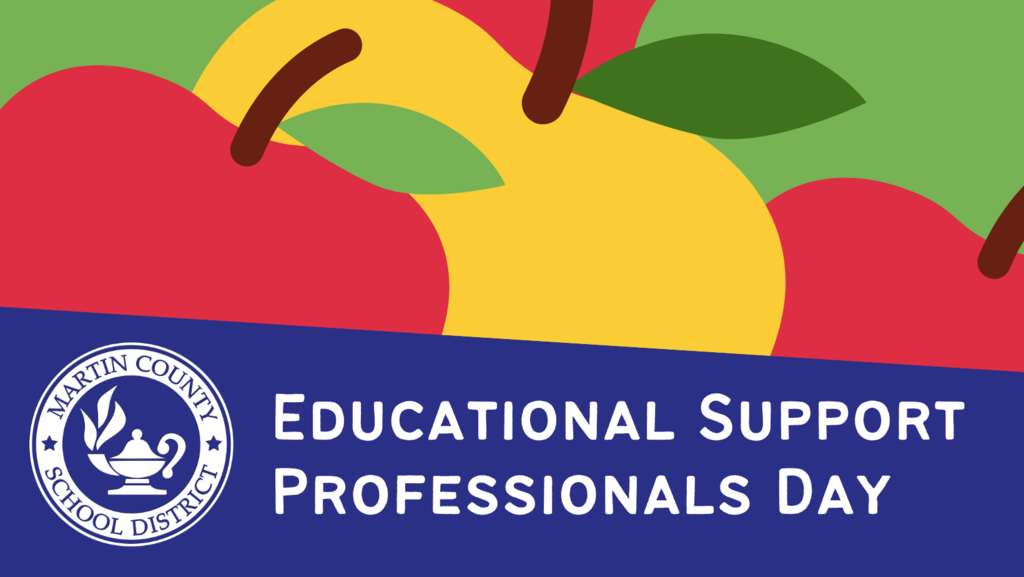 📢SHARE YOUR FEEDBACK📢 In accordance with Florida's instructional materials adoption cycle, the District is beginning the social studies curriculum adoption process. Students, parents/caregivers, employees and members of the community are encouraged to review materials that have been submitted by publishers and provide their feedback as part of the process. Learn more and get involved:
https://www.martinschools.org/article/910484
#ALLINMartin👊 #PublicSchoolProud

"We remember those who were called upon to give all a person can give, and we remember those who were prepared to make that sacrifice if it were demanded of them in the line of duty, though it never was. Most of all, we remember the devotion and gallantry with which all of them ennobled their nation as they became champions of a noble cause." - Ronald Reagan, 40th President of the United States of America #ALLINMartin👊 #PublicSchoolProud #VeteransDay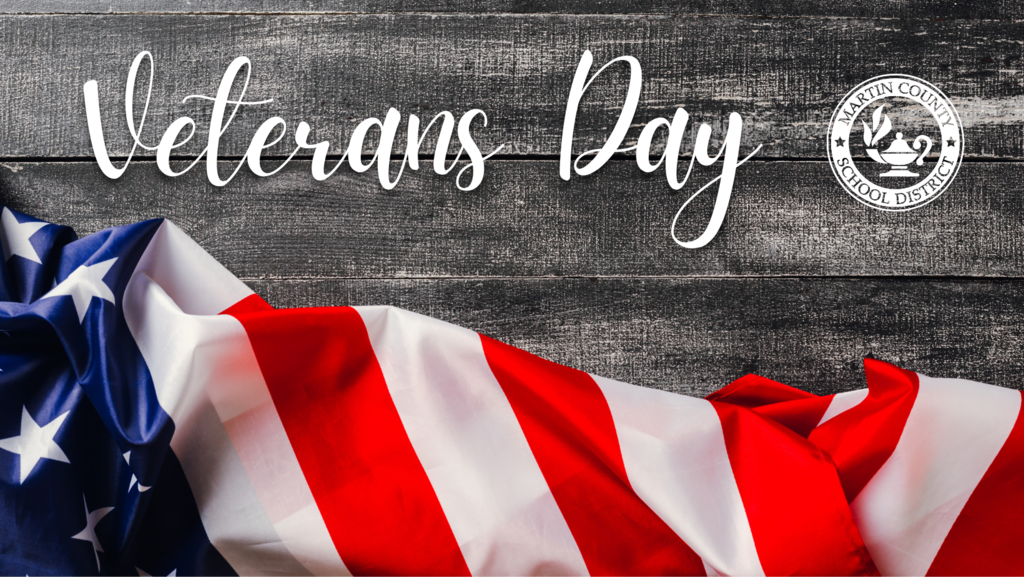 🍎DISTRICT TO REOPEN ON MONDAY, NOVEMBER 14🍎 Fortunately, our schools and facilities were spared the brunt of Hurricane Nicole. Our Facilities and Maintenance Departments are working to address minor repairs and clean up debris before reopening. The District will return to normal operations on Monday, November 14, 2022. #ALLINMartin👊

🗽CELEBRATING HEROES🗽 Just a reminder, Martin County - all schools and offices will be closed on Friday, November 11, in observance of #VeteransDay. #ALLINMartin👊 #PublicSchoolProud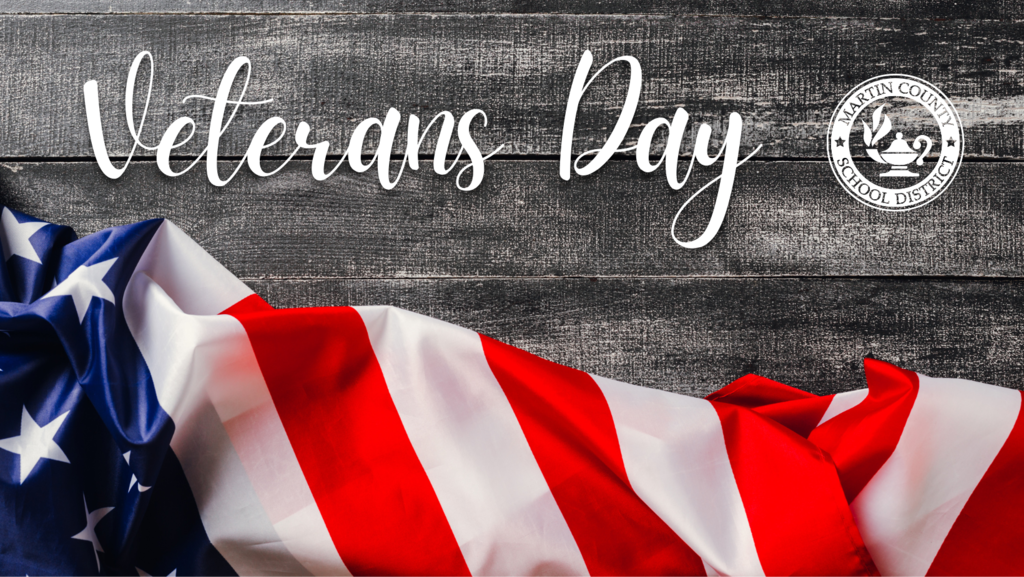 🌀EYE ON NICOLE🌀 In partnership with Martin County Emergency Management, the District will open five schools as storm shelters beginning at 8 a.m. tomorrow, November 9. Learn more:
https://youtu.be/Eecx6FFOXYA
#ALLINMartin👊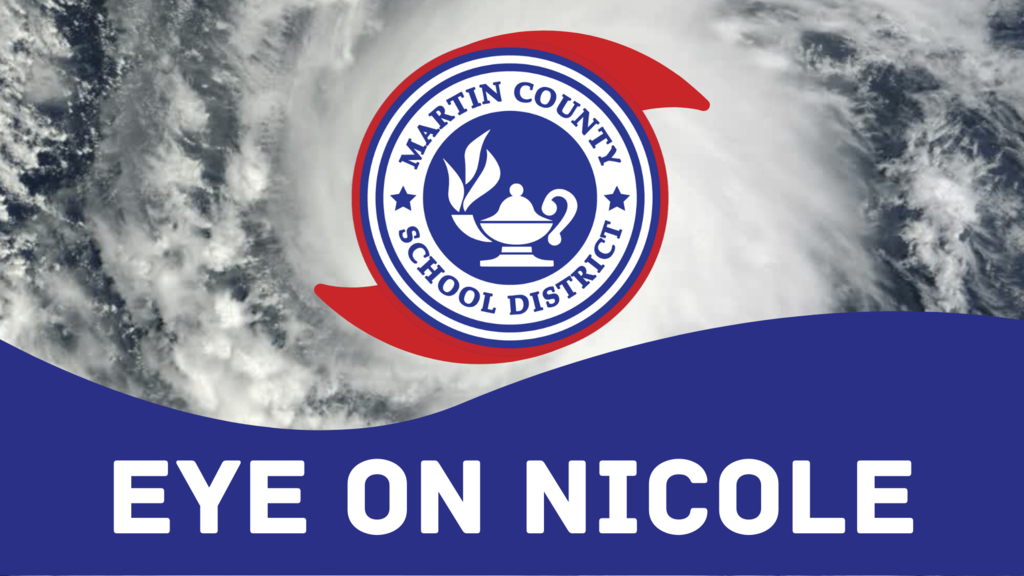 SeaWind Families: Retake photo day is coming to SeaWind on Monday, Nov. 14! If your child was absent or needs to have a retake photo taken, please register your child at
www.focusedonforever.com/retakes
Please do this NO LATER than 3 BUSINESS DAYS PRIOR (Wed. 11/9) so that your child will appear on the list. All retake proofs will be delivered electronically only, so you must register your child in order for them to be photographed. This also allows your proof to be visible to you afterwards.

🍎ELEMENTARY CONFERENCE NIGHT HAS BEEN RESCHEDULED🍎 Families - due to the approaching storm, elementary parent-teacher conferences have been rescheduled for November 16 from 5-8 p.m. Please watch for specific scheduling details coming from your child's school. #ALLINMartin👊 #PublicSchoolProud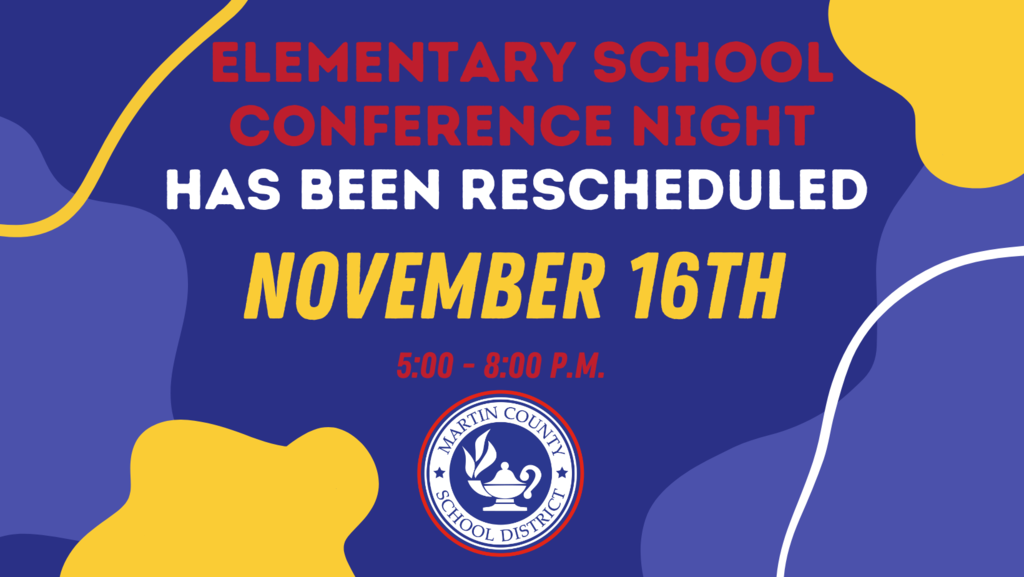 🌀EYE ON NICOLE -SCHOOLS TO BE CLOSED 11/9 & 11/10🌀 Close consultation with Emergency Management officials about the latest storm-related data has led to the Martin County School District's decision to close schools and cease all operations on Wednesday, November 9, and Thursday, November 10, 2022. In accordance with our 2022-2023 Instructional Calendar, schools and offices will remain closed on Friday, November 11, in observance of Veterans Day. Please click here to review additional information:
https://www.martinschools.org/article/900974
#ALLINMartin👊 #MartinReady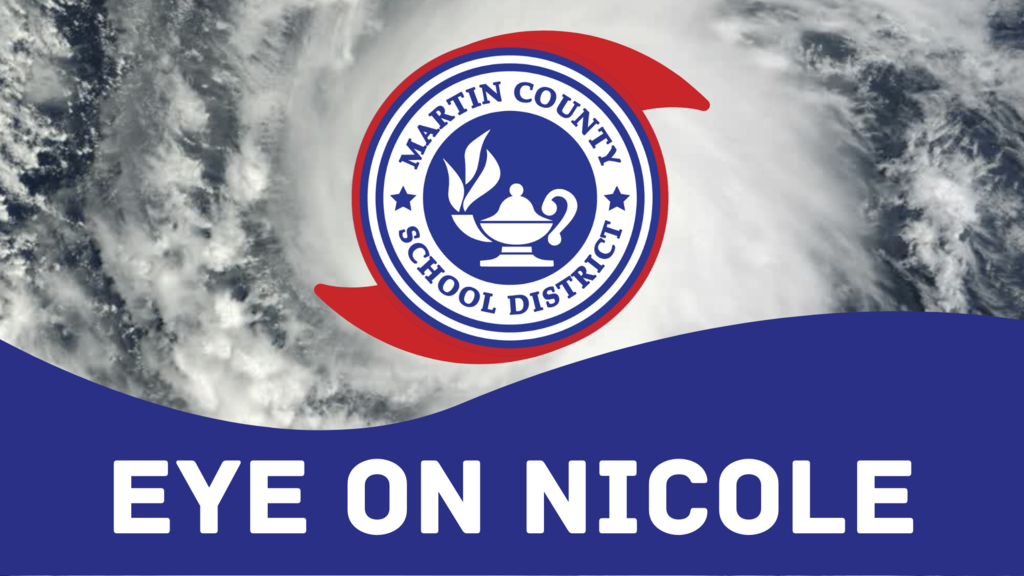 🍎EDUCATING ALL STUDENTS FOR SUCCESS🍎 Elementary school conferences will be held Wednesday evening at Bessey Creek Elementary School, Citrus Grove Elementary School, Crystal Lake Elementary School, Felix A. Williams Elementary School, Hobe Sound Elementary School, J.D. Parker Elementary School, Jensen Beach Elementary School, Palm City Elementary School, Pinewood Elementary School, Port Salerno Elementary School, SeaWind Elementary School and Warfield Elementary School. Parents/caregivers wishing to meet with teachers should review the scheduling instructions that have been released by their child's school. #ALLINMartin👊 #PublicSchoolProud #MCSDTheRippleEffect

Reminder to set your clocks back one hour this evening-- it's time to #FallBack! #DaylightSavingTime #ALLINMartin👊 #PublicSchoolProud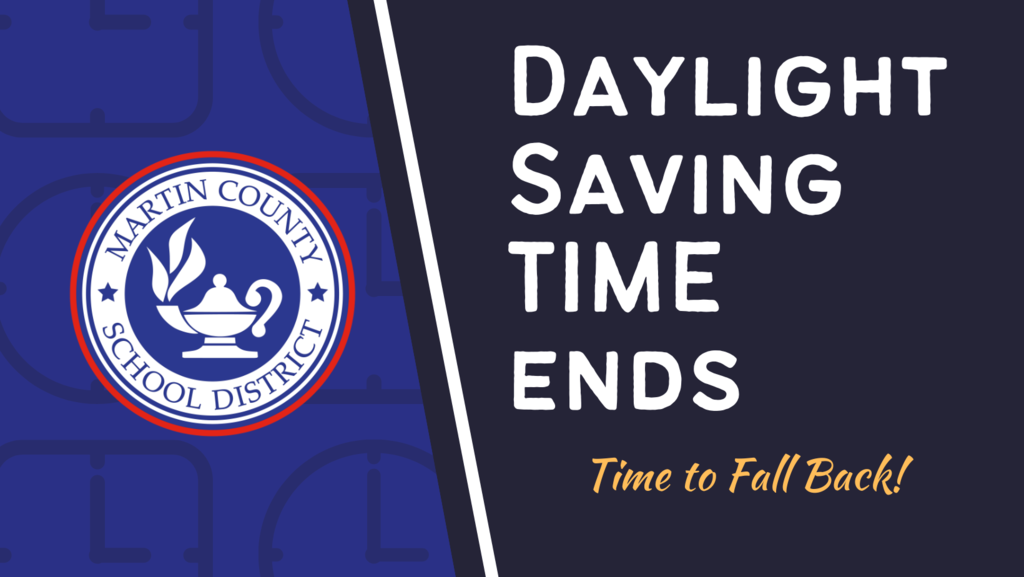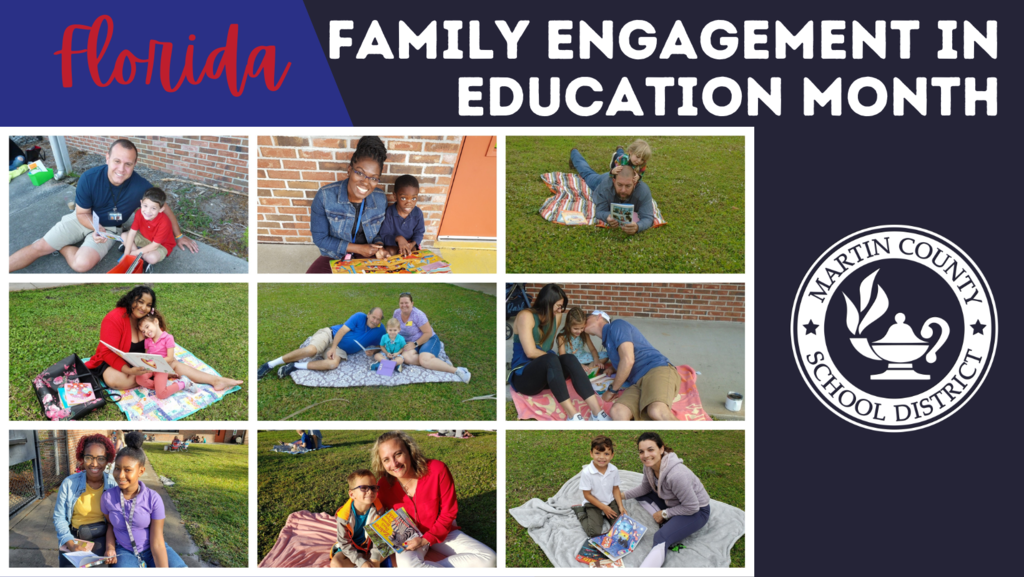 🍎EARLY RELEASE DAY🍎 Just a reminder, families - today is an early release day. Students will be dismissed two hours earlier than normal. View our complete school calendar:
https://www.martinschools.org/page/calendars
#ALLINMartin👊 #PublicSchoolProud

🍎EDUCATING ALL STUDENTS FOR SUCCESS🍎 Our Fall Conference Nights are coming soon, families! Please watch for additional details coming from your child's school. View our complete instructional calendar:
https://www.martinschools.org/page/calendars
#ALLINMartin👊 #PublicSchoolProud #MCSDTheRippleEffect

🍎CELEBRATING EDUCATIONAL EXCELLENCE🍎 On November 1, 2022, the Martin County School District will host its annual perfect score recognition ceremonies for elementary, middle and high school students. One hundred fifteen (115) students earned a perfect score on one or more statewide assessments during the 2021-2022 school year and will be honored during the ceremonies, which will be held inside the cafeteria at Stuart Middle School. Click to view the complete list of perfect score honorees:
https://www.martinschools.org/article/883631
#ALLINMartin👊 #PublicSchoolProud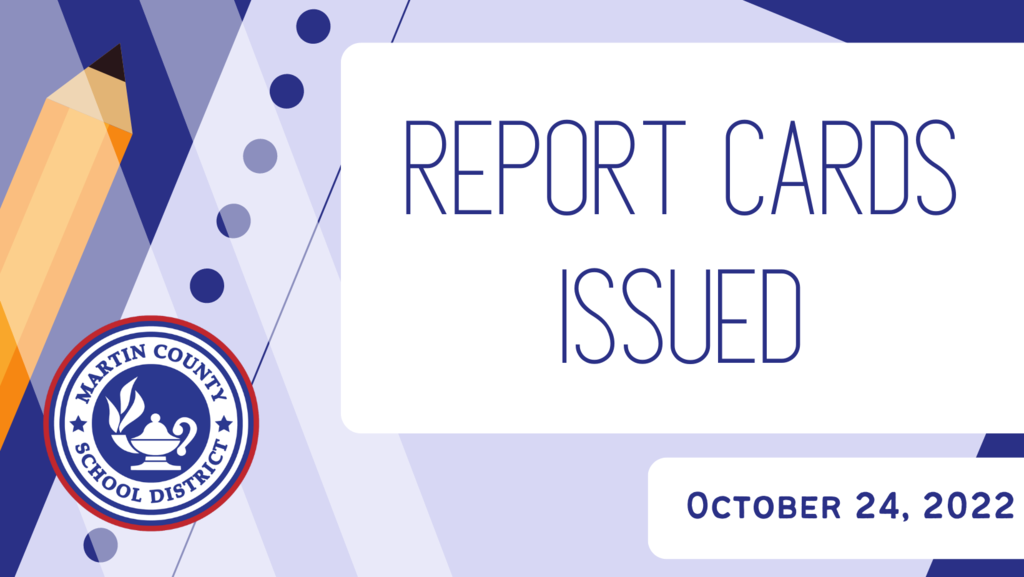 💗 CHARACTER COUNTS! 💗 In partnership with the Boys & Girls Clubs of Martin County, the Martin County School District is proud to announce the revitalization of an important program that will contribute to #MCSDTheRippleEffect and reframe how mental wellness support is delivered to students. "Character Counts! is not new to the Martin County School District," Superintendent John D. Millay shared during a kickoff event held at the Palm City Chamber of Commerce last week. "When I say we're revitalizing it, we're bringing it front and center." 👀Watch the video:
https://youtu.be/nys26EwXCYo
#ALLINMartin👊 #PublicSchoolProud