🗽Honoring our nation's heroes.🗽 Martin County School District is proud to honor the brave men and women throughout history who made the ultimate sacrifice to protect our liberty and freedoms. May we never forget that freedom isn't free. #MemorialDay. #ALLINMartin


🍽 SUMMER BREAK SPOT 🍽 Our Food & Nutrition Services Department will continue to offer free meals to children aged 18 and under during the summer months with no income restrictions. Breakfasts and lunches will be served beginning on Tuesday, May 31. Please click here to learn more:
https://www.martinschools.org/article/755243
#ALLINMartin👊 #PublicSchoolProud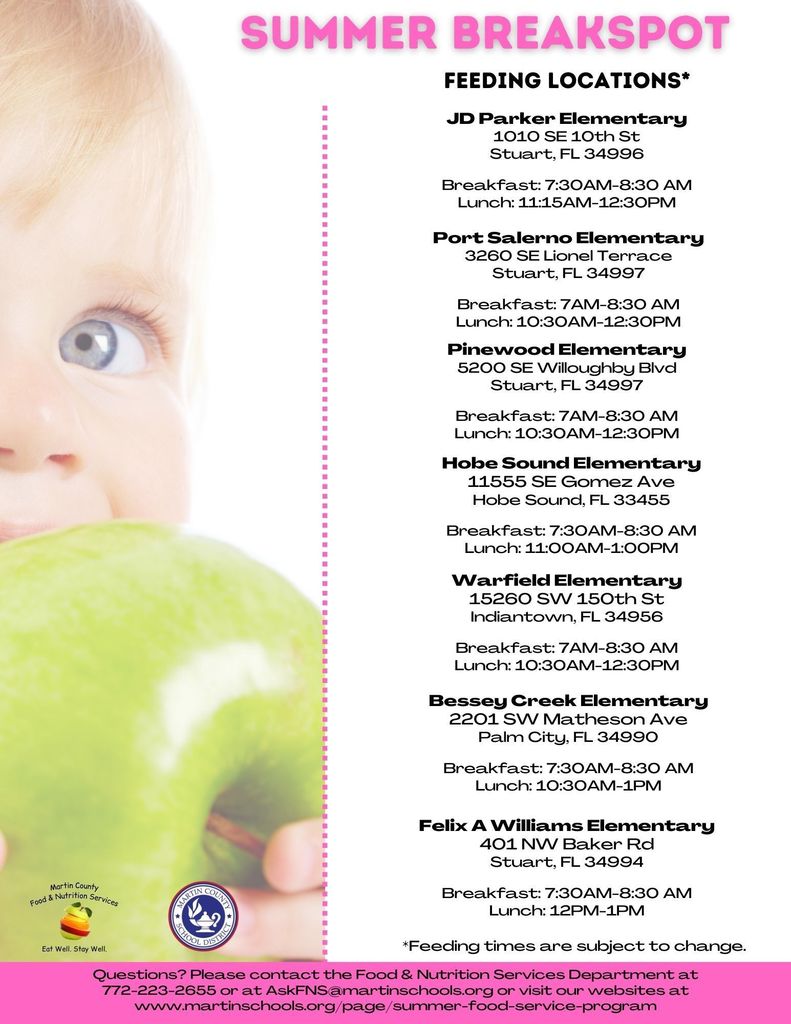 🌞 HAPPY SUMMER, FAMILIES! 🌞 Fourth-quarter report cards for elementary students will be posted today, May 27. Report cards for middle and high school students will be posted on Tuesday, June 14. View your child's grades and attendance records in the FOCUS Parent Portal:
https://martin.focusschoolsoftware.com/focus/
. If you do not currently have access to the FOCUS Parent Portal, please click here to view instructions for claiming your account:
https://martin.focusschoolsoftware.com/focus/auth/
. We wish all of our students and families a safe and relaxing summer break. The 2022-2023 school year will begin on August 10, 2022. #ALLINMartin👊

Our hearts remain with Uvalde. 💔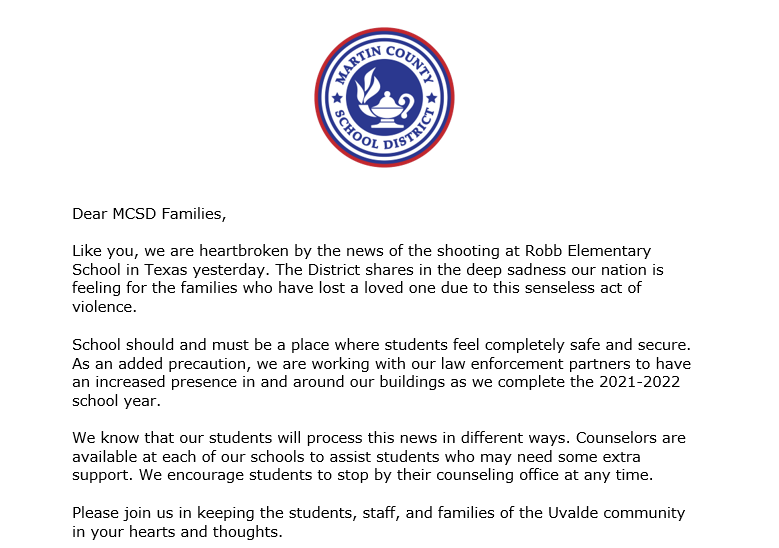 A mother is she who can take the place of all others, but whose place no one else can take.💐❤️ Happy #MothersDay, Martin County!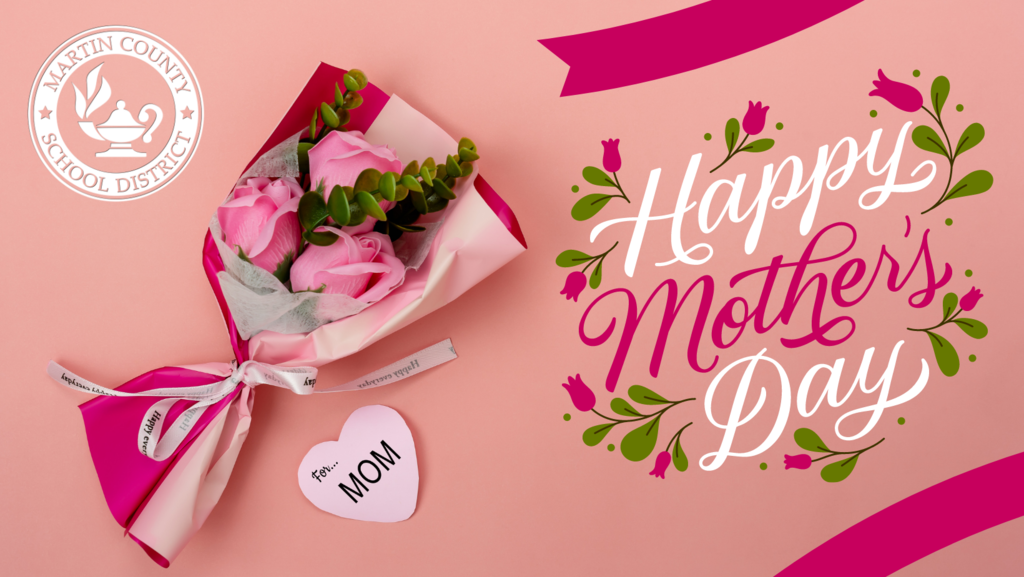 The voter-approved half-mill property tax has funded an extra School Resource Officer (SRO) at each MCSD-operated high school for the last four years. The Martin County School Board wants to know if you think this should be continued if the half-mill is renewed by voters on August 23, 2022. Please click the following link to share your thoughts with the School Board:
https://bit.ly/MCSDMillageRenewalSurvey
. #ALLINMartin👊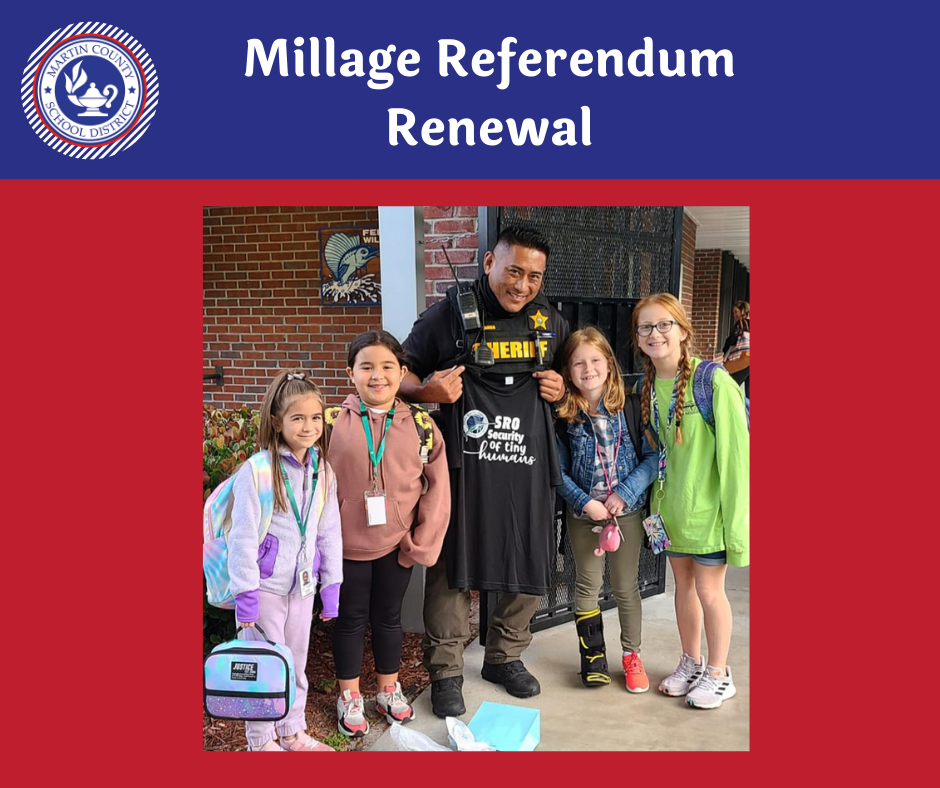 🍎EARLY RELEASE DAY🍎 Just a reminder, families - Wednesday, May 4, is an early release day. Students will be dismissed two hours earlier than normal. View our complete school calendar:
https://www.martinschools.org/page/calendars
. #ALLINMartin👊 #PublicSchoolProud

🍎CELEBRATING LIFECHANGERS🍎 The Martin County School District is proud to recognize the many talented educators who help us achieve our mission of educating all students for success each and every day! #ALLINMartin👊 #PublicSchoolProud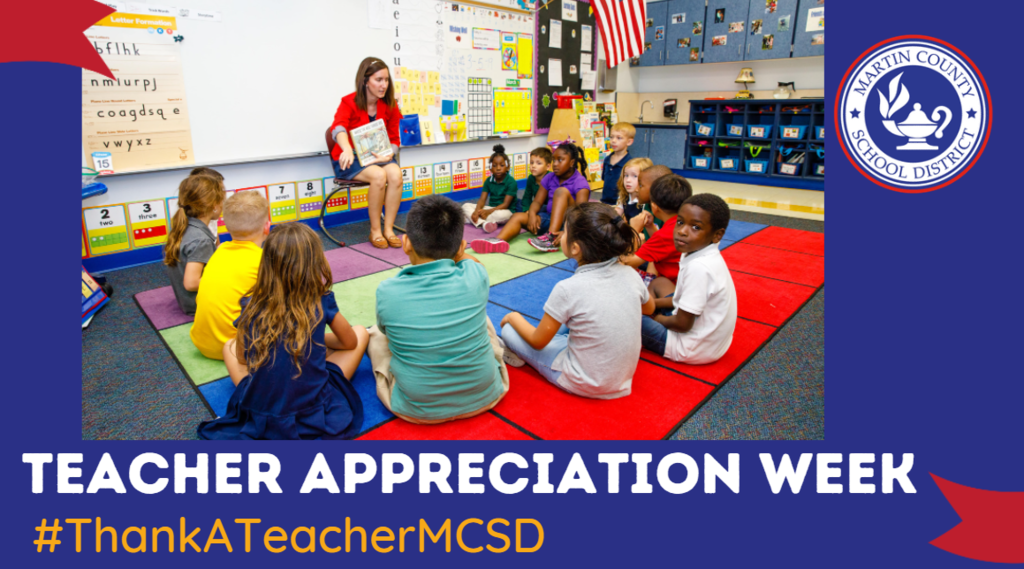 🤝CELEBRATING PARTNERSHIP🤝 The Martin County School District held its annual Volunteer & Business Partner Awards Ceremony on April 14, honoring many outstanding members of our community for their donation of their time and talents to our students and schools. More than 2,400 volunteers donated approximately 42,000 hours of their time in service to children in the 2020-2021 and 2021-2022 school years, resulting in an estimated impact equivalent to $1.2M. We feel honored and extremely fortunate to be able to continue educating all students for success in our generous, giving, engaged and helpful Martin County community! Watch the video:
https://youtu.be/om6XOREm28A
#ALLINMartin👊 #PublicSchoolProud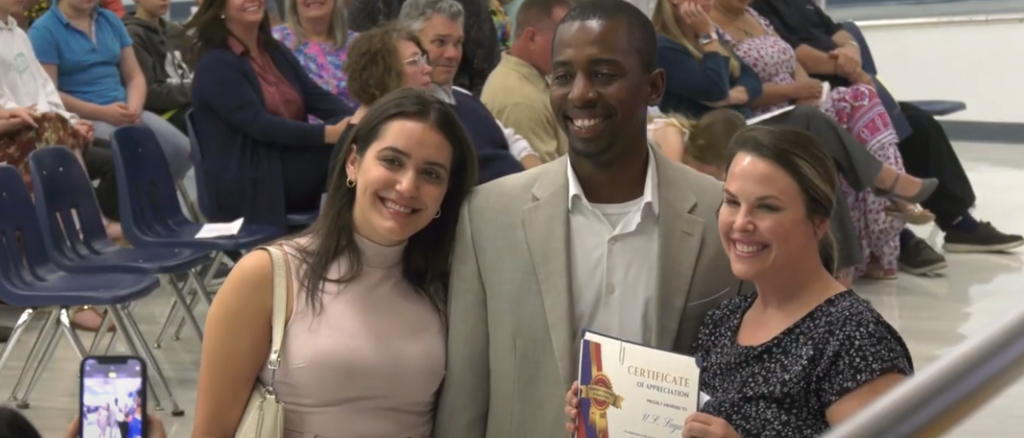 🐰💐Happy Easter to all who celebrate!🐰💐 We look forward to welcoming our students back to school on Tuesday, April 19. #ALLINMartin👊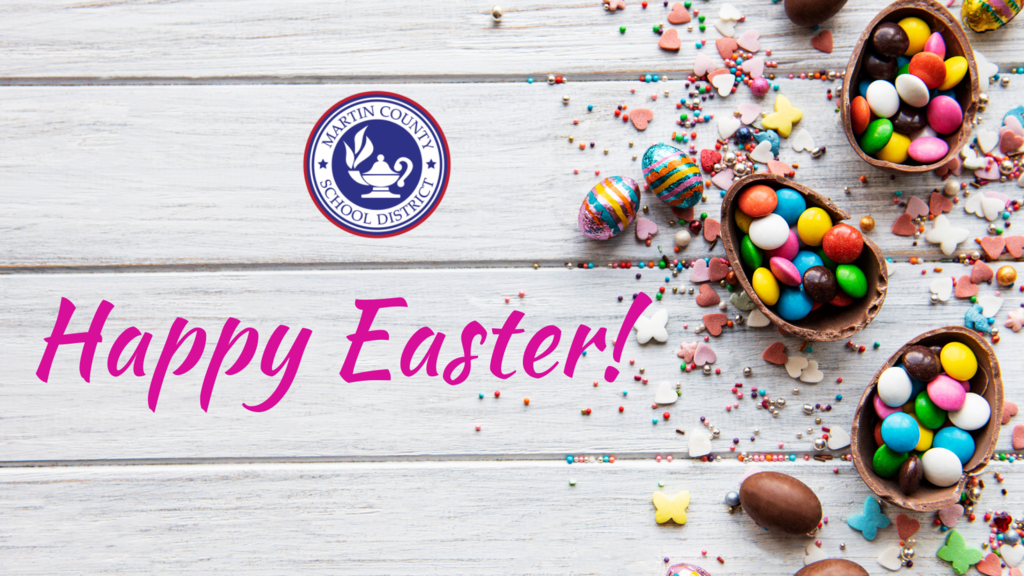 🍎NO SCHOOL REMINDER🍎 Families - all MCSD schools will be closed on Friday, April 15, and Monday, April 18, 2022. Classes will resume on Tuesday, April 19, 2022. View our complete school calendar:
https://www.martinschools.org/page/calendars
. #ALLINMartin👊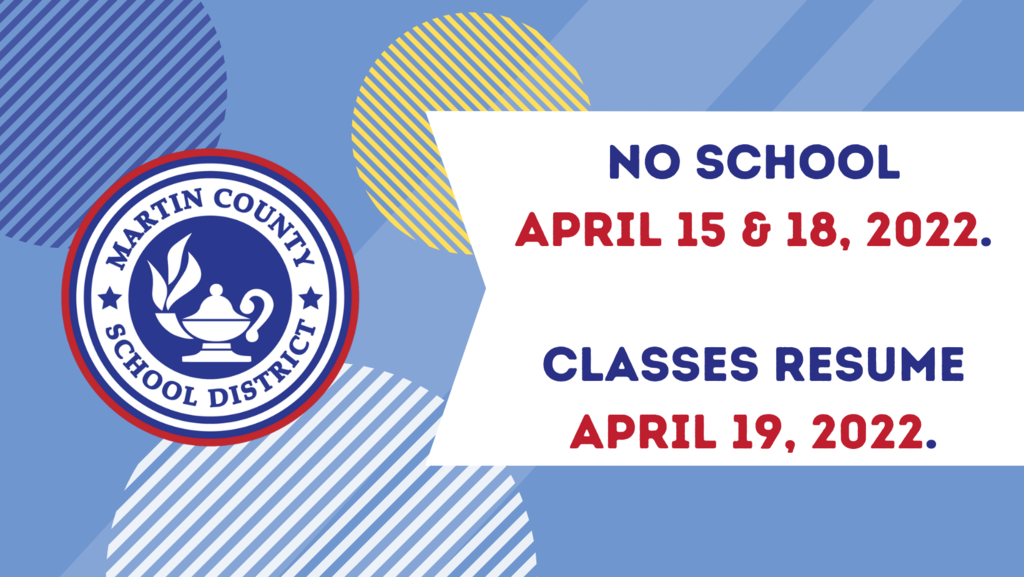 🍎INSTRUCTIONAL UPDATE FOR FAMILIES🍎 In March, Governor Ron DeSantis signed Senate Bill 1048 into law, effectively eliminating Florida Standards Assessments (FSAs) and replacing them with progress monitoring. This school year will be the last year that students take FSAs - next year, Florida will fully implement progress monitoring-based school accountability. Our Division of Instructional Services has created a video explaining what parents need to know about this new legislation and the status of assessments:
https://youtu.be/hjIM1Xcns6c
. Many of our students will participate in FSAs this week. We ask families to continue prioritizing attendance and punctuality while also encouraging their children to take pride in demonstrating what they have learned this year. Families are encouraged to reach out to their child's school with any questions. #ALLINMartin👊 #PublicSchoolProud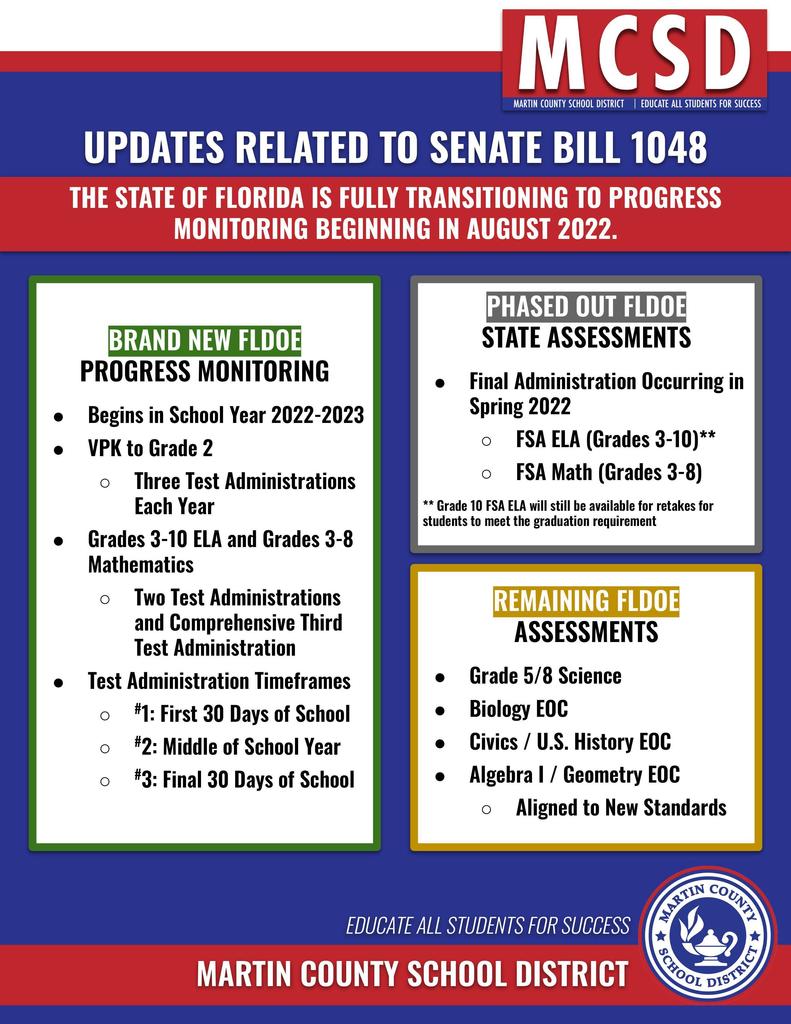 🍎CELEBRATING OUTSTANDING SCHOOL LEADERS🍎 The Martin County School District is proud to celebrate national #APWeek in honor of the amazing assistant principals who serve our students and schools! Students, parents/guardians, colleagues and community members are encouraged to join us in celebrating these #MCSDMagnificent school leaders by sharing stories of appreciation that will be shared throughout the week on our website and social media channels. Share your outstanding MCSD AP story with us here:
https://bit.ly/3uT9Tny
#ALLINMartin👊 #PublicSchoolProud

🔊MAKE YOUR VOICE HEARD!🔊 Families - our annual Satisfaction & Engagement surveys are live! This is your chance to provide feedback about our school- and District-based programs, outreach efforts, initiatives and resources. If you have children enrolled in more than one school, please complete one survey for each school prior to April 8. English:
https://www.surveymonkey.com/r/TPK35LY
Español:
https://www.surveymonkey.com/r/VSGZDQP
We appreciate your engagement! #ALLINMartin👊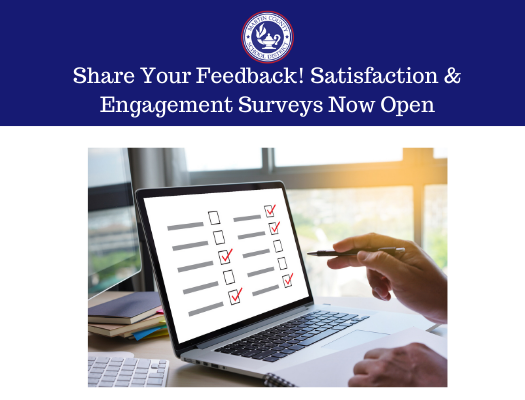 🎨CELEBRATING CREATIVITY🎨 The arts are most definitely alive - and celebrated - in your Martin County public schools! Each year, hundreds of our fifth-grade students participate in the Office of the Martin County Tax Collector's Kids Tag Art contest, creating unique designs that families and interested community members can purchase in the form of license plates and key fobs. This year's award-winning artists were celebrated during a special event held March 30, 2022, at The Children's Museum of the Treasure Coast. "The art teachers that Martin County hires are phenomenal," said Martin County Tax Collector, Ruth Pietruszewski. "Every year, it gets better and better and better." Watch the video:
https://youtu.be/2pPziEOmEMY
To purchase a license plate or key fob depicting your favorite piece of art created by a Martin County School District student, please visit mckta.com. #ALLINMartin👊 #PublicSchoolProud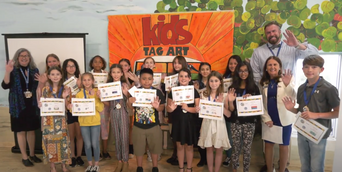 🤝SUPPORTING YOUR CHILD'S EDUCATIONAL EXPERIENCE🤝 Just a reminder, families - parent-teacher conference sessions will be held next week! Please contact your child's school with questions about reserving a time to meet with teachers. #ALLINMartin👊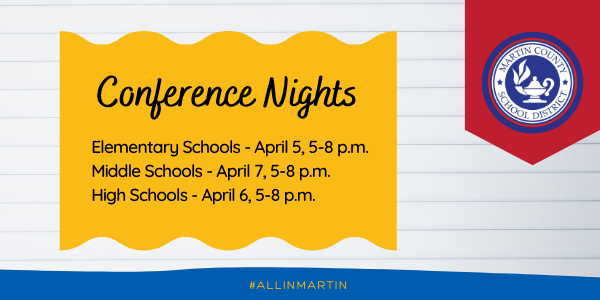 💧🌎WILD ABOUT WATER💧🌎 All Martin County School District-operated schools participated in Students4H2O's annual Water Fest in downtown Stuart on March 26, 2022. Students and staff engaged families in a variety of activities designed to spread environmental awareness and foster sustainability! Watch the video:
https://youtu.be/93f5ESeHbVU
#ALLINMartin👊 #PublicSchoolProud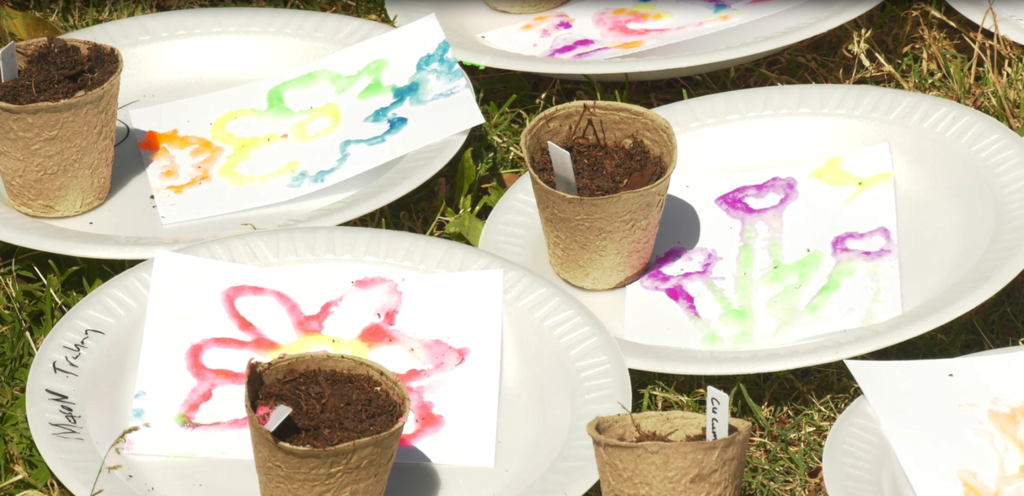 🎼CELEBRATING MUSIC IN OUR SCHOOLS🎼 The musical arts are alive in the Martin County School District! As part of the National Association for Music Education's "Music in Our Schools" month, all schools participated in the District's 46th annual showcase. 👀:
https://youtu.be/UZQ1ix--Gqc
#ALLINMartin👊 #PublicSchoolProud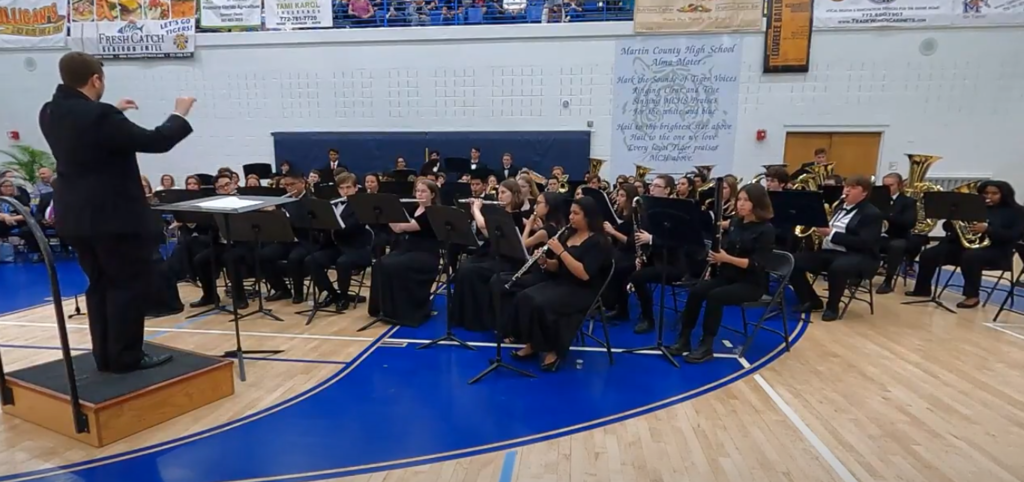 🍎EARLY RELEASE DAY🍎 Just a reminder, families - Wednesday, March 30, is an early release day for students. Classes will be dismissed two hours earlier than normal. View our complete school calendar:
https://www.martinschools.org/page/calendars
#ALLINMartin👊

Just a reminder, families - Wednesday, March 30, is an early release day for students. Classes will be dismissed two hours earlier than normal. #ALLINMartin👊