🍽NOURISHING ALL STUDENTS FOR SUCCESS🍽 Our summer feeding bus is officially up and running - we'll be serving free meals and fun to all children aged 18 and under on weekdays through July 29! Come visit our Food & Nutrition Services team at the Crossings at Indian Run apartment complex (12:30 - 2 p.m.) or Stuart Congregational Church (10:30 a.m. - 12 p.m.) Jade Jarvis of WPBF 25 News took a look at the bus on Tuesday, speaking with local families about what this meal service means to them. Click to learn more:
https://www.wpbf.com/article/florida-martin-county-feeding-bus-kids-school-summer/40515817
. #ALLINMartin👊 #PublicSchoolProud

🚨PROTECTING OUR SCHOOLS🚨 The Martin County School District and Martin County Sheriff's Office will conduct a full-scale emergency response drill at Jensen Beach High School on Friday, June 24, 2022. This event will provide both organizations with an opportunity to test the Centegix CrisisAlert system and law enforcement's response to a large-scale emergency. There will be an increased law enforcement presence on and near the JBHS campus tomorrow. While this drill is not open to the public, we appreciate the support of our community as we participate in this important safety exercise. #ALLINMartin👊 #PublicSchoolProud

🍎EDUCATING ALL STUDENTS FOR SUCCESS🍎 4th quarter report cards for middle and high school students are now available in the FOCUS Parent Portal. Students who were enrolled in a course requiring an End-of-Course (EOC) exam will receive their grades later this month once test results have been received from the Florida Department of Education. Access your child's grades in the FOCUS Parent Portal:
https://martin.focusschoolsoftware.com/focus/
Register for access to FOCUS:
https://martin.focusschoolsoftware.com/focus/auth/
#ALLINMartin👊 #PublicSchoolProud

Attention Jensen Beach Falcons, The Dual Enrollment Library is open for you to pick up your class materials for Summer B. Material Pick ends 6/21/2022. Visit
www.martinschools.oig/page/dual-enrollment
for details and to sign up for an appointment slot. #ItsGreat2BaFalcon

⚾FALCONS SOAR⚾ While the Jensen Beach High School Baseball team enjoyed its most successful season in history this year, it was the Falcons' accomplishments off the field and in the classroom that helped them SOAR to new heights. They finished the season as the Florida High School Athletic Association's Class 4A runners up AND the overall academic team champion, maintaining a higher cumulative GPA than any other Florida baseball team in their class. Watch the video:
https://youtu.be/U6nI-ML_DZ0
#ALLINMartin👊 #PublicSchoolProud

🥇EXCELLENCE ON THE FIELD & IN THE CLASSROOM 🥇 It doesn't get better than BEST in the STATE! Congratulations to Jensen Beach High School for being named the Florida High School Athletic Association's Class 5A Academic Team Champion for the 2021-2022 school year! The FHSAA Academic Team Champion recognition program honors teamwork not only in competition but also in the classroom. The program recognizes teams in each of the Association's sanctioned and recognized sports, naming an Academic Team Champion in each classification based on GPA. To be eligible, teams must maintain a collective GPA of at least 3.0. #ALLINMartin👊 #PublicSchoolProud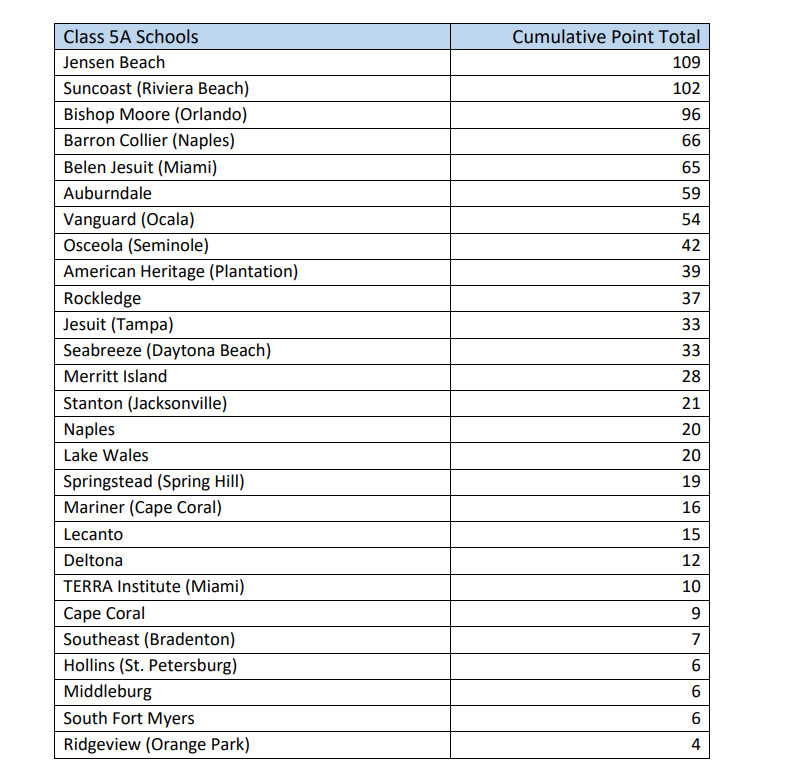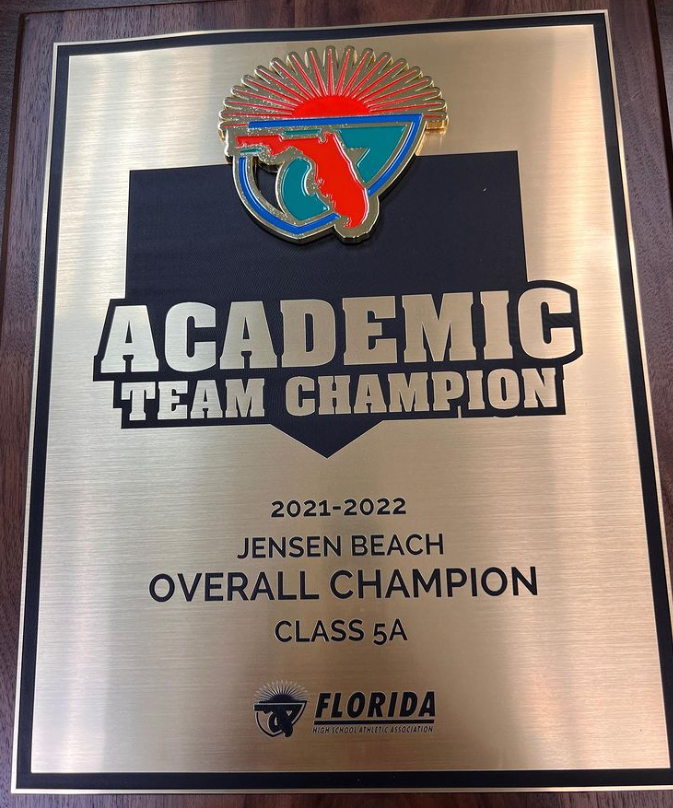 🎉CELEBRATING YOUTH LEADERSHIP🎉 Congratulations to Ridge Bradford, a Jensen Beach High School student, for winning the Big Brothers Big Sisters of Palm Beach and Martin Counties Big Teen of the Year! Ridge has been a Big Teen for two Little Brothers, Michael and Leo, for the past two years. He has one special connection with both of them: baseball. Because of their love for the sport, the boys have a lot in common and easily bonded over baseball, school and life. Leaders, peers and Littles say that overall, Ridge is a great volunteer and motivated student athlete. He offers excellent advice to his Little Brothers. They say his positive attitude and "can do" mentality keep his Little Brothers set on the right track. Ridge sees the opportunity that playing sports and excelling in school offer toward his future, and he encourages Michael and Leo to follow in his footsteps. Check out Ridge's full story:
https://bit.ly/3Q6wkQ8
#ALLINMartin👊 #PublicSchoolProud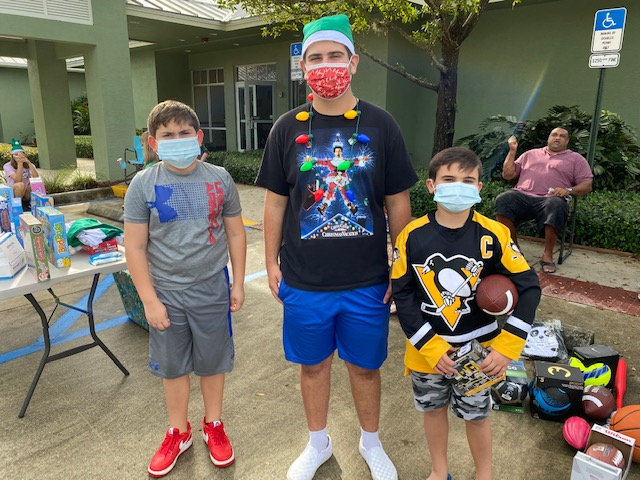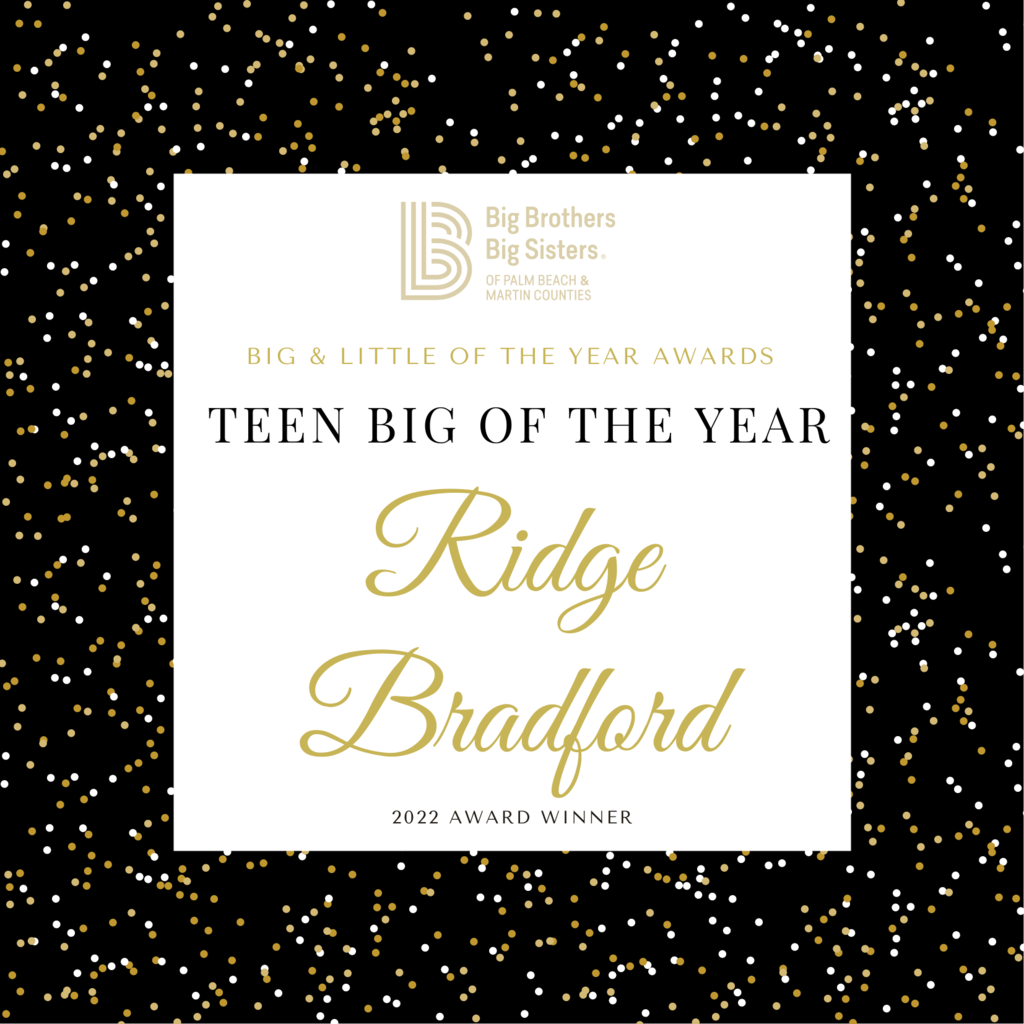 We hope our JBHS families are enjoying a great start to summer! Please check out our homepage for a special Senior Salute to our class of 2022, Summer AP Assignments, bus routes, and a volunteer opportunity with the Martin County Library System.
https://www.martinschools.org/o/jbhs

🗽Honoring our nation's heroes.🗽 Martin County School District is proud to honor the brave men and women throughout history who made the ultimate sacrifice to protect our liberty and freedoms. May we never forget that freedom isn't free. #MemorialDay. #ALLINMartin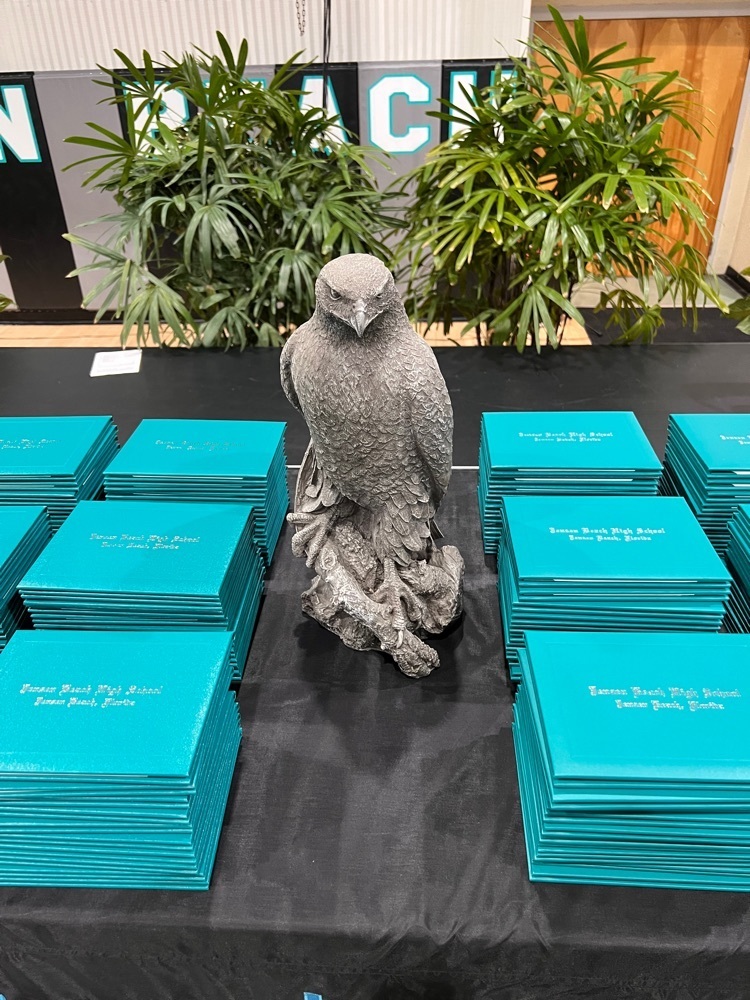 🍽 SUMMER BREAK SPOT 🍽 Our Food & Nutrition Services Department will continue to offer free meals to children aged 18 and under during the summer months with no income restrictions. Breakfasts and lunches will be served beginning on Tuesday, May 31. Please click here to learn more:
https://www.martinschools.org/article/755243
#ALLINMartin👊 #PublicSchoolProud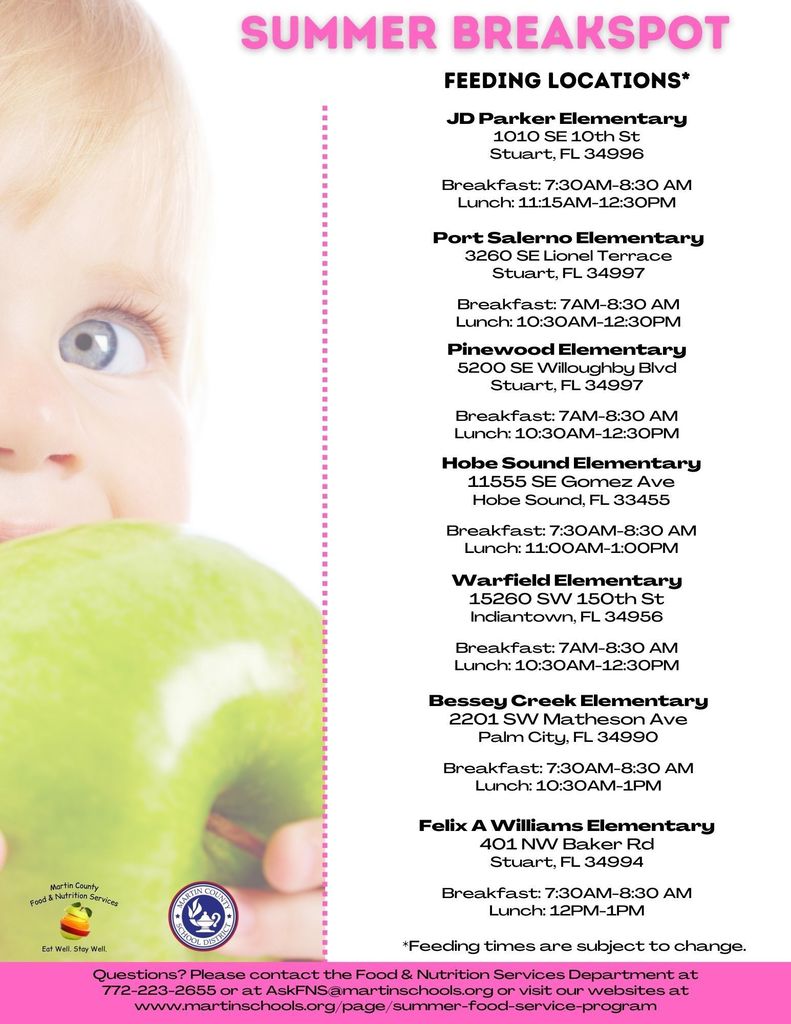 🌞 HAPPY SUMMER, FAMILIES! 🌞 Fourth-quarter report cards for elementary students will be posted today, May 27. Report cards for middle and high school students will be posted on Tuesday, June 14. View your child's grades and attendance records in the FOCUS Parent Portal:
https://martin.focusschoolsoftware.com/focus/
. If you do not currently have access to the FOCUS Parent Portal, please click here to view instructions for claiming your account:
https://martin.focusschoolsoftware.com/focus/auth/
. We wish all of our students and families a safe and relaxing summer break. The 2022-2023 school year will begin on August 10, 2022. #ALLINMartin👊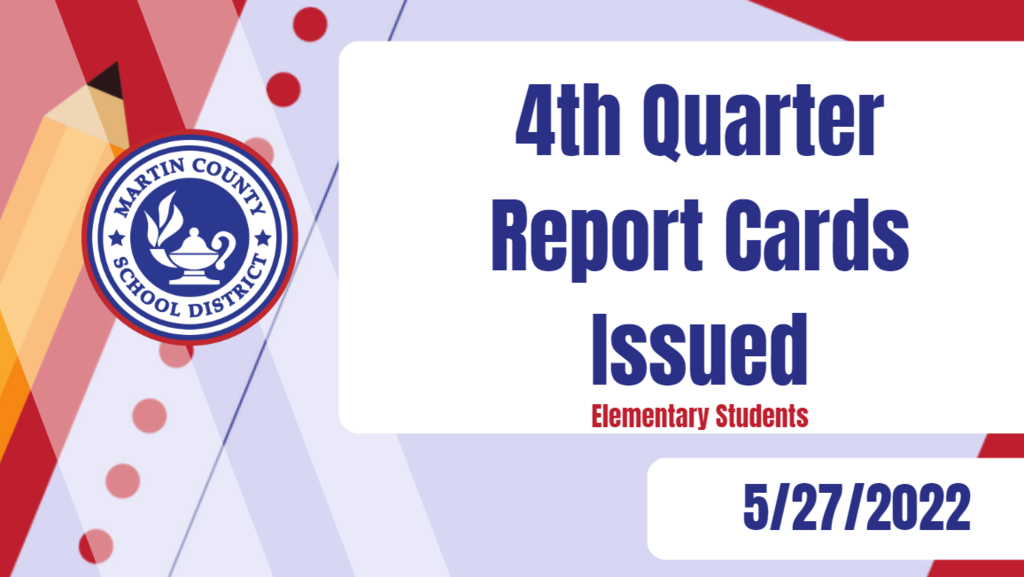 🏆⚾GRACIOUS SPORTSMANSHIP🏆⚾ We need to brag on Jensen Beach High School's Varsity Baseball team for a moment. The Falcons competed in the Florida High School Athletic Association's Class 4A state championship in Fort Myers earlier this week. While they came up just short of earning a state title, losing 8-7 in extra innings, their season was nothing short of inspirational. 💥These student-athletes left Fort Myers as Class 4A state runners-up AND as the state's Academic Champion (highest team GPA) for baseball this school year! 💥 To top it all off, proud Principal Lori Vogel submitted this photo of Cade Crews (#3) congratulating members of Island Coast High School's baseball team moments after they won the state championship. FALCON PROUD is an understatement. #ALLINMartin👊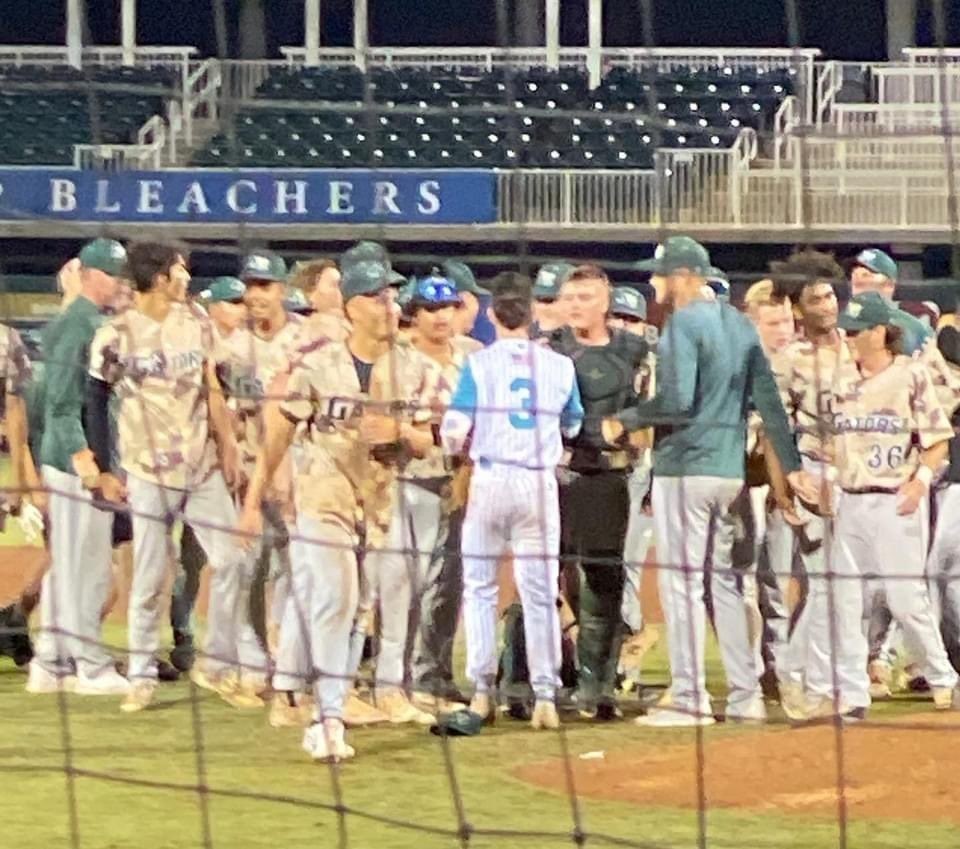 Our hearts remain with Uvalde. 💔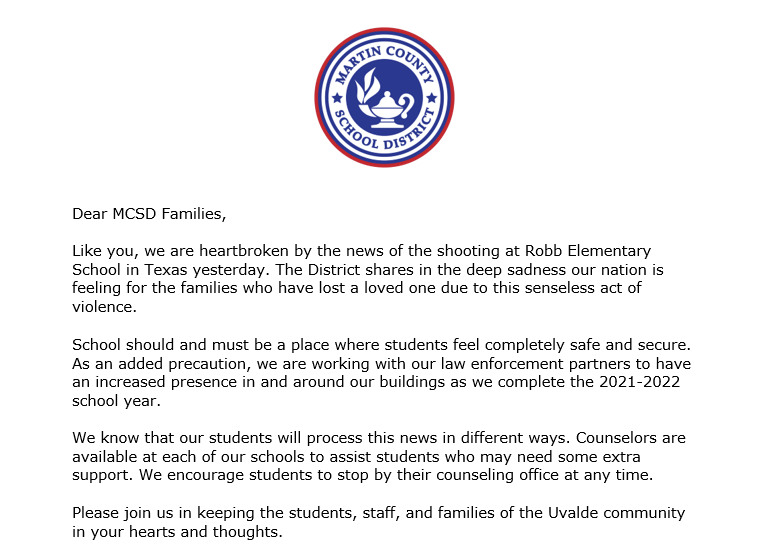 What an amazing journey for our Falcon Baseball Team , their families and friends . They played hard , went to extra innings and never gave up. They ended up with an 9to 7 loss. We are so proud of these young man. #ItsGreat2BaFalcon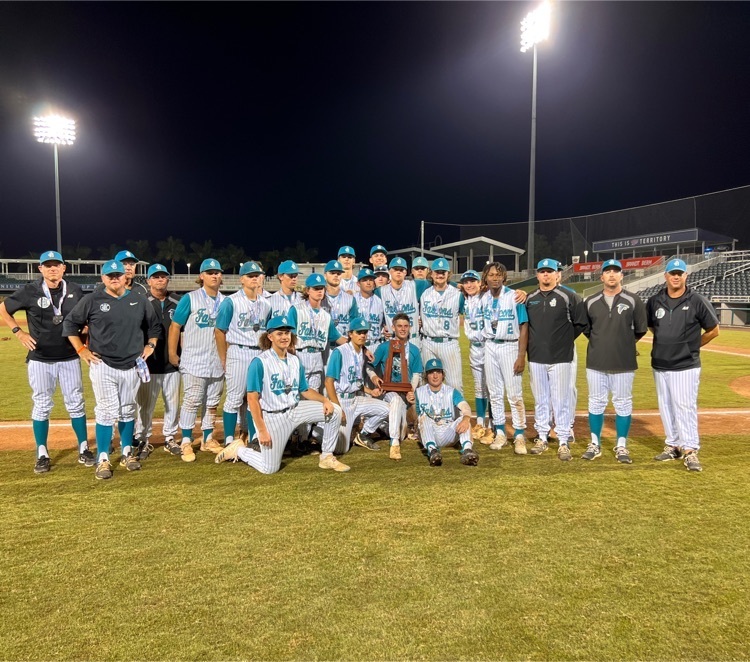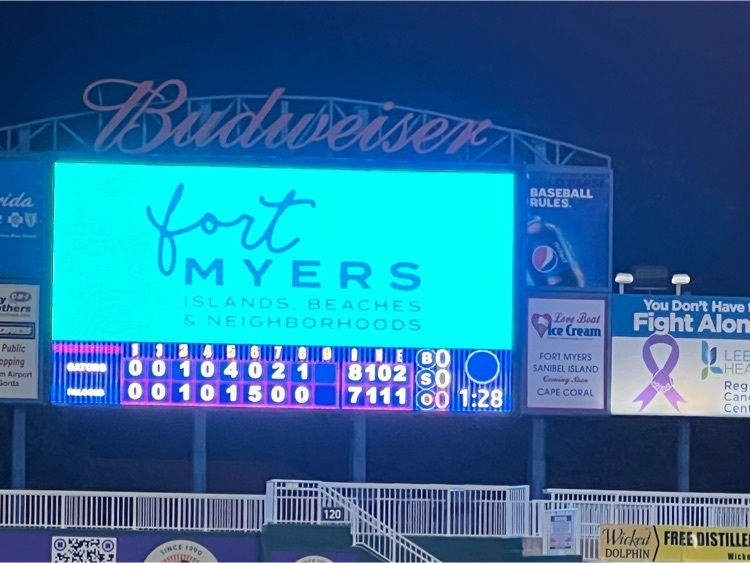 The Falcons have taken the field for the start of our State Final Championship Game #Itsgreat2BaFlacon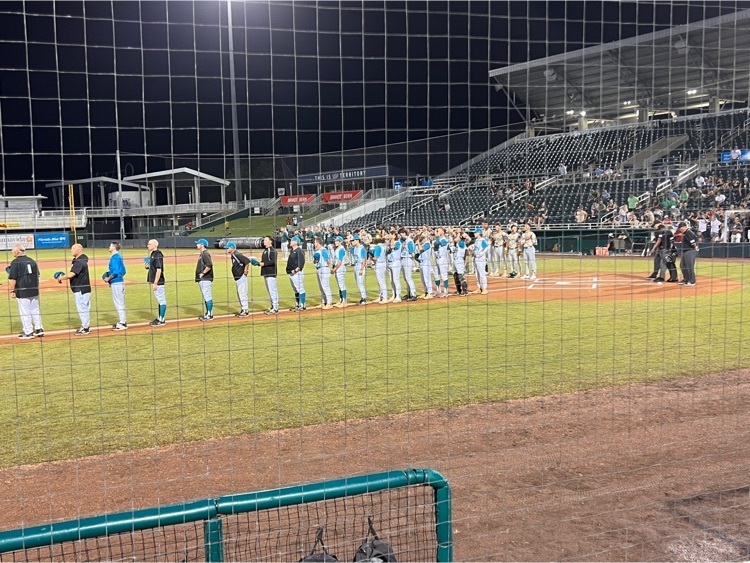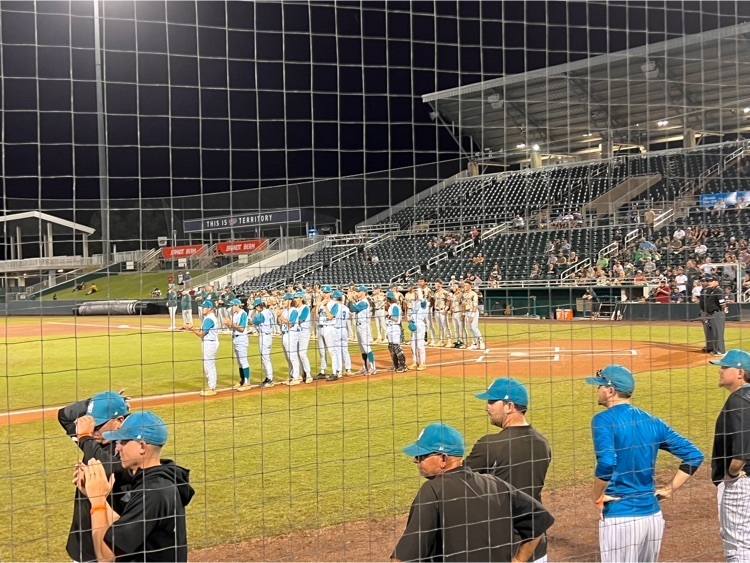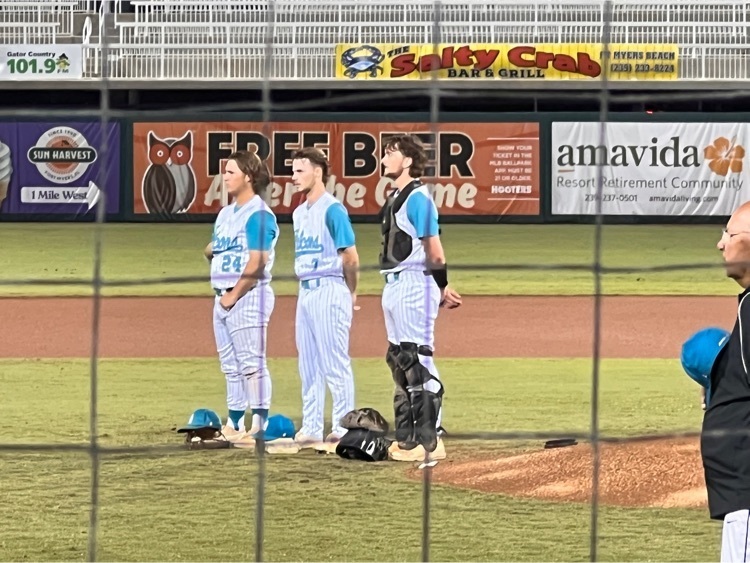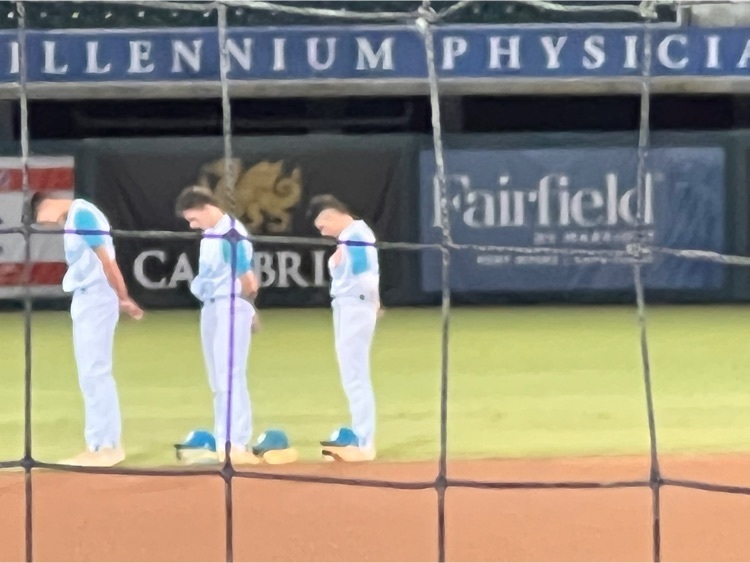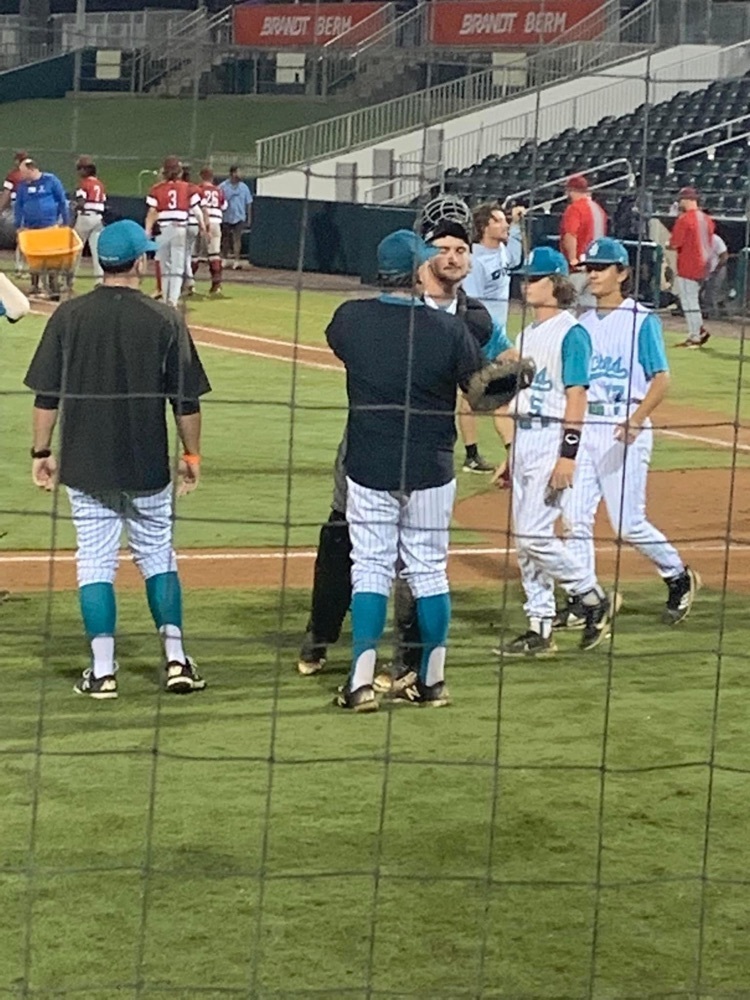 So excited to join our baseball team and their families for tonight's State Final game. It has been an amazing journey. Proud to be a Falcon. #ItGreat2BaFalcon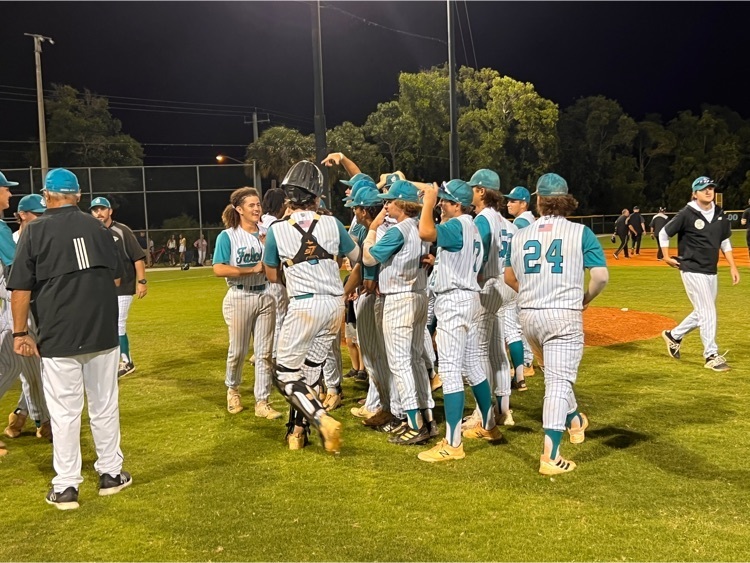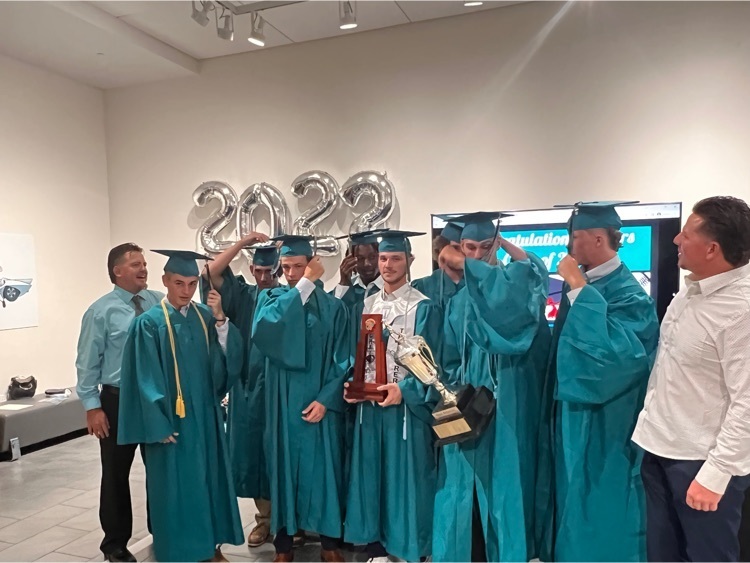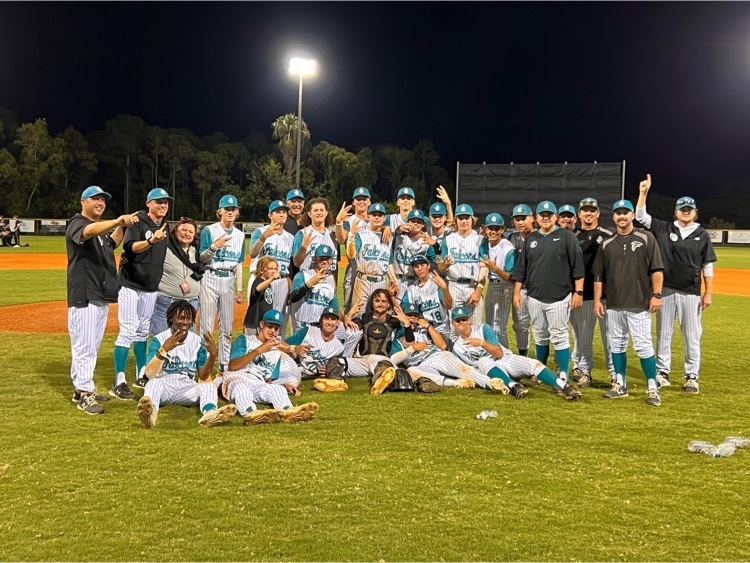 It's almost time for Graduation. We are so excited to celebrate the Falcon Class of 2022! #Itsgreat2BaFalcon