Good Evening Falcon Class of 2024. We are excited for you to come get your ID photo taken and your new lanyards. We will be issuing parking decals for the students who have already submitted the required paperwork. We look forward to seeing you from 9-3 on Wednesday or Thursday . Have a wonderful evening.

🍎COUNTDOWN TO #BACKTOSCHOOL🍎 Martin County families - our Back to School countdown is on! Have you visited our website to read up on what you need to know prior to the first day of classes? 👕👖Please click the link below to view dress code information. Please note that your child's school may have additional dress code considerations - please be on the lookout for specific information coming from their school to learn more about any additional requirements that may exist.
https://www.martinschools.org/page/reopening#dress
#ALLINMartin👊 #PublicSchoolProud

Families - please click the link below to view instructions for accessing your child's detailed score report(s) for the statewide assessments that were administered in the spring. If you have requested a paper score report, this will go home with your child during the first few weeks of the new school year. Please contact your child's school with any questions. English:
https://bit.ly/3BABkaY
Español:
https://bit.ly/3BCe24j
#ALLINMartin👊

🍎COUNTDOWN TO #BACKTOSCHOOL🍎 🚍If your child will ride the bus to and from school, be sure to review their route information here:
https://bit.ly/MCSDBusRoutes2223
Before the first day, practice walking to and from the bus stop with your child at the exact times of day they will travel to and from their bus stop during the school year. Encourage your child to practice safe habits - looking and listening for cars, and waiting for their bus as far back from the roadway as possible. #ALLINMartin👊 #PublicSchoolProud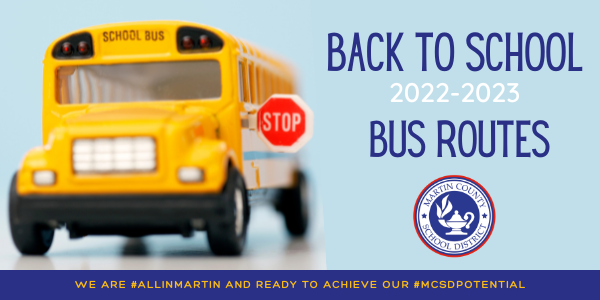 Good Afternoon Falcon Class of 2023 Tomorrow and Tuesday we will be taking ID photos and issuing ID and lanyards to our Senior Class of 2023. If you have turned in your parking application you will be able to find out where your parking spot location is for the year and pick up your parking car tag. Herff Jones will be on campus Monday only for Cap and Gown measurements and payments. They will have special Class of 2023 goodies for students on Monday. Have a great evening . We look forward to seeing our Senior Class on Monday and Tuesday .

🍎COUNTDOWN TO #BACKTOSCHOOL🍎 Martin County families - our Back to School countdown is on! Have you visited our website to read up on what you need to know prior to the first day of classes? Be sure to review the bell schedule for your child's school here:
https://www.martinschools.org/page/reopening#bell
. Ensuring your child attends school on time and remains on campus for the duration of the school day will help position them for success! #ALLINMartin👊 #PublicSchoolProud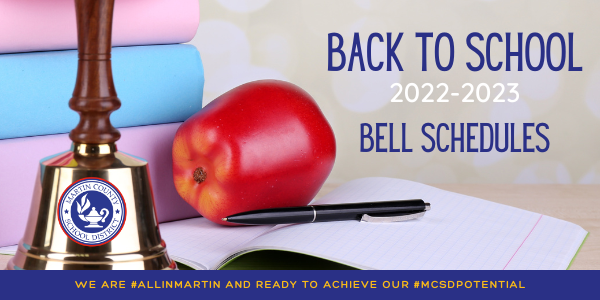 🍎EYE ON THE NEW YEAR 🍎 New educators Stanley Blount of South Fork High School and Katrina Resch of Jensen Beach High School spoke with CBS 12 News today about what they're looking forward to as new teachers in the upcoming school year! Both attended school in the Martin County School District as children and are career changers who will educate students in our ctemartin programs! Mr. Blount will teach Building Construction and Ms. Resch will teach Hospitality & Tourism. Tune in to CBS 12 News (the 1 to Turn 2) as we get closer to the start of the school year to learn about all things #BacktoSchool in MCSD! 🍎📚 #ALLINMartin👊 #PublicSchoolProud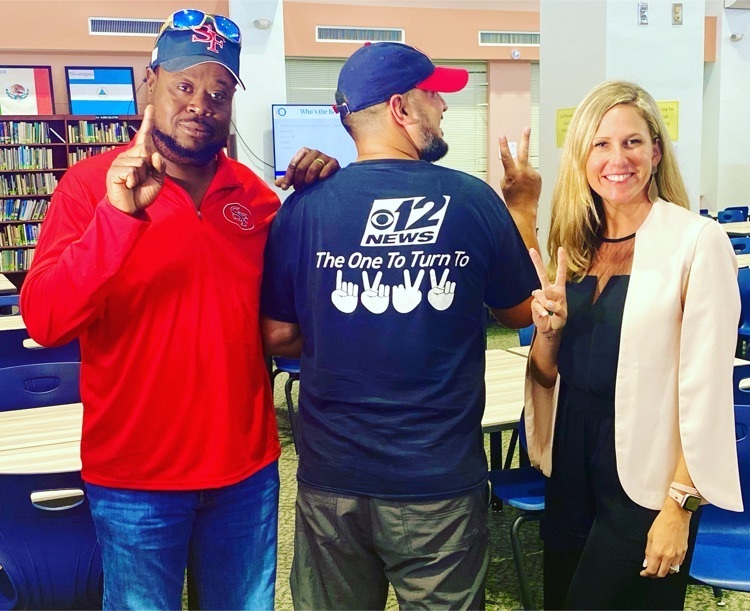 Parking and Student ID Plan Jensen Beach High School 2022-2023 August 1 and August 2 9:00am-3:00pm Class of 2023 Parking Photos and ID Herff Jones will be on campus from 9:00-3:00pm both days to purchases Cap and Gowns August 3 and August 4 9:00am-3:00pm Class of 2024 Parking Photos and ID August 5 9:00am-3:00pm Class of 2025 Photos and ID Saturday August 6, 9:00-1:00 Class of 2026 Photos and ID August 8 9:00am-3:00pm Make Up Day for Photos and ID All Student will need their ID prior to the first day of School on August 10, 2022

SCHOOL BOARD POLICY 5511 - STUDENT DRESS CODE Students have the right to learn without being offended or distracted by the way other people are dressed. Students have the responsibility to dress neatly, be clean, and well groomed, and avoid dressing in a manner that offends or distracts others. Clothing or hairstyles worn by students of all grades shall be neat and clean (not distracting or disruptive to the learning environment), and shall not present a safety or health hazard to the wearer or to others. Procedures: 1. Clothing that exposes the torso is not allowed. Clothing that displays/exposes cleavage is not allowed. The following examples include but are not limited to what is considered unacceptable: tube tops, tank tops, spaghetti straps and halters, bare back or midriff clothing, skintight clothing, see-through clothing, bathing suits (except with permission for specified events). 2. Skirts, skorts and dresses may be no shorter than two (2) inches above the top of the knee. Shorts must be no shorter than four (4) inches above the top of the knee. 3. Appropriate undergarments must be worn but shall not be exposed, i.e., boxer shorts, underwear, bras. Pajamas shall not be worn to school. 4. Students must always wear shoes. Slippers are prohibited as are shoes with containers, cleats, wheels, or tap shoes are prohibited. Athletic shoes may be required for physical education classes. Shoes with laces and/or straps must always be secured. For safety reasons, elementary students may not wear sandals or open toe shoes. Elementary and middle school students are not permitted to wear flip flops or shoes without a back. Middle school students may wear open toe shoes with a back strap. 5. Headgear (with exception of safety helmets) are not to be brought to school unless for medical purposes. Students may wear sunglasses, hats, or other sun-protective wear while outdoors during school hours, such as when students are at recess. 6. No clothes or accessories with metal studs, ornaments, chains, or other objects which can scratch furniture, damage property, or cause harm to oneself or others, may be worn. 7. Clothing, jewelry, and accessories shall not convey messages that are crude; vulgar/profane; violent/death-oriented (Gothic); gang related; sexually suggestive; and/or promoting alcohol, drugs, or tobacco. 8. Clothing which is not worn appropriately, is not properly fastened, or has tears or holes will not be permitted. 9. Pants, jeans, slacks, and shorts must be worn to the top of the hipbone or higher. Pants must be secured at the hip, must not be baggy or oversized and the hem of the pant leg must not drag on the ground. 10. No hairstyles, jewelry, or tattoo that is a distraction to the learning environment is allowed. These samples are not all-inclusive but serve as a guide for individual schools. Individual schools may have a stricter dress code approved by the school advisory council (SAC), but all such restrictions must be justifiable with a rationale related to the health, safety, or welfare of the students. All school dress codes should be reviewed and approved by the superintendent/superintendent's designee before implementation. Violation of Dress Code: A. Students may be subject to disciplinary action for violation of the dress code. B. Students may be provided alternate clothing at school to comply with the dress code. C. Parents may be requested to bring alternative clothing to the school, and/or the student will be subject to disciplinary action when they violate the dress code. Secondary All students enrolled in a vocational program must dress to reflect current business and industry standards for the program.

🍎 ICYMI: MCSD Is The Best Place To Be🍎 Another great job fair is in the books for the Martin County School District! More than 150 candidates attended the event and more than 30 left with letters of intention! Great news! MCSD leaders approved offering free drug tests and free fingerprinting for all applicants hired through the end of July! Take advantage of this opportunity and apply to join our team today! There's no better place to begin or continue your career than the Martin County School District! Click ▶ below to see why for yourself...
https://www.youtube.com/watch?v=YISrYJzz4uY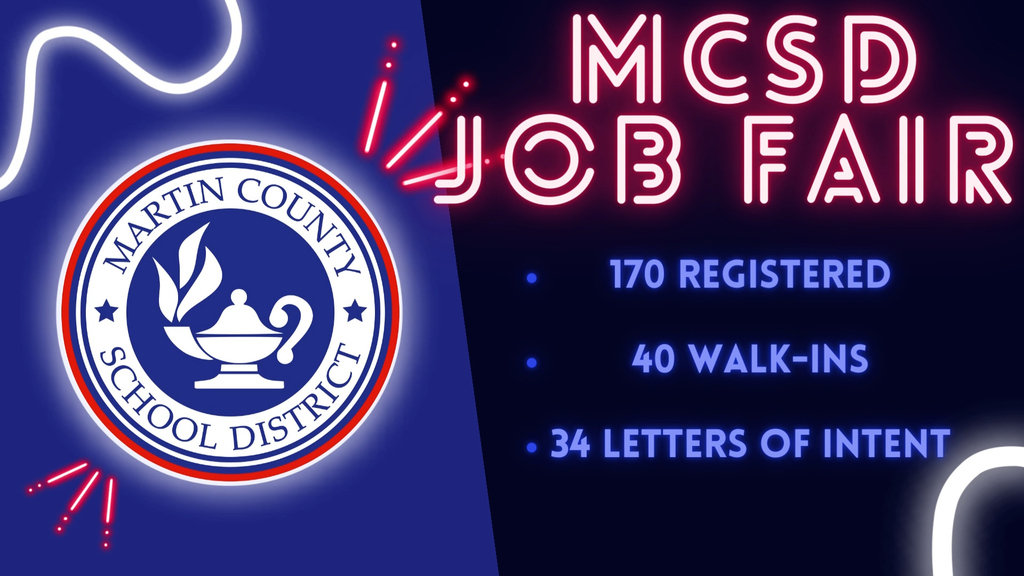 Jensen Beach High School in the Martin County School District is hiring . We are looking for an ESE teacher , a Reading Certification Teacher and an ELL paraprofessional. #hiring #Itsgreat2BaFalcon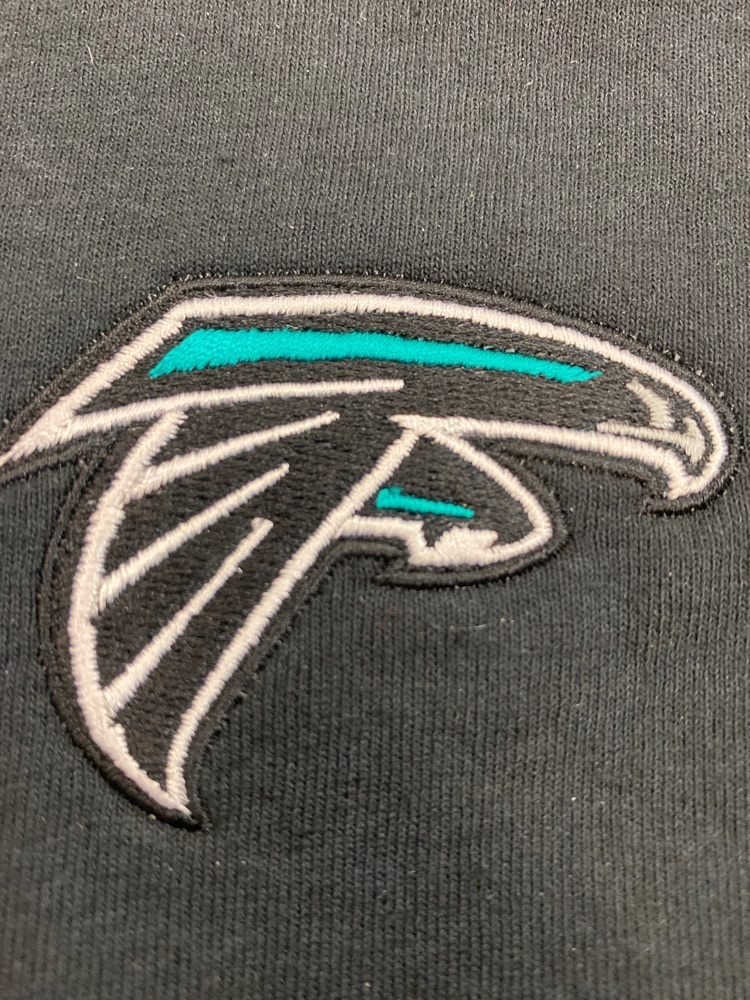 Martin County School District @MCSDFlorida • Just now 🍽NOURISHING ALL STUDENTS FOR SUCCESS🍽 Check out the amazing transformation from an ordinary school bus to food service on wheels! @MCSDFlorida's Food & Nutrition Department, along with Wildar Golf Carts & Trailers went #ALLINMartin to feed kids who can't travel to feeding sites. lack of transportation to feeding sites is one of the largest barriers to meal access faced by students when school is not in session. Using Food Service funds, the District sought to address this challenge by remodeling an older school bus into a mobile kitchen and dining area for students. The new summer feeding bus, which is capable of seating more than 20 children, comes equipped with coolers and containers to ensure proper food storage requirements are met. Free onboard internet service and music are also part of the mobile feeding experience. All meals served will be free to children aged 18 and under. WATCH:
https://youtu.be/gdehDYt5AjY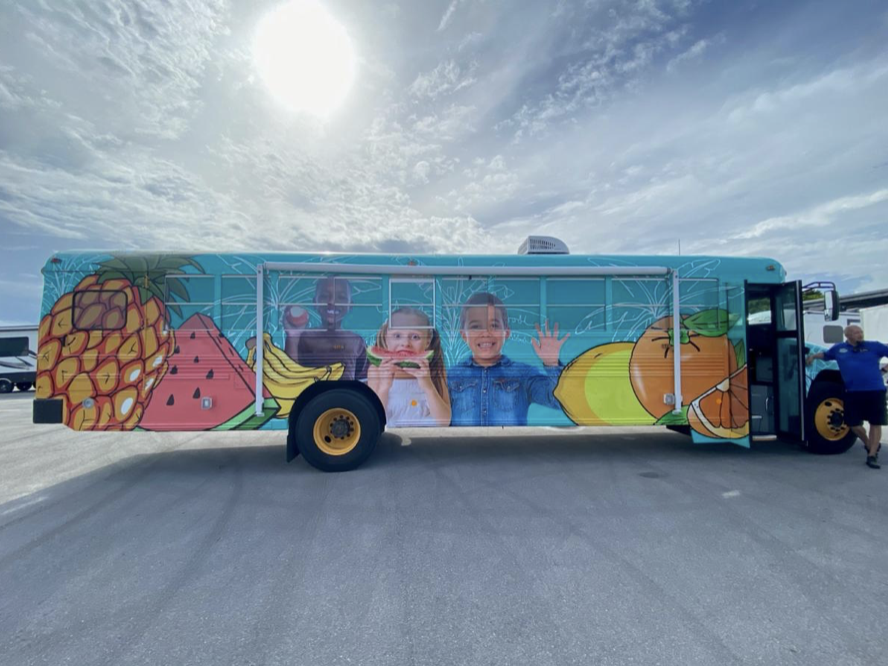 🎨LAST DAY TO VOTE FOR SOPHIE🎨 Today is the last day to vote for Sophie Araque-Liu, a rising senior at Martin County High School, in the 2022 Doodle for Google contest! Let's go #ALLINMartin and help Sophie make it to the top five national finalists! She could potentially win a $30,000 college scholarship AND $50,000 for a new/upgraded computer lab at MCHS! Don't forget, voting ends tonight! To show your support and vote for Sophie, click the link below and search for "Grades 10-12" and then "Florida."
https://doodles.google.com/d4g/vote/


📐MATH REVIEW MONDAY📐 NEW COMPETITION! Paper is upping the game for Math Review Monday! The tutoring company is sponsoring a four-week contest, in which the 6th-12th grade student who uses Paper to assist in answering the most questions will win a $25 Amazon gift card! The contest runs from 7/11 through 8/5. So, let's sharpen those math skills this summer and complete this week's set of Math Review Monday practice problems! Students of all ages within the Martin County School District can participate. Need some help? Elementary students can email the Martin County School District Coordinator of Math, Dr. Paige McMahon, at
mcmahop@martinschools.org
. For middle and high school students, try out the amazing tutors at Paper! Remember, the new four-week contest follows the student who uses Paper to assist in answering the most questions! A new set of questions will be posted here every Monday. Solutions will be posted each Friday. See below for one of the math problems for this week. You can find all the math problems here:
https://bit.ly/3toHO7R
#ALLINMartin👊 #PublicSchoolProud

The Florida Department of Education released school and district grades for the 2021-2022 school year today. MCSD earned the highest percentage of "A" rated schools on the Treasure Coast and was just three points shy of earning an "A" district grade in the state accountability system. Five schools ranked among the top 25% of similar schools in the state. Learn more:
https://www.martinschools.org/article/779784
#ALLINMartin👊

✅VOTE FOR SOPHIE✅ One of Martin County School District's very own needs your help to become a national finalist and potentially win big in the Doodle for Google Student Contest! Sophie Araque-Liu, a student at Martin County High School, was recently named the winner for Florida in the 2022 Doodle for Google Student Contest. K-12 students from across the United States had the opportunity to create their own version of the Google logo inspired by the prompt, "I care for myself by..." Sophie's artwork was chosen to represent Florida from thousands of entries. With your vote, she could potentially win a $30,000 college scholarship AND $50,000 for MCHS, plus showcase her amazing artwork to the world! How to vote: head to
https://doodles.google.com/d4g/
between now and 3 a.m. on July 13. Please show your support for Sophie and MCHS by voting and sharing the link with your family and friends. Let's go Sophie! Watch her story:
https://youtu.be/gYt-3i7qp2A
#ALLINMArtin👊 #PublicSchoolProud #DoodleforGoogle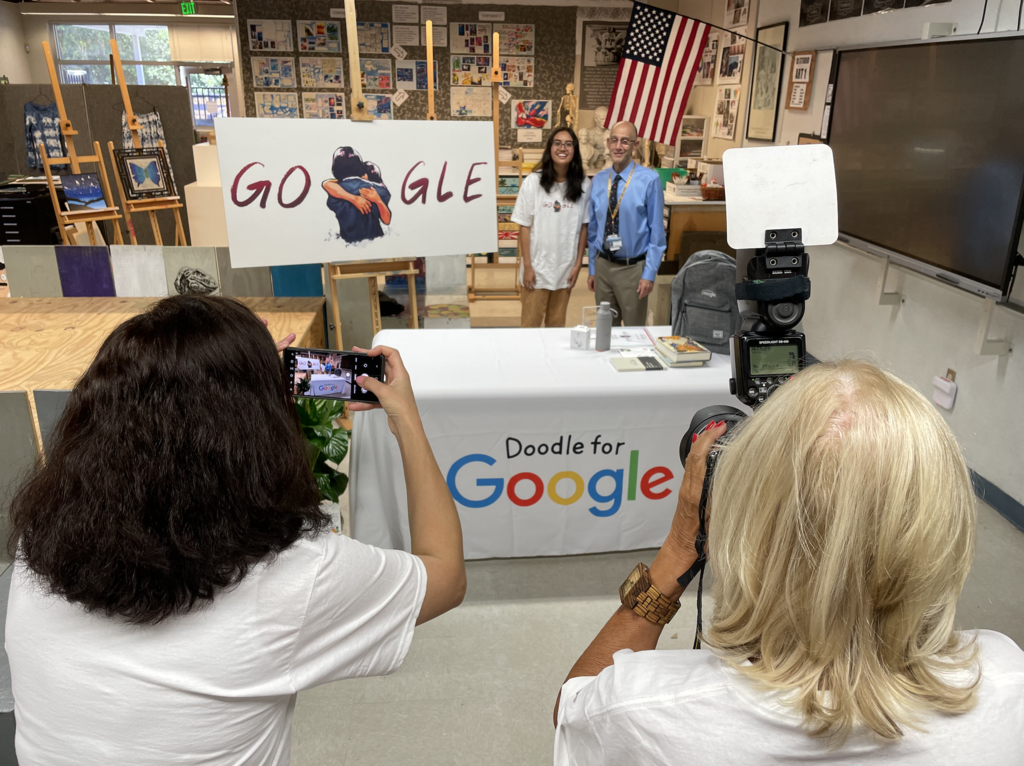 ✅VOTE FOR SOPHIE✅ One of Martin County School District's very own needs your help to become a national finalist and potentially win big in the Doodle for Google Student Contest! Sophie Araque-Liu, a student at Martin County High School, was recently named the winner for Florida in the 2022 Doodle for Google Student Contest. K-12 students from across the United States had the opportunity to create their own version of the Google logo inspired by the prompt, "I care for myself by..." Sophie's artwork was chosen to represent Florida from thousands of entries. With your vote, she could potentially win a $30,000 college scholarship AND $50,000 for MCHS, plus showcase her amazing artwork to the world! How to vote: head to
https://doodles.google.com/d4g/
between now and 3 a.m. on July 13. Please show your support for Sophie and MCHS by voting and sharing the link with your family and friends. Let's go Sophie! Watch her story:
https://youtu.be/gYt-3i7qp2A
#ALLINMArtin👊 #PublicSchoolProud #DoodleforGoogle

🍽NOURISHING ALL STUDENTS FOR SUCCESS🍽 Our summer feeding bus is officially up and running - we'll be serving free meals and fun to all children aged 18 and under on weekdays through July 29! Come visit our Food & Nutrition Services team at the Crossings at Indian Run apartment complex (12:30 - 2 p.m.) or Stuart Congregational Church (10:30 a.m. - 12 p.m.) Jade Jarvis of WPBF 25 News took a look at the bus on Tuesday, speaking with local families about what this meal service means to them. Click to learn more:
https://www.wpbf.com/article/florida-martin-county-feeding-bus-kids-school-summer/40515817
. #ALLINMartin👊 #PublicSchoolProud

🚨PROTECTING OUR SCHOOLS🚨 The Martin County School District and Martin County Sheriff's Office will conduct a full-scale emergency response drill at Jensen Beach High School on Friday, June 24, 2022. This event will provide both organizations with an opportunity to test the Centegix CrisisAlert system and law enforcement's response to a large-scale emergency. There will be an increased law enforcement presence on and near the JBHS campus tomorrow. While this drill is not open to the public, we appreciate the support of our community as we participate in this important safety exercise. #ALLINMartin👊 #PublicSchoolProud

🍎EDUCATING ALL STUDENTS FOR SUCCESS🍎 4th quarter report cards for middle and high school students are now available in the FOCUS Parent Portal. Students who were enrolled in a course requiring an End-of-Course (EOC) exam will receive their grades later this month once test results have been received from the Florida Department of Education. Access your child's grades in the FOCUS Parent Portal:
https://martin.focusschoolsoftware.com/focus/
Register for access to FOCUS:
https://martin.focusschoolsoftware.com/focus/auth/
#ALLINMartin👊 #PublicSchoolProud