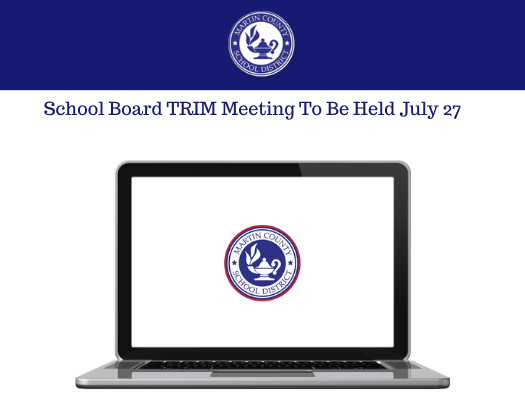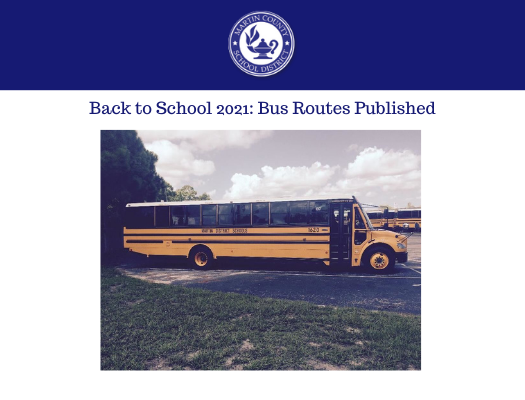 💧GROWING A CULTURE OF EMPLOYEE WELLNESS💧 Our Risk Management & Employee Benefits Department held its "Every Sip Counts" Hydration Challenge this month! Employees were asked to commit to drinking eight glasses of water for eight days to improve their hydration and overall wellness. 💧All those who drank eight 8-oz. glasses of water for at least six out of the eight days of the challenge will receive a BHL dry bag! 🥤 Tony Corbisiero, Plant Operator at the District Office, was the grand prize winner of this challenge! He received a beach-themed gift basket, inclusive of an RTIC leak-proof cooler, beach towels, and fun activities. #ALLINMartin👊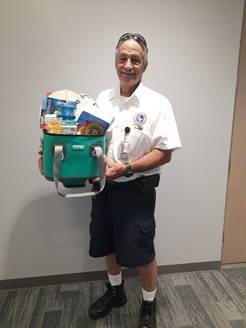 🍎WELCOMING LIFE-CHANGERS🍎 Congratulations to the newest members of Team MCSD who received on-site offers of employment during our job fair last evening! We are so happy to have you supporting our mission of educating all students for success. #ALLINMartin👊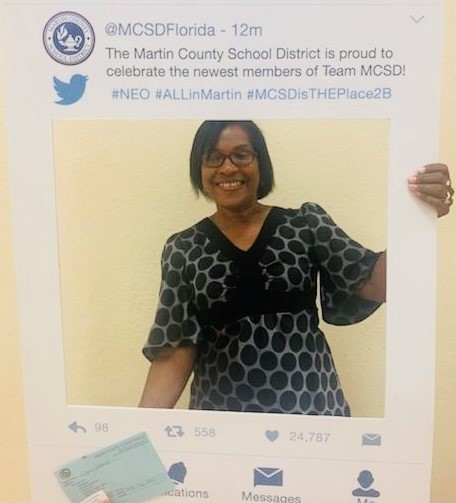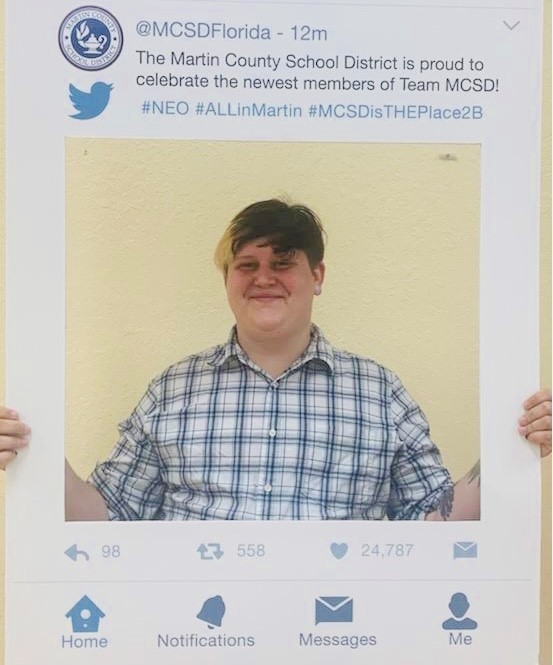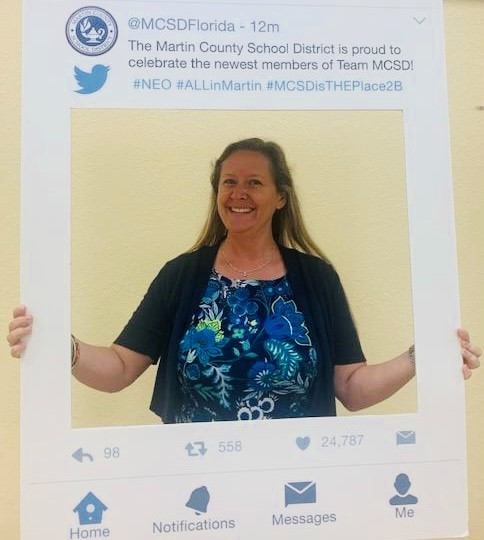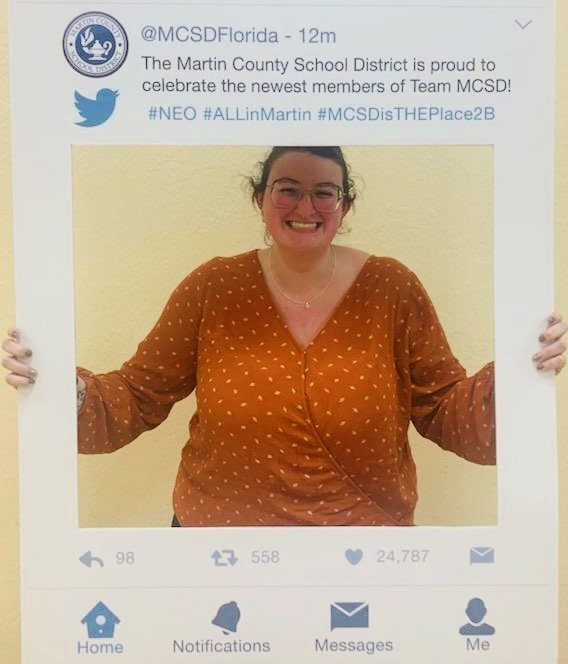 ⭐SUCCESS STARTS HERE⭐ Your calling is calling! Join us for our Job Fair from 6-8 this evening at Dr. David L. Anderson Middle. On-site employment offers will be extended to qualified candidates. Don't forget to bring your resume & transcripts! #ALLINMartin👊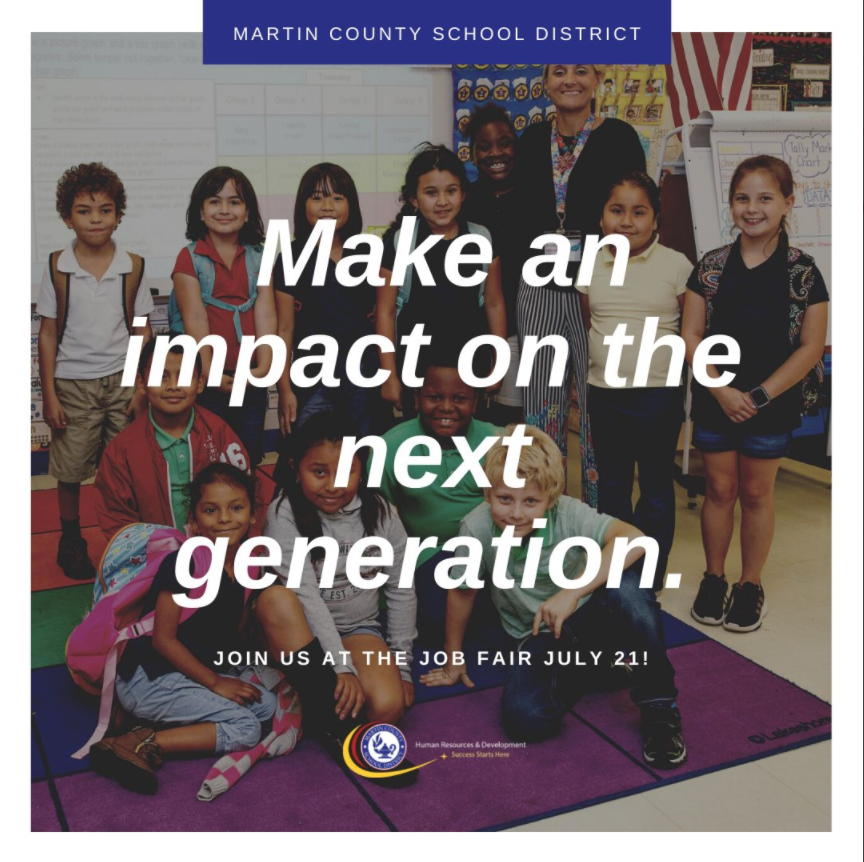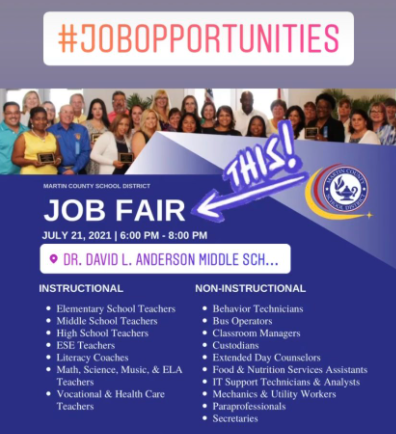 💵ENSURING FISCAL ACCOUNTABILITY AND STABILITY💵 During last evening's Regular meeting, the School Board approved a new agreement with Regions Bank for the District's purchasing card program. Regions Bank presented the District with a $50,00 sign on bonus as part of the new partnership! Superintendent John D. Millay and Chief Financial Officer Carter Morrison joined the School Board in accepting a commemorative check from representatives of the bank. #ALLINMartin👊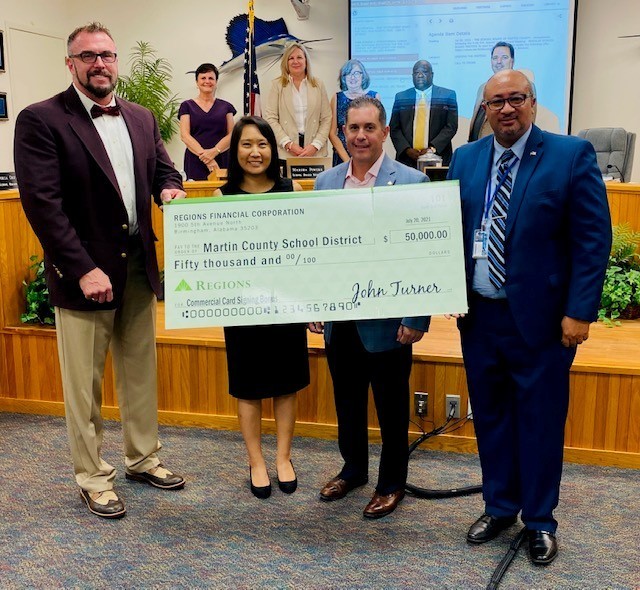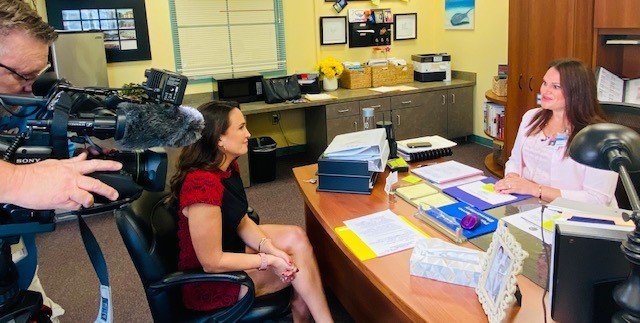 🛠READY TO PROCEED🛠 The Martin County School Board approved the GMP for the Jensen Beach Elementary School and Palm City Elementary School complete replacement projects this afternoon! 🎉Construction will officially begin at both sites on July 27, 2021. 🎉#ALLINMartin👊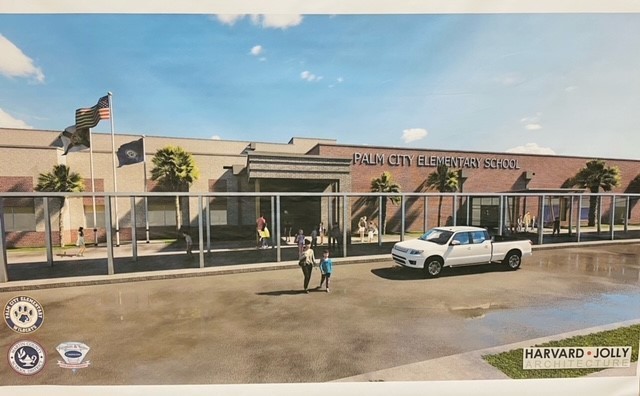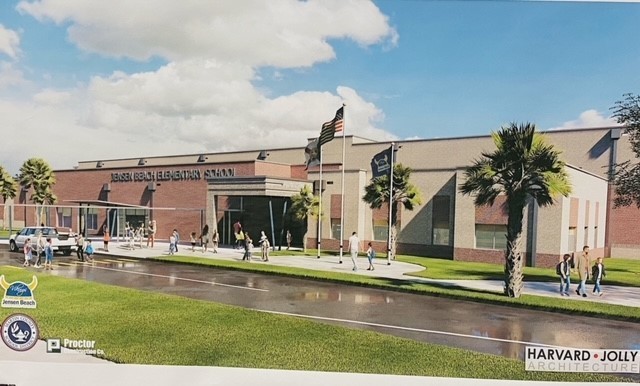 🛠OUR DOLLARS, OUR DISTRICT🛠 The School Board is expected to review the Guaranteed Maximum Price (GMP) for the complete replacements of Jensen Beach Elementary School and Palm City Elementary School this evening. Both projects are being funded using dollars generated by the half-cent sales tax that was generously approved by Martin County voters in 2018. If approved by the School Board this evening, construction will begin at both sites on July 27, 2021. #ALLINMartin👊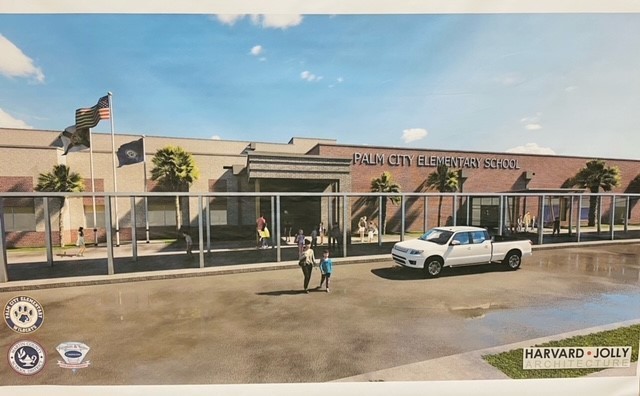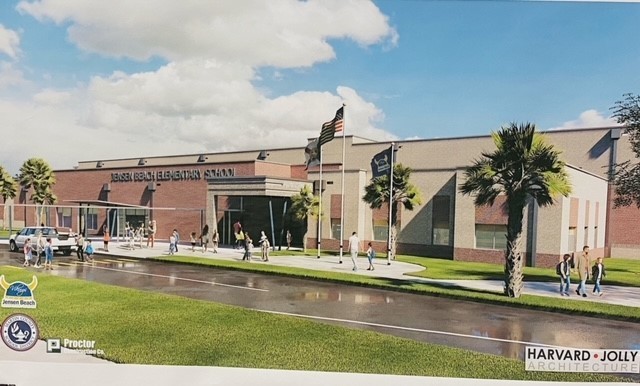 🍎ON THE AGENDA🍎 Today's Regular Meeting of the Martin County School Board will begin immediately following the Special (TRIM) meeting which is scheduled for 4:00 p.m. Please click here to view the agenda:
https://bit.ly/MCSB072021
Please click here to access the livestream:
https://youtu.be/DOBUxdJEW40
#ALLINMartin👊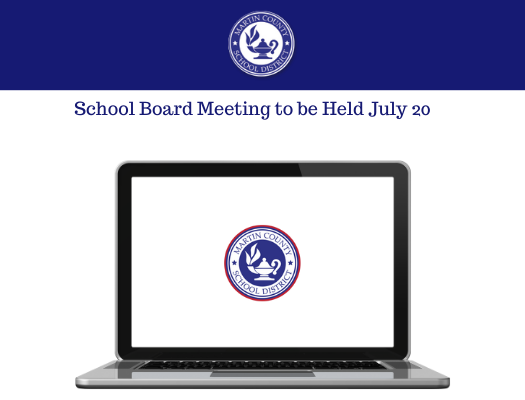 ⭐SUCCESS STARTS HERE⭐ Our 2021 Summer Job Fair will be held this Wednesday, July 21, at Dr. David L. Anderson Middle School! WPTV's Derek Lowe spoke with Lauren Gifford, assistant principal at Port Salerno Elementary School, about what job seekers can expect at the fair. We will be hiring on-site for a variety of positions - teachers, food service workers, custodians, bus operators, Extended Day counselors, IT Professionals, maintenance/skilled trades workers and more! Tune in this evening beginning at 10 for the story on WPTV! #ALLINMartin👊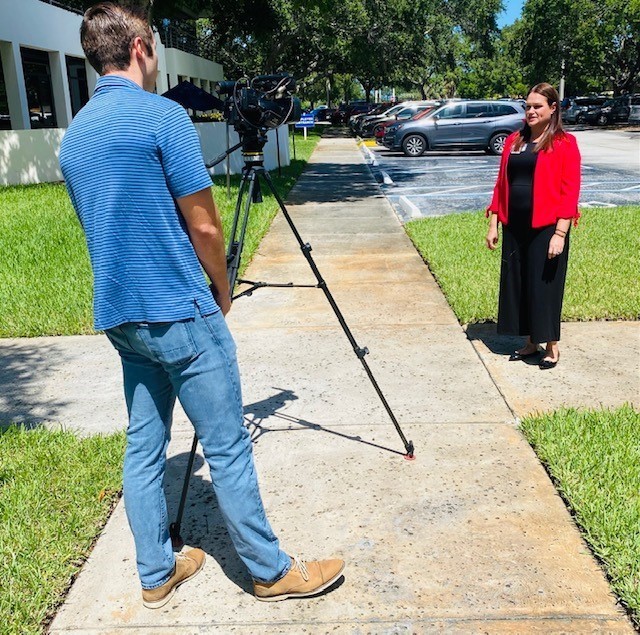 🍎LEARNING NEVER STOPS: EXEMPLARY SERVICE IS THE EXPECTATION AND STANDARD🍎 Members of Team MCSD are engaged in our #ALLINMartin👊 red carpet customer service training today! Team members are discussing the what exemplary and memorable customer service looks, feels and sounds like. Our goal is to go ALLIN when providing exemplary service to students, families and members of the community!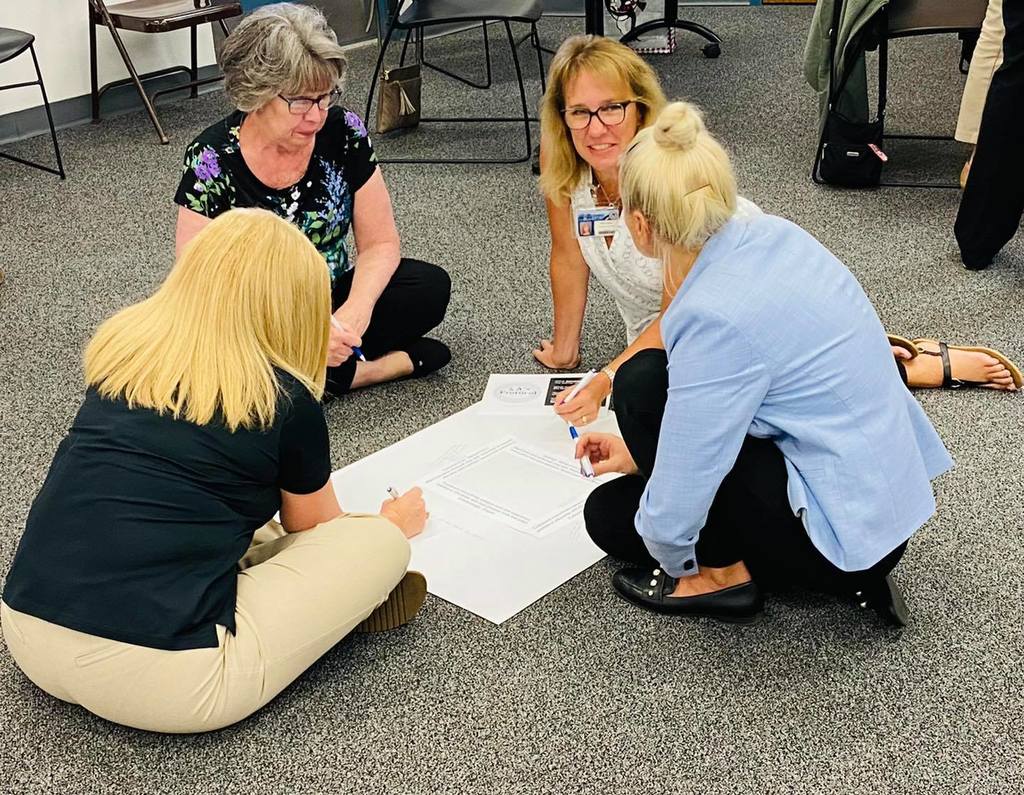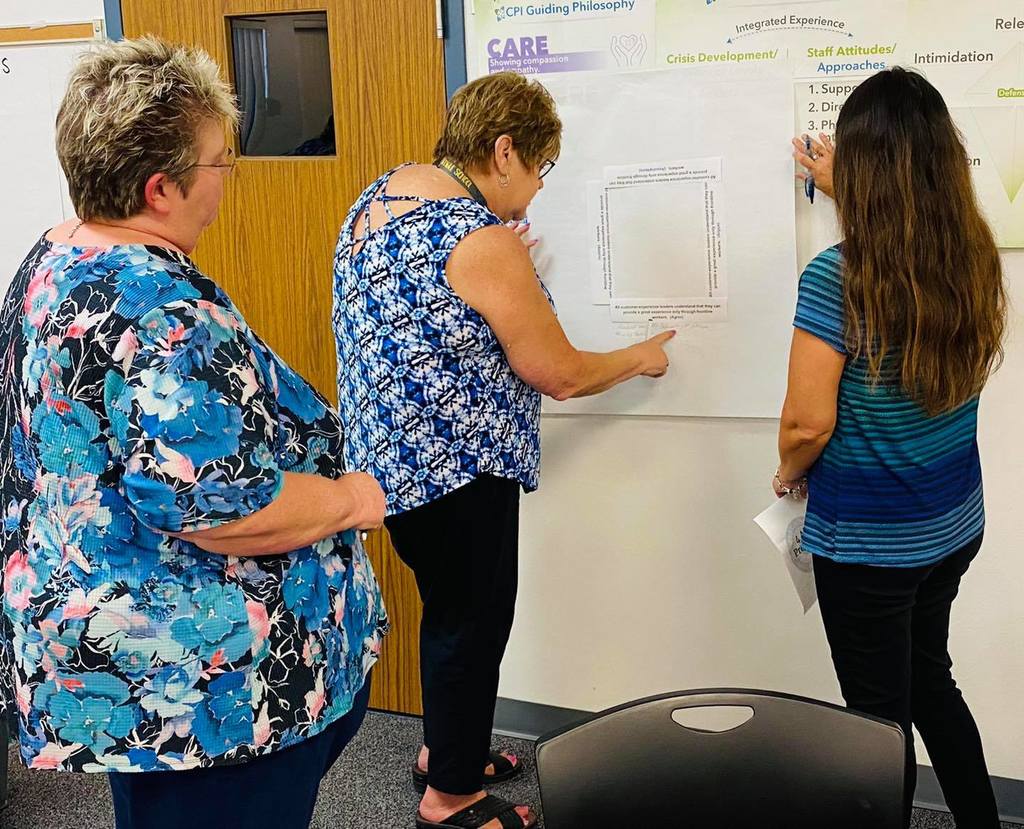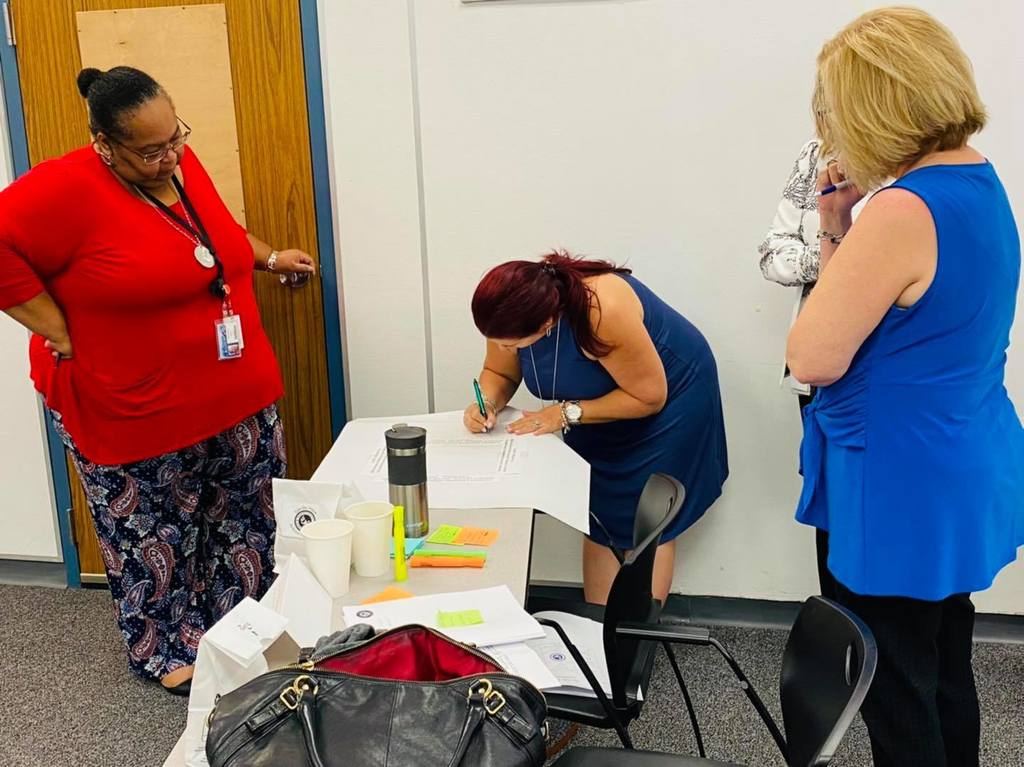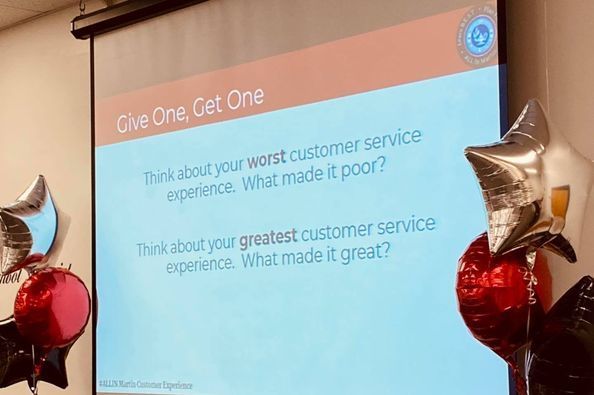 🚗MONDAY MORNINGS WITH MILLAY🚗 Tune in to the WSTU 1450 AM Morning Show at 8:00 tomorrow - Superintendent John D. Millay will share details about our upcoming job fair! #ALLINMartin👊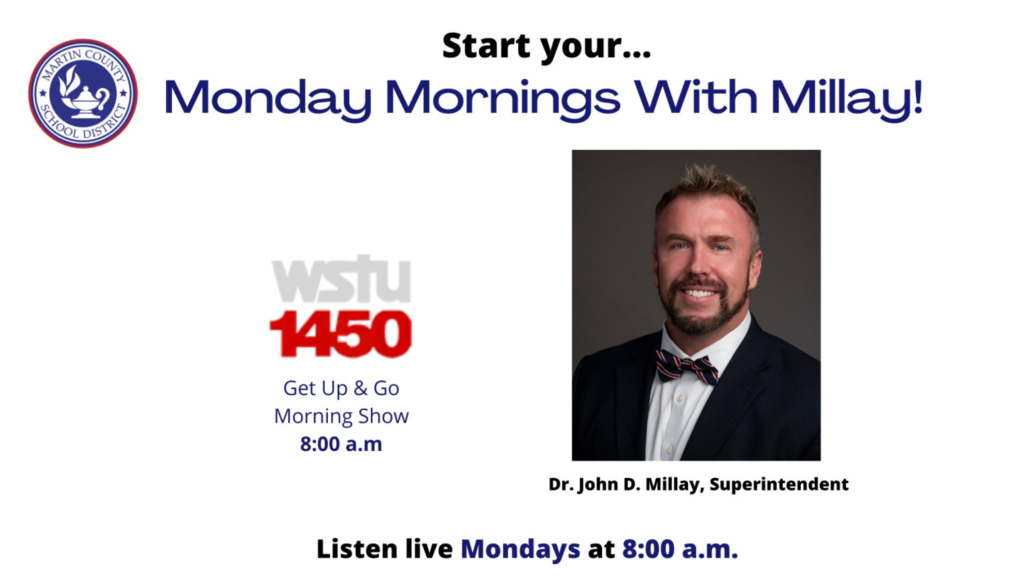 🍎EXTENDED DAY REGISTRATION🍎 Extended Day registration for the 2021-2022 school year will begin Monday, July 19! Registration forms will be available online and will be accepted through July 30. The Extended Day program is open to students who will be attending grades K-5 at a District-operated school in the upcoming school year. Learn more:
https://www.martinschools.org/page/extended-day
. #ALLINMartin👊

🍎MARTIN MINUTES WITH MILLAY🍎 Did you miss Superintendent Millay's appearance on the WSTU 1450 AM Morning Show this week? Catch up on the latest news here:
https://www.podbean.com/ew/pb-2y9jc-10888a6
. Dr. Millay's segment begins at the 2:01:36 mark. #ALLINMartin👊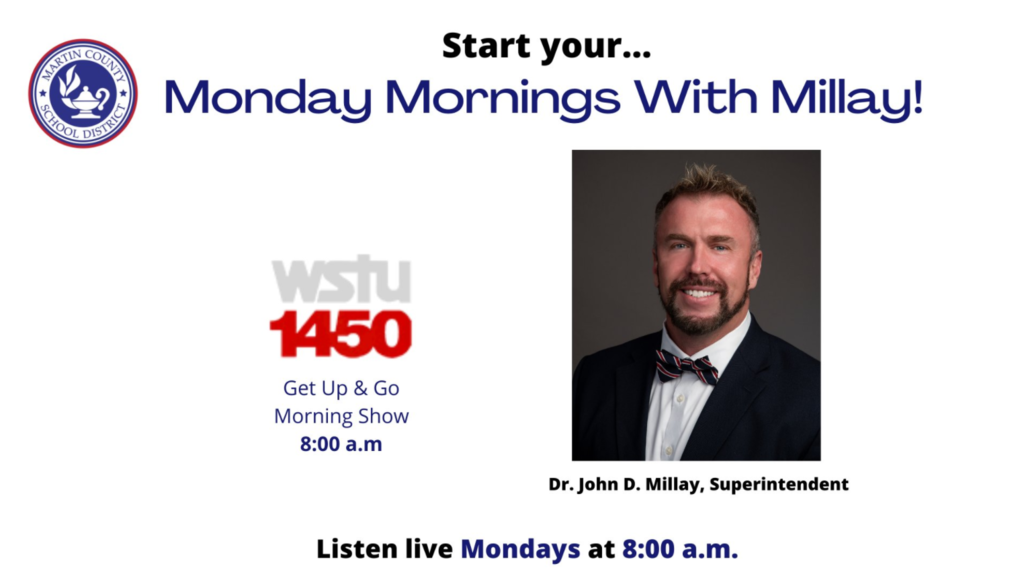 🍎😎SUMMER JOB FAIR🍎😎 Dream of making an impact on the future generation? Join us for our 2021 Summer Job Fair on July 21 from 6:00-8:00 p.m. at Dr. David L. Anderson Middle School! 🔊🔊Recruiters, school administrators and hiring managers will be conducting interviews and issuing on-site offers of employment to talented candidates for a variety of positions. High-need positions include teachers, custodians, bus operators and assistants, food service workers, maintenance/trades workers and more! 📝Click the following link to reserve your appointment to speak with a recruiter:
http://bit.ly/mcsd2021jobfair
. Assistance with applying for positions will be provided in English and Spanish. Don't forget to bring your resume and transcripts (high school/GED/college) with you! We look forward to learning more about you on July 21. #ALLINMartin👊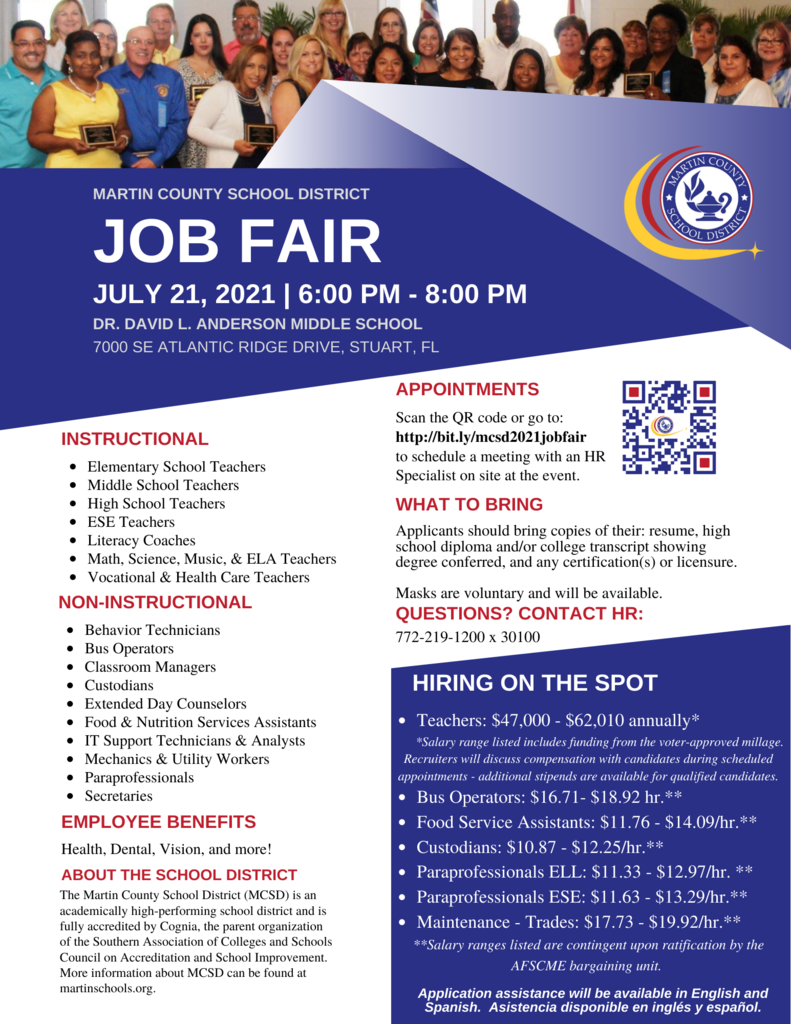 ❤CARING CHILDREN CLOTHING CHILDREN❤ Earlier today, Gigi Suntum of Martin County's Caring Children Clothing Children (4Cs) spoke with our leadership team about how her organization stands ready to assist students who are in need of clothing, assistance with building their literacy skills and more! We are extremely grateful to the 4Cs organization for all of the many resources they provide to the most vulnerable residents of our community. It takes a village, and we are are proudly #ALLINMartin👊!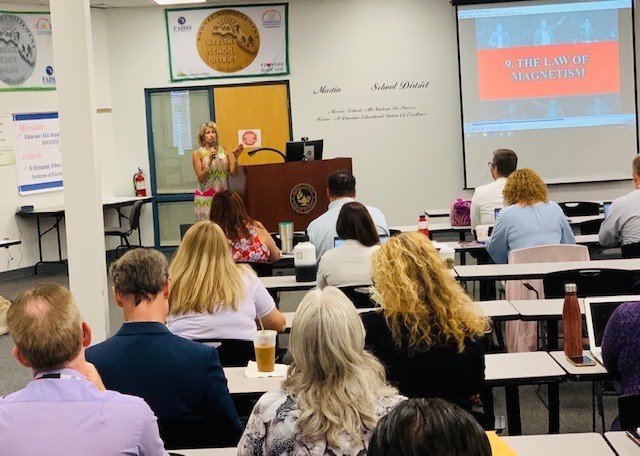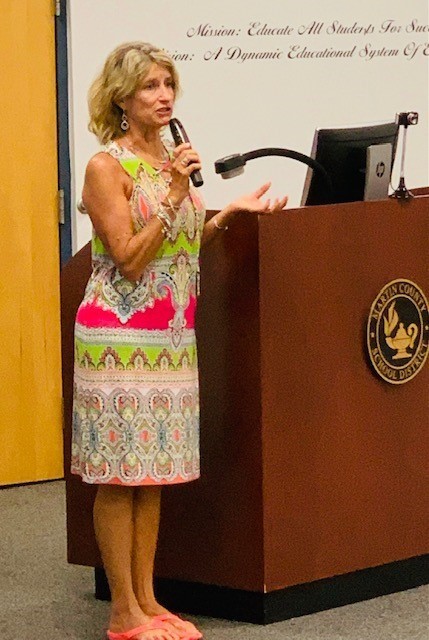 🍎PLAN APPROVED🍎 The Martin County School Board has approved the risk mitigation strategies that will be in effect as we begin the 2021-2022 school year. The new school year will begin August 11, 2021. Please click here to learn more:
https://www.martinschools.org/article/492854
. #ALLINMartin👊


🍎ON THE AGENDA🍎 Today's School Board Workshop will begin at 3:00 p.m. Agenda topics include: The 2021-2022 Back-to-School Plan Success Plan Update View the complete agenda -
https://bit.ly/2Us6C01
Watch live - youtu.be/JTj05OMcPjA #ALLINMartin👊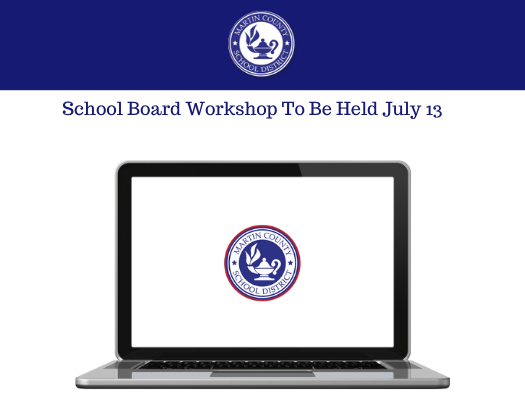 🚗MONDAY MORNINGS WITH MILLAY🚗 Tune in to the WSTU 1450 AM Morning Show at 8:00 tomorrow - Superintendent John D. Millay will share new details about meal programs and important agenda items that will be discussed during the School Board Workshop on July 13! #ALLINMartin👊