Retiree Vision Insurance
MCSD offers vision insurance through MetLife Superior Vision to benefit-eligible retirees. Retiree monthly cost is listed in the premium table below and a brief summary of benefits is provided on the following page. For more detailed information about the vision plan, including exclusions and stipulations, please refer to the summary plan document or contact Superior Vision's customer service at 1-833-393-5433 or by visiting www.metlife.com/mybenefits
MetLife Superior Vision Plan Monthly Cost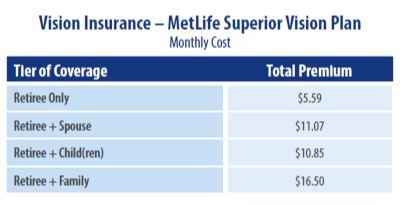 Discounts on Covered Materials

In-Network Benefits
The vision plan offers retiree and covered dependent(s) coverage for routine eye care, including eye exams, eyeglasses (lenses and frames) or contact lenses. To schedule an appointment, covered retiree and dependent(s) can select any network provider who participates in the MetLife Superior Vision National network. At the time of service, routine vision examinations and basic optical needs will be covered as shown on the plan's schedule of benefits. Cosmetic services and upgrades will be additional if chosen at the time of the appointment.
Out-of-Network Benefits
Retiree and covered dependent(s) may choose to receive services from vision providers who do not participate in the MetLife Superior Vision National network. When going out of network, the provider will require payment at the time of appointment. Superior Vision will then reimburse based on the plan's out-of-network reimbursement schedule upon receipt of proof of services rendered.
Calendar Year Deductible
There is no calendar year deductible.
Calendar Year Out-of-Pocket Maximum
There is no out-of-pocket maximum. However, there are benefit reimbursement maximums for certain services. Important Note: Member options, such as LASIK, UV coating, progressive lenses, etc. are not covered in full, but may be available at a discount.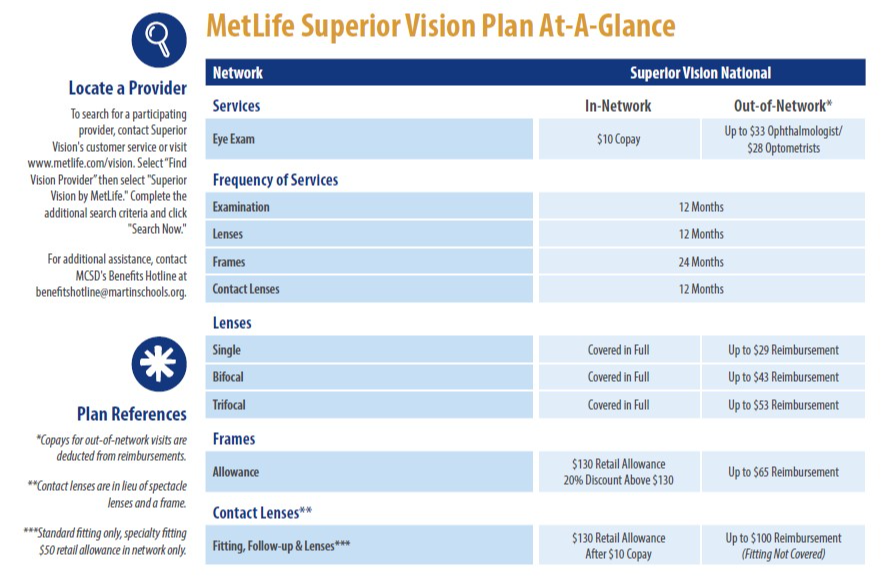 Florida Blue Vision Reimbursement Rider
Florida Blue extends a vision reimbursement rider to every employee and eligible dependent covered under a District medical plan. The rider allows for up to a $150 reimbursement once every 24 months for out of pocket costs associated with corrective eyewear (glasses and contacts). The reimbursement does not cover exams, refractions or warranties. Reimbursement claims must be processed through Donna Wilson, onsite Florida Blue representative, who can be reached by email at donna.wilson@bcbsfl.com or by phone at 772.219.1200 x 30313.
Click the below image to enlarge and print.