1939 SE Federal Highway
Stuart, FL 34994
Hours: 7:30am - 4:30pm
Phone: 772-219-1200 ext. 30100
Fax: 772-219-1230
Our vision is to earn our clients' trust, respect and satisfaction daily as a department of forward-thinking professionals functioning as a seamless team dedicated to excellence in all facets of human resources and professional development services for the Martin County School District.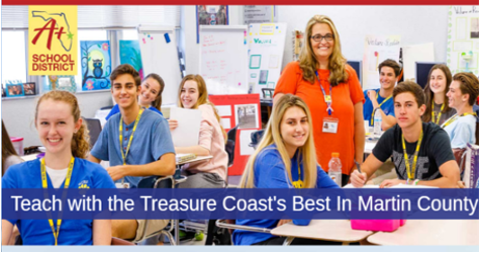 Martin County School District does not discriminate on the basis of race, color, national origin, gender, age, disability or marital status in its educational programs, services or activities, or in its hiring or employment practices. The district also provides equal access to its facilities to the Boy Scouts and other patriotic youth groups, as required by the Boy Scouts of America Equal Access Act.
Individuals who need auxiliary aids for effective communication in programs and services, are invited to make their needs and preferences known to the District's ADA Office. Reasonable accommodations are available for persons with disabilities to complete the application and/or interview process. Applicants/individuals with disabilities requesting accommodations under the Americans with Disabilities Act (ADA) may contact Lisa M. Estevez, ADA Compliance Officer, Director of ESE and Student Services, at 772-219-1200, extension 30425.